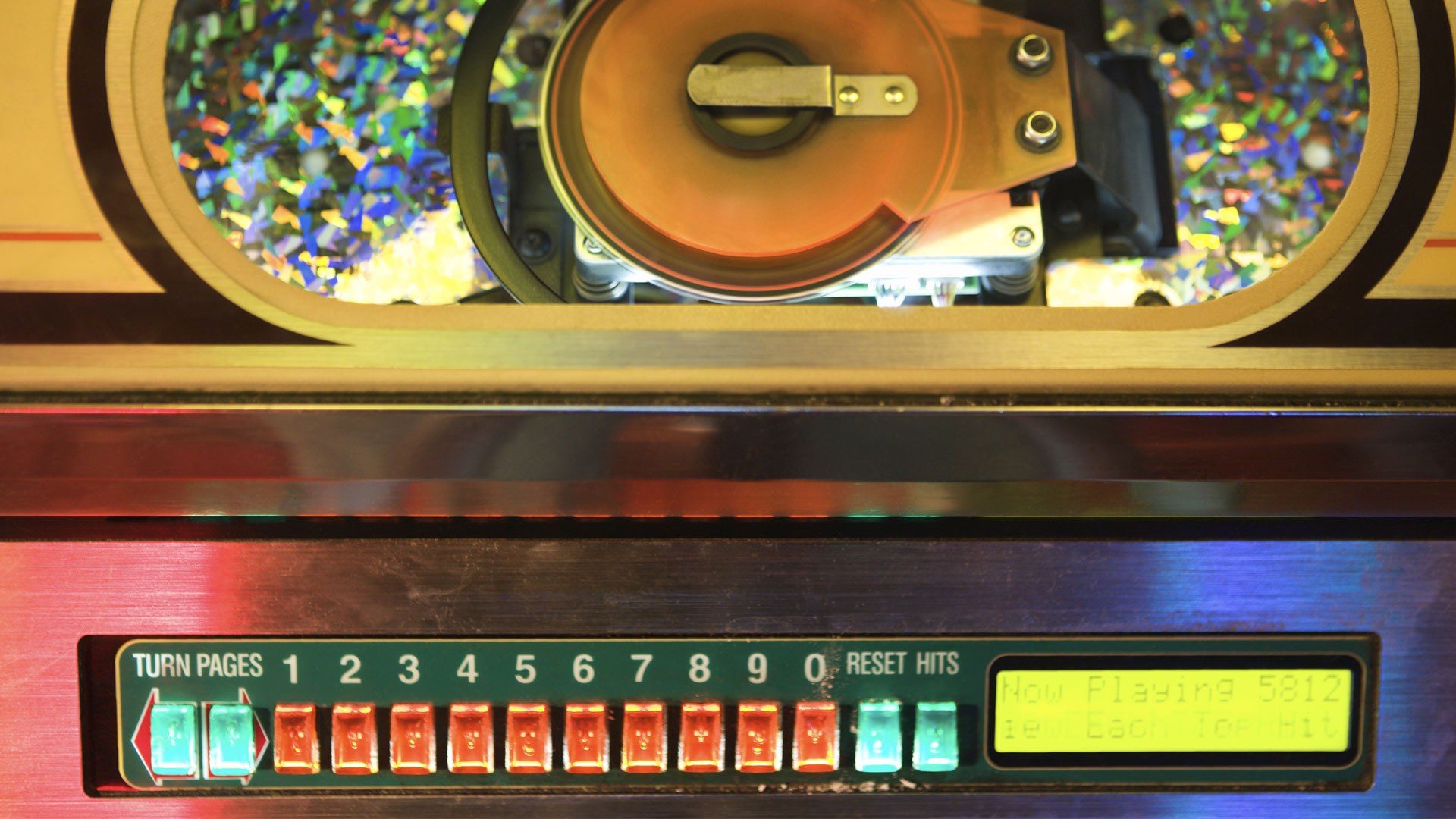 And all of the sudden, by some shocking act of fate, you find yourself in Philadelphia… Looking for a jukebox. Few things define the personality of a food establishment like their musical selections. From melancholy indie-folk trickling through the speakers at a local coffee roaster, to the euro-house piping at uncomfortable decibels into an organic juice bar... The soundtrack dominates your experience. The inclusion of a jukebox allows you to brazenly inflict your own taste on fellow patrons. I've decided to do just that in a few select Philly-area institutions.
Royal Tavern (South Philly)
Sitting Northeast of the Italian Market,
Royal Tavern
is a dimly lit pub serving up a creative menu. The vegan cheesesteak can go toe to toe with anything they're serving in Philadelphia (I'm serious, it's incredible).Having this culinary home run as a benchmark for my experience, I opted on this evening for their vegan take on the sloppy Joe. Served with cole slaw and pickled jalepeno, this sandwich provided a rather convincing taste and texture. Not to mention my hands were appropriately soiled with every bite. I enjoyed it as much as a man in his '30s can enjoy a meal served in middle school cafeterias. The jukebox library read like a grown-up hesher's 8-track collection: leaning heavily on classic rock and metal, with some first wave punk and soul peppered in for variety. Since Royal Tavern strikes me as an old haunt in which my parents would unwind on a Friday night in their younger years, I curated my playlist to match:
The Zombies - "She's Not There"
Smokey Robinson and the Miracles - "Going to a Go-Go"
Diana Ross and the Supremes - "Keep Me Hangin' On"
Rolling Stones - "Sympathy For the Devil"
Sam Cooke - "Another Saturday Night"
David Bowie - "Changes"
Tattooed Mom (South Street)
This
uber hip Philadelphia staple
bustles with an eclectic clientele. Being that it was Sunday night, there was a half-price sale on tater tots. Having eaten healthy for the entire day prior, I decided to go whole hog on some poutine tots. My gut didn't appreciate the favor, but the $3 price tag left me with enough spare change to peruse the jukebox. As expected, the music library brimmed with punk rock from all eras. There were even a few surprising inclusions: Revelation and Sub Pop records samplers. I dove in on a playlist as funky and colorful as some of the haircuts I spotted in the crowd:
ESG - "You're No Good"
The Specials - "Too Hot"
Cyndi Lauper - "She Bop"
Quicksand - "Dine Alone" (this one played out far too literally)
Father John Misty - "Chateau Lobby #4"
Hum - "I'd Like Your Hair Long"
Khyber Pass Pub (Old City)
A cozy former music venue in Philadelphia's Old City, the
Khyber
features a menu of cajun-style fare. In celebration of this nod to Louisiana, I ordered a cup of the Khyber gumbo and an Abita Purple Haze to wash it down. While Abita products never disappoint, the gumbo was a bit thin and light on seasoning. The jukebox unfortunately mirrored this lack of authenticity, featuring predominantly mainstream classic rock. I tried my best.
13th Floor Elevators - "Baby Blue"
Creedence Clearwater Revival - "Lookin' Out My Back Door"
Professor Longhair - "Tipitina"
Cream - "Strange Brew"
Frank Zappa - "The Gumbo Variations" (This one emptied the room)
Muddy Waters - "The Blues Had a Baby and They Named It Rock 'N Roll"
Fats Domino - "Going to the River"
Silver Diner (Cherry Hill, NJ)
Last on my adventure, I take a detour out of Philadelphia to the east side of the Delaware. The
Silver Diner is a chain
that promises vintage charm alongside modern farm-to-table practices. The menu offers a "flexitarian" section. Since that term sums up my diet nowadays, I ordered the turkey burger. A big cup of decaf chased it back (it was 9pm, don't judge). Served on a brioche bun with spinach, pecans and a cranberry ginger glaze... I must say, this was a sharp step up from your typical diner fare. Bravo, Silver. Each table at the Silver Diner is outfitted with an "authentic" (advertised quotation marks just like that) 1955 Seeburg jukebox system. I'll admit, it looked pretty damn cool, but the quarters I dropped in took no effect. Instead, I'm treated to an Elvis-heavy automatic playlist that sounded at five minute intervals throughout the diner:
Elvis Presley - "Hound Dog"
Bobby Vinton - "Mr. Lonely"
Elvis Presley - "Can't Help Falling in Love"
Diana Ross - "Upside Down"
Elvis Presley - "Blue Suede Shoes"
Patsy Cline - "Crazy"
Little Eva - "Locomotion"
---
Got a favorite song you love to play on a Philadelphia Jukebox? Tell us about it on Twitter.
Share On Social
Did you enjoy this article? Use one of the buttons below to share it on social media.