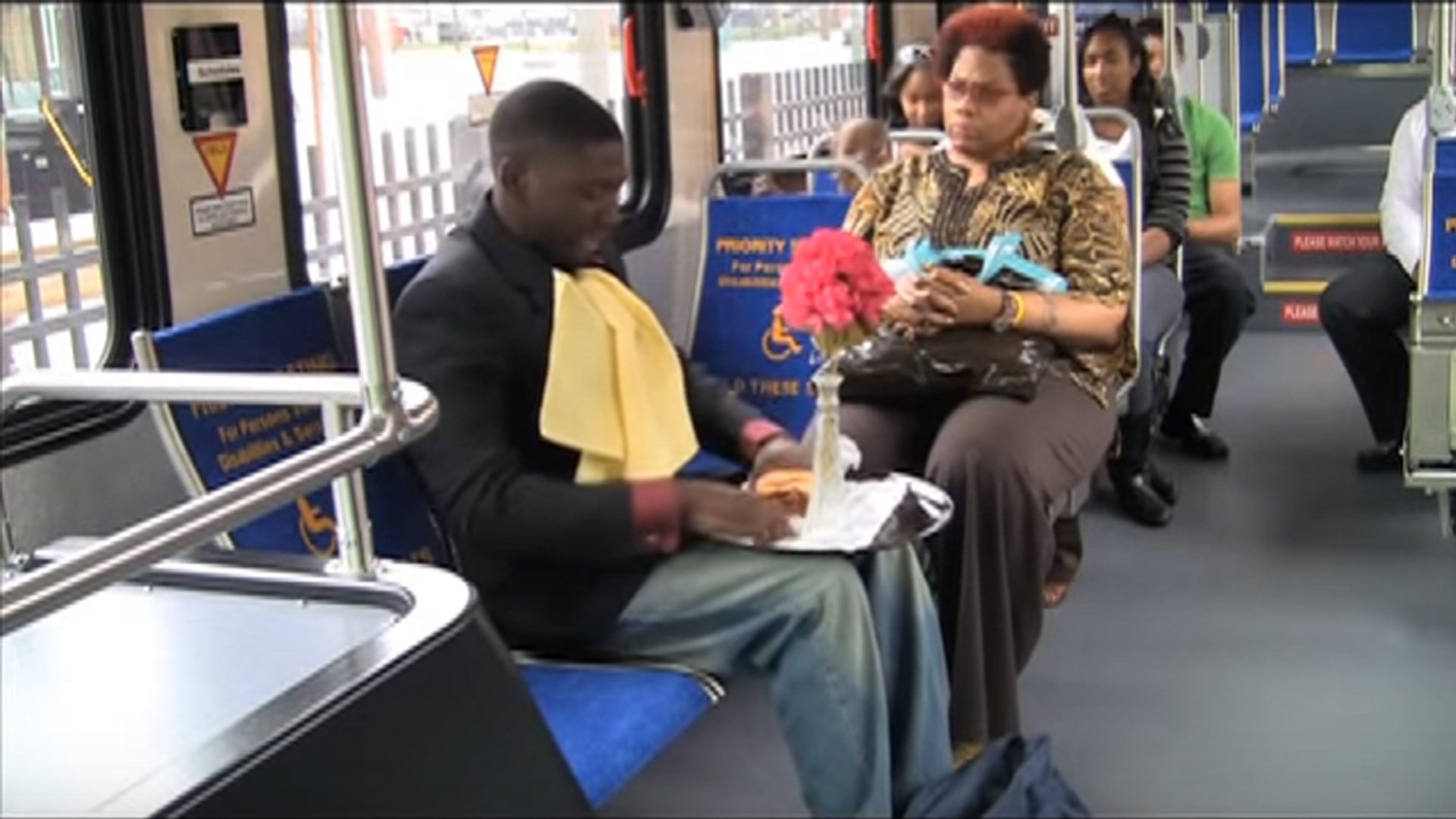 It's a right of passage for a Philadelphia to eat while riding SEPTA. Sometimes you're pressed from time, and you need to eat your bagel and do your make-up on the trolley. Or maybe it's a late night WaWa run after a night of drinking, you're too hungry to not eat on the bus.
When You Eat While Riding SEPTA
We get it. But,
dude, it's still rude
to eat something that doesn't handle a sudden stop well. Here is a list of amazing food throughout Philly, but are not very enjoyable to eat while riding SEPTA.
Honest Tom's Burrito
In my humble opinion,
Honest Tom's
has the best tacos and burritos in the city limits. But their burritos are no joke. Petite women use them as weights during a kickboxing class. If you open up one of these to eat while riding SEPTA, you best be sure your appetite is huge. If you're not crazy hungry, you probably should have went with the tacos instead of the burrito. But if you bought more than you can chew, you better be taking the 42 to Penn's Landing during rush hour.
WaWa Soup
When the hunger is real, adding a soup to your sandwich is a nice way to ball kinda of out of control. It's the perfect addition to keep the hot eats coming. But this play requires you to wait to feast at home. Balancing an open soup container, along with your messenger bag and bag of
WaWa
eats, is too much. The trolleys sway back and forth too much for this balancing act. Even without the baggage, it would be an impressive feat to not spill.
Hershel's Anything
The best place for a sandwich in
Reading Terminal Market
,
Hershel's
is a must have. Their Reuben is incredible. It's also messy as fuck. It's hard to not spill this all over yourself while you eat at a table with a chair and a bib. Try standing on the R5 on your commute home. Side note these sandwiches smell amazing, unless trapped in close quarters. I once took a pastrami sandwich from Hershel's with my on a Greyhound. It was tasty. But boy was I embarrassed about how it stuck up the bus. And that's before the meat made it's way through my system.
Big Gay Ice Cream
There are a lot of fantastic dessert places in Philadelphia, and
Big Gay Ice Cream
is no exception. If you prefer soft serve ice cream, this is the best joint in town. But if you try to eat while riding SEPTA, that's the problem: it's soft serve ice cream. Grabbing a cone from
Franklin Fountain
, you won't have any issues on the El. But try to tongue a
Bee Arthur
on the BSL before it melts, and you'll look like a rabid dog. You actually have a better chance of tonguing any other Golden Girl in your car, then that ice cream not getting all over you.
Five Guys Burgers and Fries
And peanuts! Don't forget about the free peanuts at every
Five Guys
. The food there is great, even without free peanuts. The extra nuts are just added value that's hard to pass up. Unless you are planning to eat while riding SEPTA. Even the burgers and fries are a poor play for the trolley, but if you bring nuts into the mix forgot it. You don't want to be that guy that's literally the floor with shells. That dude is literally the reason behind SEPTA's "It's Rude" campaign.
What Should I Eat While Riding SEPTA?
Honestly you should try to abstain. It's against their policy, so they could force you to throw away food before boarding. But any try SEPTA patron knows that the driver will almost never stop you. The only time I've encountered an issue was on the 130 in Bucks County. And the driver was a sub, so forgot that dude. But there will be times that eating while commuting is found time you can't pass up. If you really do need to eat while using public transit, these are probably the best places and food items:
Shake Shack: the burgers come wrapped in parchment paper, so less spillage
The Original Turkey: Sandwiches without gravy. Also watch out for the Thanksgiving sandwich. They come wrapped like Shake Shack, but a tad more messy.
Little Baby's Ice Cream: any flavor, but in a cup
If you have any other suggestions, feel free to tweet
@fullbellylaughs
. We'd love to include other great spots on future lists.
Share On Social
Did you enjoy this article? Use one of the buttons below to share it on social media.