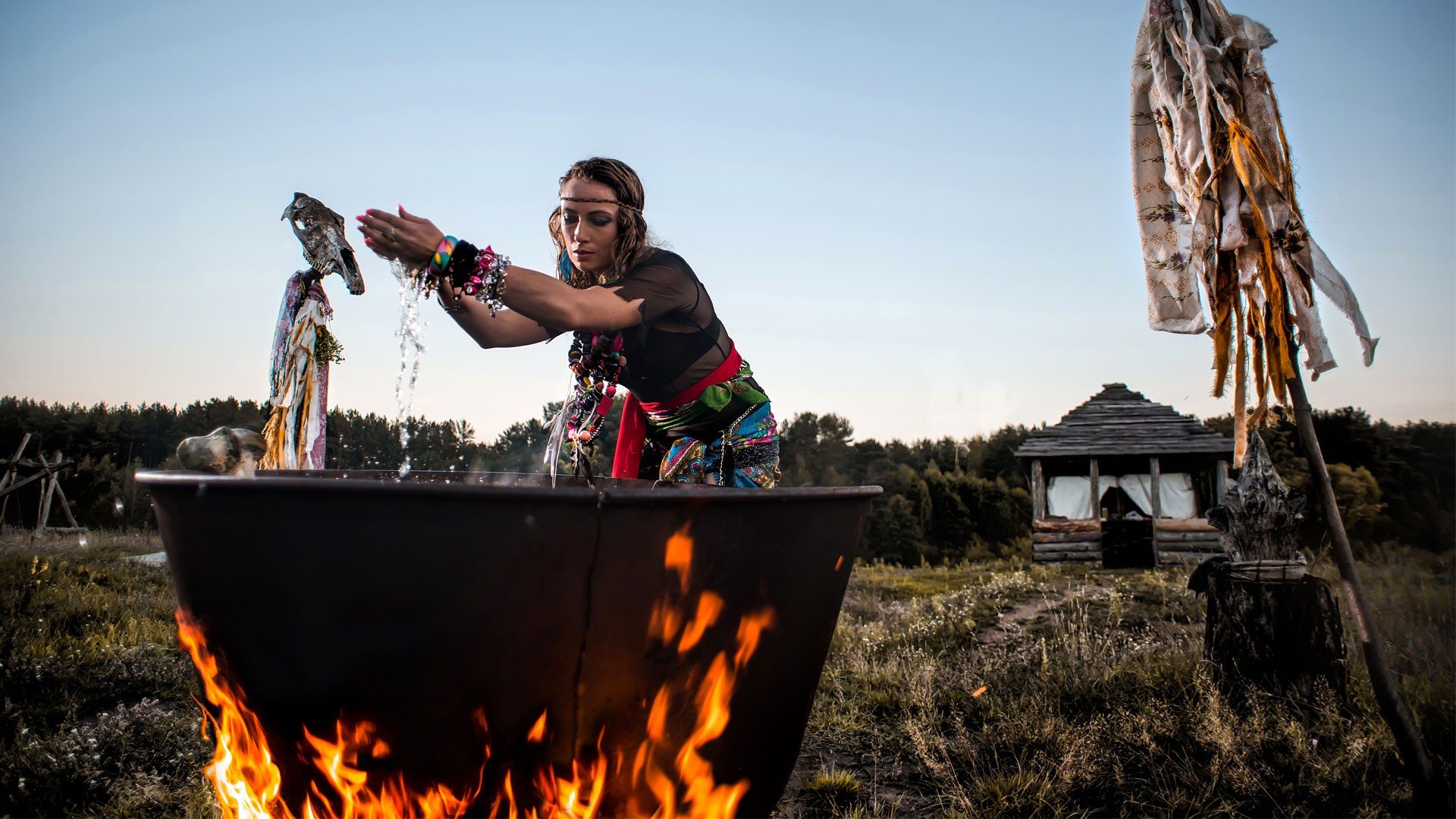 The lines reach around the block for a new eatery! It is sure to tantalize the tastebuds of the city's more offbeat diners. " C@uldron" is a nuevo-Pagan fusion restaurant. The restaurant is the brainchild of a Ms. Broomhilda Finktwist.
"I'd been catering my coven's meetings for years. So I figured, 'Why not take it to the Muggles and make a fews bones off of them?' I intend to make some cash off them as well...including their bones. Get it?"
Bubble Bubble, Toil, and Truffles
Ms. Finktwist leads me into the back of C@uldron to show me what she insists is her "state of the art" kitchen. Imagine my surprise to find a dark, moss-covered room, with a sole piece of cookery for the whole establishment. It was a literal cauldron. It is here that Broomhilda whips up her potent palate-pleasing potions. They're made out of 100% locally sourced spices, vegetation, and children.
"I used to get them off the farm, but they were too tough. Fattening them up meself, they was eating me out of house and home! That's when I discovered the perfect combination of time and stock was to use local children. Sedentary, latch key urban ones, already fattened on McDonald's and cheesesteaks by the time I get him. They taste so delicious, and are the easiest to catch!"
"I wish I had a pillow, and I miss my mom", says 7-year old Roger Kingsmill, from inside his cage. "But I get all the candy that I want! So I guess it's a pretty fair tradeoff. Baby Ruth is my mother now." Broomhilda interrupts him to say she he's been a good boy and earned himself a trip to "the video game room". I'm quite disappointed they ordered him, as I had a bit of a sweet tooth tonight.
Atmosfear
I sit down for my first meal. The establishment doesn't open it's doors until the witching hour. For them, this is roughly 8:45 PM, or 7:30 on Sundays. Such timing lends a magnificent aura as the full moon bathes in through the glass ceiling. The beautiful ceiling was installed by the previous owners. Alternatively, they used the area as a medical marijuana grow house. The table setting is delightfully kitsch. It includes dreary Gothic candles, tattered table coverings, rusted silverware. The black cats that patrol the floor serve the dual task of atmosphere and cleaning up scraps. (Good thing I took my Allegra!) The first course is Broomhilda's famous, "Split Skull Soup". Unfortunately, your author is allergic to the main ingredient, "Eye of Newt". Also, the blinking is pretty off-putting. Yet, the other patrons seemed to enjoy it. I instead focused on the drink menu: bubbling potions all matched up with your potential meal. "Under A Funeral Moon" is a nightshade stout paired with the rib rack of a 12 year old German boy. Such a pairing is promising to bring out the hints of sauerkraut in his blood. "Heart of Winter", a vodka cocktail, is paired with a young Siberian girl. Her blank eyes peer out from the menu as if to say, "Yummy yummy yum". I decide to choose a small Vegan child and a cider, as I'm trying to stay gluten-free.
Public Opinion
While waiting for the main dish, I discussed the restaurant with some of the other patrons. Loretta Raventongue, 32, raved, "I haven't had Toad-Stuffed Mushrooms this good in quite a long time! Last time, we lost my Aunt Winifred to an angry mob!" Michael Gulenstock, 26, particularly enjoyed the beverage options. "I've had three different drinks so far, all amazing in their own way. One shrunk me to 2 inches tall, another showed me how all my loved ones would die, and the third one had a hint of cardamom! Incredible!" Thomas and Amie Kingsmill, 39 and 36, gushed, "We needed a night out. Our son Roger's gone missing and it's been a hellish week looking for him. We figured a nice meal would take our mind off it for a bit. Now that we've got full bellies, I feel we're closer to finding him than ever!"
Backlash
Unfortunately, not everyone was impressed. Jonathan Niemeyer, 27, felt C@uldron suffered a fatal flaw for an urban eatery: a lack of diversity.
"This place is unabashedly catering to white yuppies. It's disgusting that, in this urban environment, there are no children of color on the menu. Were they not good enough? As a serious foodie, I don't want to waste my time eating little blonde children. They've had their time. Well...aside from being eaten so young. You know what I mean."
Jonathan vowed to boycott the restaurant online. He says that he will return if they release a more diverse menu.
C@uldron Scores Big with Locally Sourced Children
All in all, C@uldron has been a complete hit. Along the way, rejuvenating the long dormant Nuevo-Pagan dining scene. As Broomhilda puts it:
"The old ways are the best ways. Trends come and go. As long there's children missing their school bus, we'll be here to make the best dining experience we can!"
Reservations are available at C@uldron right now. You can call, email, or smear the blood of a dog on a ruby crystal at midnight before dining.
Share On Social
Did you enjoy this article? Use one of the buttons below to share it on social media.