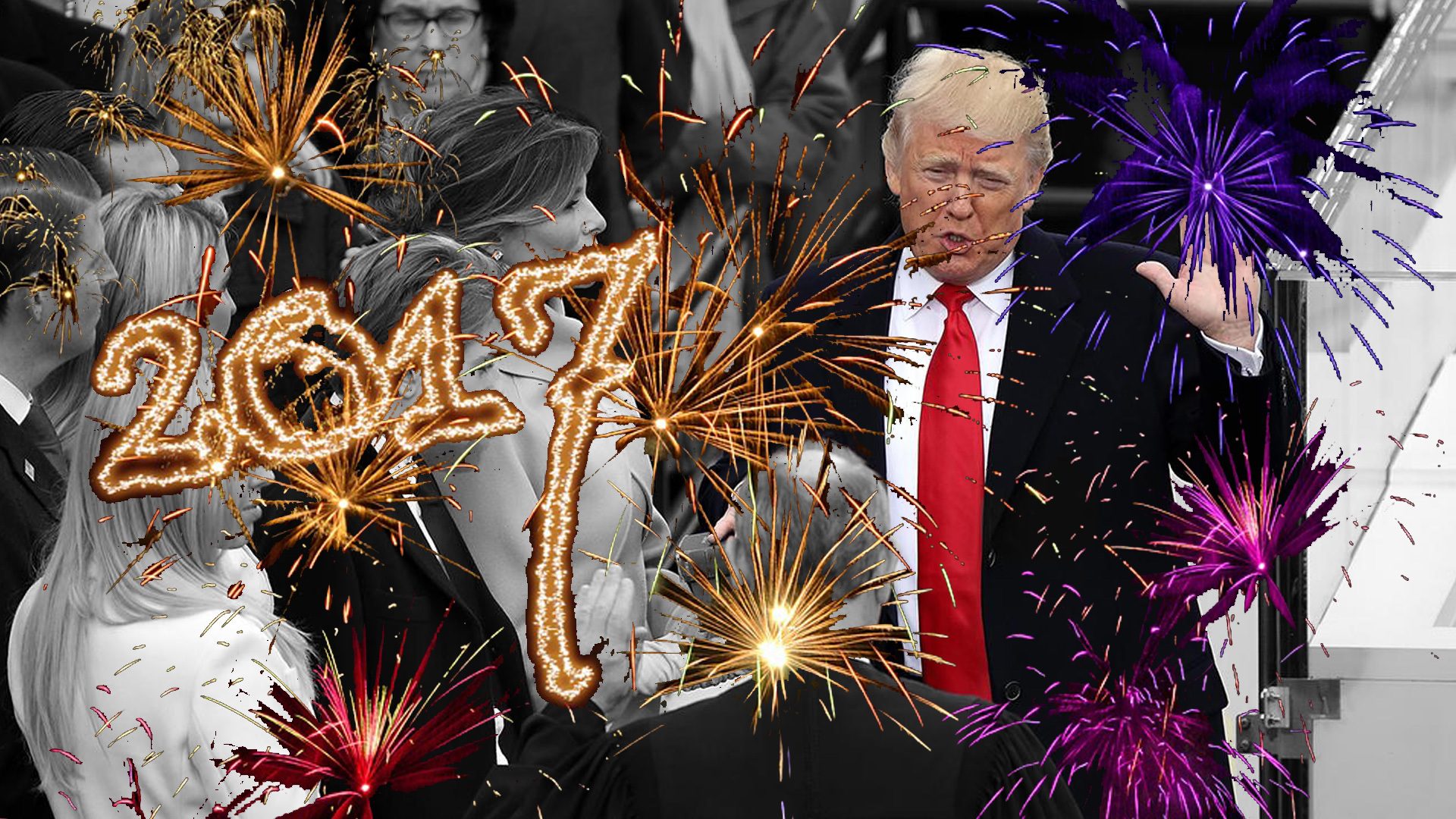 This 2017 Year in Review is the most comprehensive year in review article so far. And it wasn't easy to assemble. 2017 has been anything but typical. We thought 2016 was bad; calling that a "bad year" is akin to viewing the Pacific Ocean as "somewhat damp." The 12 calendar months that comprised the past year depleted us of everything. From
Gene Wilder
to
David Bowie
to even
Vine
. In U.S. politics the voting public, which has the combined IQ of a calendar,
elected an Oompa-Loompa
. Outside of the country, things aren't much better:
Unfortunately 2017 wasn't much better.
2017 Year in Review
The year kicked off, as it tends to do, with the annual installment of Dick Clark's Rockin' New Year's Eve. It was hosted by, as its title suggests, Ryan Seacrest.
Singer Mariah Carey
bridged the gap between the two years. During the performance her voice and music appeared in 2016 but her lips didn't move until 2017. That's why I had to count this in my 2017 Year in Review.
Politics
The government now contains more Republicans than a Hall & Oates concert.
They gutted the House Ethics Committee
. We wouldn't want something that exposes our leaders of Saddam Hussein ethical practices. The new government order has yet to make good on the following:
Eliminate Obamacare
Privatize Medicaid
Replace the Lincoln Memorial with a statue of a Kardashian
But no 2017 Year in Review article is complete without President Donald Trump. Despite his popularity with both old rich white men and older rich white men, Trump is still despised. His approval rating even went down this year with neighboring galaxies. His tiny hands have been hard at work issuing executive orders like they were whiny tweets.
Critics continue to compare Trump to Hitler
. But this is an unfair comparison, as Hitler was a somewhat gifted artist. As you may recall, Trump actually suspended all funding for national arts-related programs.
Other News
Outside of politics, things are looking even bleaker. The U.S. had its first mass shooting of the year when a
gunman opened fire at Ft. Lauderdale Airport
, killing 5 people and wounding several others. Then there was the tape of a
hate crime in Chicago
. The footage did allow Facebook users to identify their most racist friends. This combined with the 2016 election defriending, echo chambers are stronger than ever. And remember the despair that struck in suburban New York? It was when a Long Island Railroad train actually arrived in Long Island.
In Memoriam
This year we lost the
writer of the Exorcist
and the wrestler
Jimmy "Superfly" Snuka
. And people thought it couldn't be worse than 2016.
Entertainment
La La Land scored big at the Golden Globes
.
Meryl Streep stole the show
with her speech bashing Donald Trump.
In response Trump stated
that Streep never starred in a movie and that he was actually the lead in Mamma Mia. Finally, after 146 years,
Ringling Bros. Circus closed its tent flaps
. It could in no way compete with the 24-hour clown-and-elephant show. That show is also known as the current United States government.
Technology
In tech news, the
iPhone celebrated its 10th successful year
of annoyance. The users celebrate years of software updates that turn their devices into paperweights.
Samsung revealed its Galaxy S8
. The company promises will come loaded with "fewer explosions."
Was 2017 The Worst Year Ever?
Our 2017 Year in Review shows that the year was pretty bad. But remember when
Rooster Soup Company
opened? It's a luncheonette/diner at 1526 Sansom St. in Center City Philadelphia. It's from the Federal Donuts crew. They sent their profits to charity, so there's one good thing.
Share On Social
Did you enjoy this article? Use one of the buttons below to share it on social media.