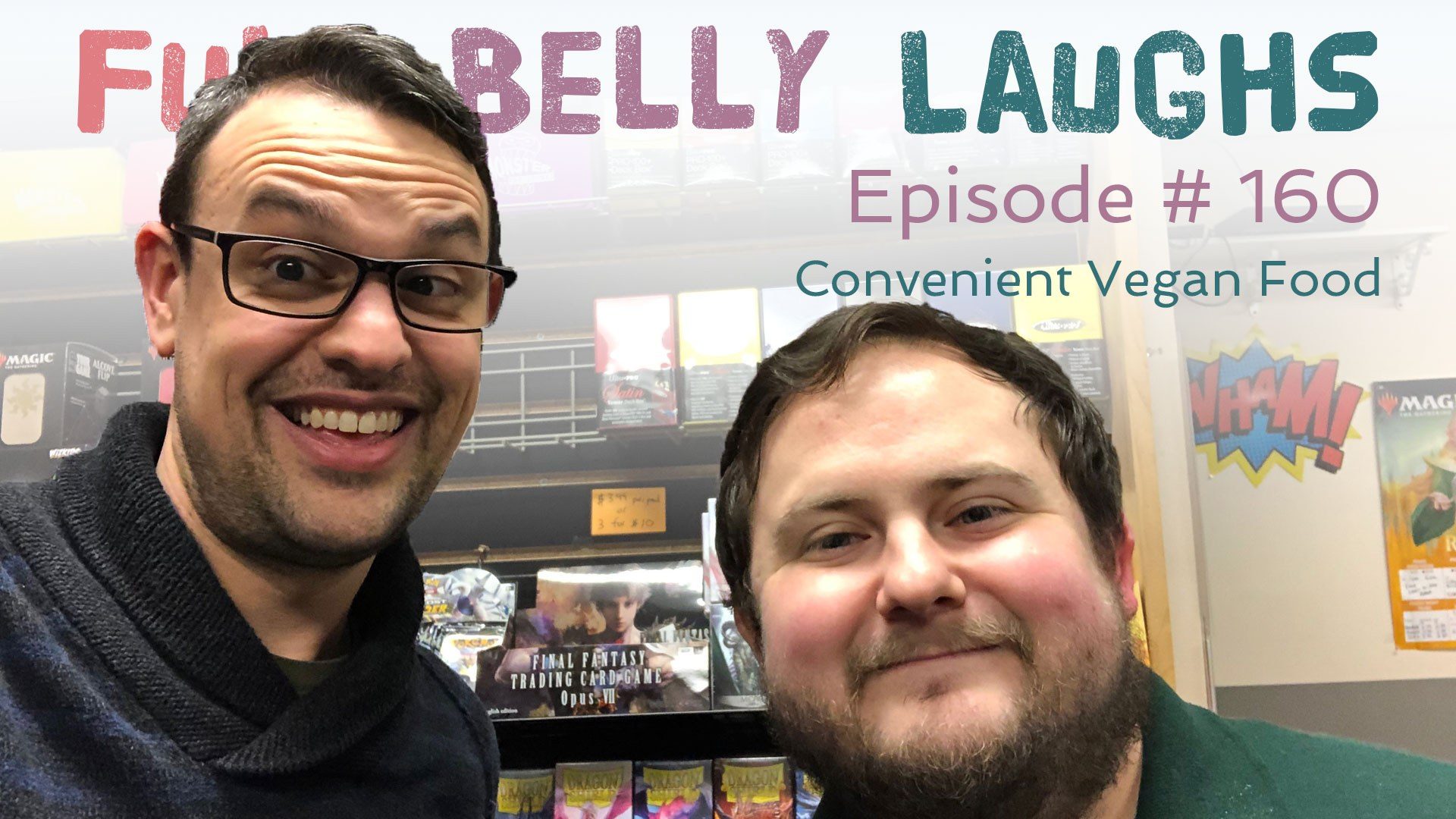 Listen to Full Belly Laughs Episode 160
Use the audio player below to enjoy Full Belly Laughs Podcast Episode 160: Convenient Vegan Food.
Convenient vegan food sounds like an oxymoron, but it's more common than you think. There are a surprising number of food items that qualify as vegan, that even a gas station might carry. On this episode we dive into our favorite vegan places, and where we go for convenient vegan food.
Full Belly Laughs Podcast Episode 160 Show Notes
Host Brian Durkin ventures out to The Comic Book Store in Glassboro, NJ to do this recording. He meets up with Kevin Michael, an old friend who now manages this game store. On this episode they chat about places they love to eat, most of which happen to be vegan. Kevin shares with Brian that the owner of The Comic Book Store is vegan, and all the snacks in the store are also vegan. After a fun chat about vegan food, the boys play some Super Fight to close out the evening.
Where to Find Convenient Vegan Food
Pretty much any convenience store will have something, you just need to know what's up with the labels. For example Ritz Crackers and Sour Patch Kids are vegan. Don't know if it's a conscious effort on the manufacturer's part, but either way those are vegan safe. Pretty handy to know in a pinch when you're on the road or something.
As for preparing food, salads are a pretty easy lunch. They don't require you to cook anything if you go vegan. You can make a batch of chickpeas ahead of time, or just use drained canned beans. This is a handy way to make sure you have something plant-based at least one meal a day.
A classic vegan option includes peanut butter and jelly sandwiches. A favorite for a kid in their packed lunch, this youthful sammy is actually vegan. Also many convenience stores and coffee shops will sell PB&Js. Always be on the lookout for something like this when in a pinch, because it could be a hearty vegan snack.
Share Episode #160
Let your people know about this awesome episode. Share Convenient Vegan Food on any one of these social media platforms.