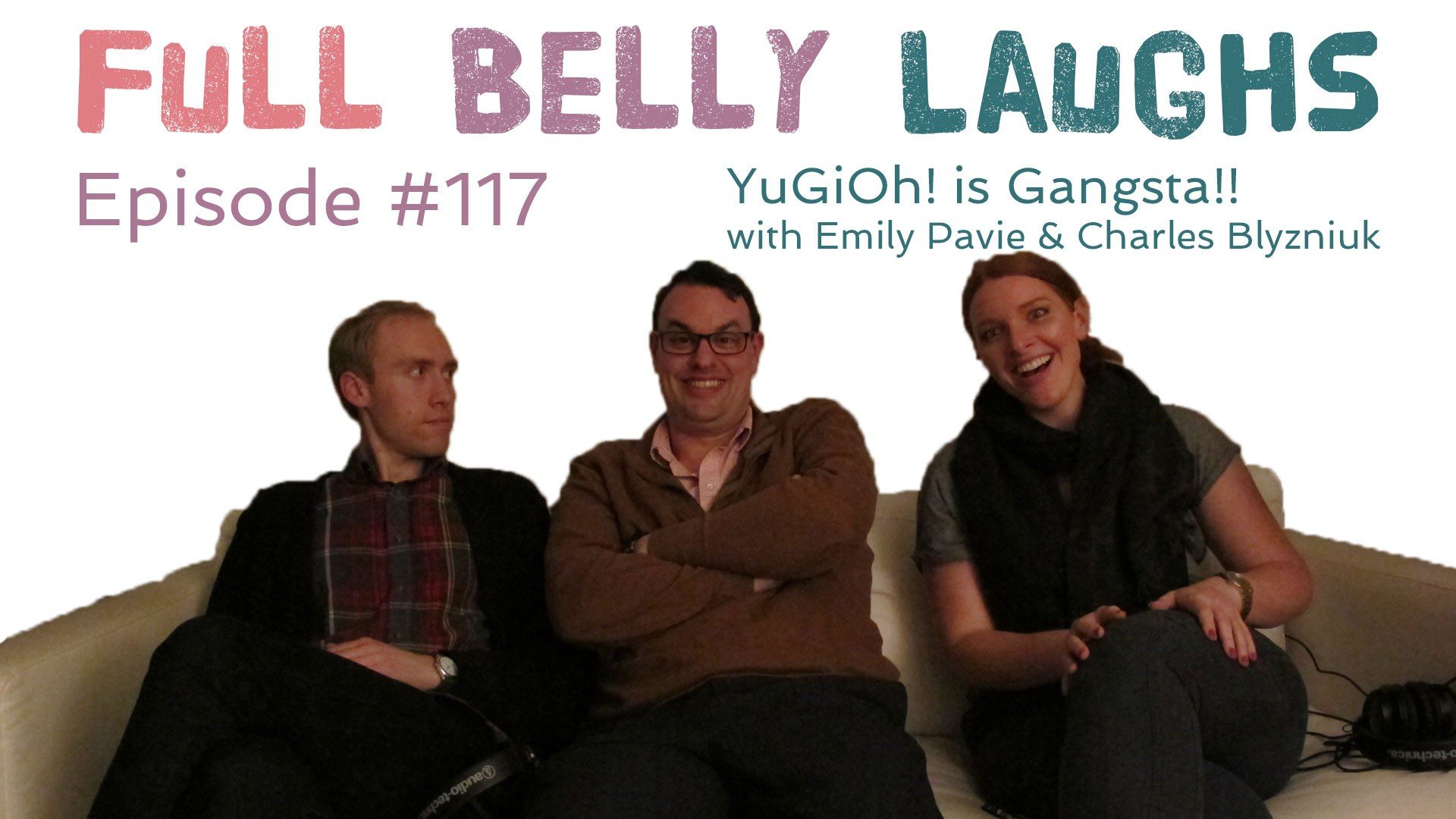 Listen to Full Belly Laughs Episode 117
Use the audio player below to enjoy Full Belly Laughs Podcast Episode 117: YuGiOh! is Gangsta!!.
Everybody knows somebody who got their YuGiOh! cards stolen. It's just the facts of life. Sometimes you lose your cards due to your own negligence. And that sucks, but some of the best lessons are learned the hard way. Other times though savagery ensues because people just go to great heights to steal ... cardboard? Find out about all the antics on this episode or in the show notes.
Full Belly Laughs Podcast Episode 117 Show Notes
The gang starts off by talking about influencers. They're fascinated by the world of social media brand leaders that just convince people to live the way they live. From there the group goes down a winding path to chat about Matt and Shane's Secret Podcast and systems. Cohost Matt McCusker has been reading a book by the guy that created Dilbert. The author recommends systems over goals. The group does their best to decipher this mess.It doesn't take long for them to fry bigger fish. Host Brian Durkin starts talking about his days as a duelist. Back in the day besides playing he also used to help run YuGiOh! events. To many people's surprise YuGiOh! is not for the faint of heart.
YuGiOh! is Gangsta!!
Those that aren't in the scene don't realize that YuGiOh! is pretty thugged out. And by that I mean that people stealing from each other is a known problem. Luckily nowadays things aren't as bad, but that's only because the cards aren't worth as much as they used to be. Years ago stealing someone's bookbag of YuGiOh! cards could fetch you thousands and thousands of dollars. So for many it was a no brainer to go to an event with no intention of slinging cardboard, but instead of robbing people.Host Brian Durkin shares some of the craziest and also darkest stories from those days. Stories that would give you shivers. Legend has it a particular thief in the community not only robbed a dude for everything he had, but stayed in the room after the deed was done so he could see the look on the kid's face.
Protect Your Belongings
At the end of the day the moral of the story is to not be ignorant with your story. You don't have to own YuGiOh! cards to learn a thing or two from this savagery about how to protect yourself from theft. Most of the people that got their stuff stolen were not looking after it well enough. So use these pro tips.
Attach Your Bag to Your Person
Whether it's a bookbag or a pocketbook, you can't let it just hang out all by itself. The secret: you are never not wearing your bag. Sure it might not be hung over your shoulder, but if it's sitting on the seat next to you then put a arm through a strap anyway. If it's on the floor, then put a strap through your foot. It should always be impossible for someone to walk away with your bag without it tugging on you.
Check Your Exits
If someone is going to hit you up and rob you, they will want a quick getaway. Try not to expose your valuables near exits. A classic example is a scam a bum on the street might pull. Someone asks you for money, so you pull out your wallet. The minute you pull it out the bum snatches it and runs. Given the circumstances it might be impossible to follow them.Same goes for sketchy situations. If you need to check your money or your bag, try not to do it near an exit. Too many times at a YuGiOh! event someone would get cracked over the head when they had they cards out. Then the assaulter would just need to grab the cards, and run a few paces out the door and into a vehicle. Boom. You're now screwed.
Real Talk
In all honestly the last point is a bit extreme. If you need to worry about that, then you probably shouldn't even be in that scene or situation.But keeping your bag attached to you at all times is legit advice. It's just give you more piece of mind on the subway.
---
Got any pro tips for preventing theft? Drop us a line and share them through our Contact Form. Awesome answers will be given a shout out on a future episode of the podcast.