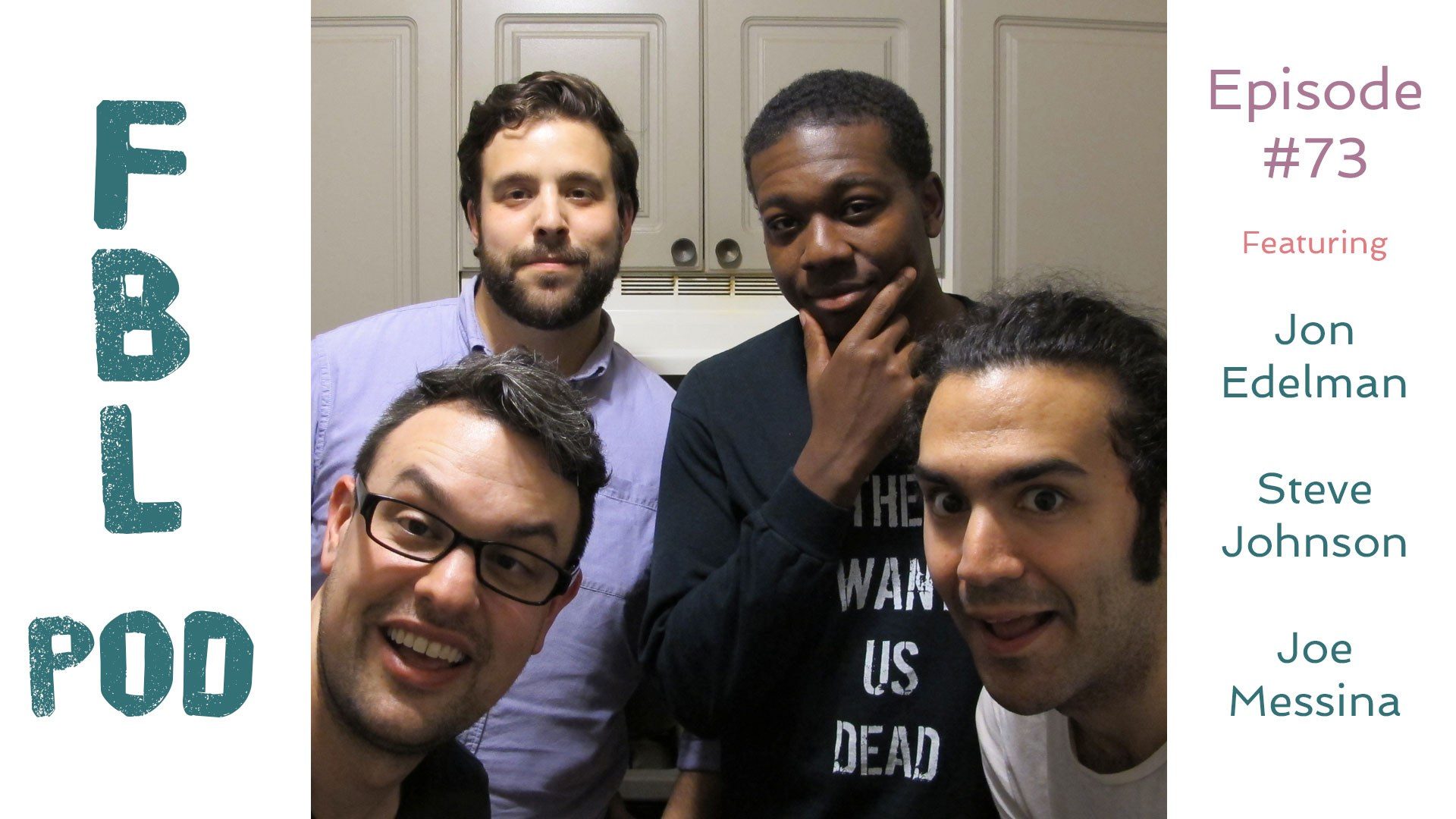 Listen to Full Belly Laughs Episode 73
Use the audio player below to enjoy Full Belly Laughs Podcast Episode 73: Wawa vs Sheetz.
Wawa vs Sheetz is a classic debate. And people are loyal to their favorite convenience store. Listen as the host reads fan submitted responses to this topic, and laugh along with the gang as the comedians react. If you're unable to listen to the podcast above, skip down to the show notes below.
Guests on the Show
---
Wawa vs Sheetz Show Notes
On this episode of the podcast we discussed the benefits of Wawa and Sheetz. Many people prefer one to the other. Several fans wrote in on why their pick is the best. Here is a recap of the best answers we received.
Wawa Endorsements
These are all quotes from fans of the podcast that support Wawa:
Wawa. I don't have a snarky observation to accompany my reply this time. Just the direct statement of a cosmic truth.- James from Cincinnati, Ohio
This might be a little unfair. Wawa gives us a free concert on the 4th of July. I'll say wawa because I like to shop local. #teamWaWa- Richard from Fishtown in Philadelphia, PA
Wawa. Always Wawa. Live and breathe Wawa. They're coffee is amazing, I mean that's pretty much enough to stand on its own.- Lauren from Drexel Hill, PA
I have to give it to Wawa, BUT their recent decline in quality and the fact that Sheetz has fries means that the gap between the two is always narrowing.- Marissa from Girard Estates in South Philly
When I stopped smoking, Wawa pretty much disappeared from my life. On regional boundaries alone, I am a wawa person, but their recent decline makes me wanna be a none of the above person. Their in house bread sucks, but Amoroso's was not that great either (sorry everybody!)—and Sheetz bread is crap; what I would expect from middle PA. I can get cheap ass delicious Liscio's, Sarcone's and Cascia's rolls within a mile of my house for about .50 each....so screw both of em! (Havertown)- Loryn from Havertown, PA
I'd like to meet the person who says "Sheetz."...- Lauren from Kennett Square, PA
Sheets Endorsements
These are all quotes from fans of the podcast that support Sheetz:
Wawa fell off- Moshe from Pitman, NJ
It pains me to say it, Sheetz. They have fries bruh...GOOD ASS FRIES!!!- Keane from Wharton in South Philly
I personally think Sheetz better; Wawa has very little on their menu I think is particularly "novel" or worth taking extra energy to go to compared to Sheetzs. Their Cookies and Cream milk is insane though. I have to admit there is bias though; there are 5 Sheetzs within a 15 minute radius of my house, and no Wawas within 4 hours.-Richard from Butler, PA
I suspect you're going to see responses along regional lines. Having lived in both places, it's Sheetz, easily. Better prepared food, more choices, even a better atmosphere, if that matters. Plus the CEO of Sheetz is named Joe Sheetz, which is hilarious.- Tom from Pittsburgh
Sheetz is one of the biggest sponsors for PA Special Olympics. Plus they have great made to order pretzels. Wawa's coffee is better- Jeanne from Brookhaven, PA
Sheetz, wawa is for the children- Ryan from Cobbs Creek in Philadelphia, PA
Love for Both Wawa and Sheetz
These people couldn't decide and see value in any convenience store:
If you're high or drunk, sheetz. They come up with some ridiculous food combinations, but they taste great. (Avoid the burgers though. Anything fried is awesome!)- John from Kutztown, PA
If there's a sheetz around and I dont have a choice I'm sheetz.... Huge variety of food and drink's. But at heart I'm a wawa person- Brian from Collingsdale, PA
Both have their strengths. It doesn't really come down to trying to win a contest with Wawa's insanely good chocolate milk or Sheetz kick ass fries. For many of us, these markets have been part of our lives and building memories. It is turkey hoagies at 2:30am after a party, stocking up on coffee early in the morning before a road trip, or running in to pick up some missing item for a holiday meal (when no place else was open). Me? I am a Wawa person, but when I taunt a Sheetz fan, it is really just in fun.- Vicki from West Norriton
I went to a Sheetz once which sold premium dolls in fancy dresses so honestly it's a tie.- Nicholas from East Passyunk in South Philly
And the Haters
For those that don't think Wawa or Sheetz are any good:
7-Eleven has more of a variety and doesn't peddle their own line of crappy Iced tea. Not to mention they don't discontinue stuff on a weekly basis like Wawa does.- Mike from Fairmount
Is Wawa Better Than Sheetz?
If you ask anyone that lives in Delco (aka Delaware County, PA), then the answer is "yes". Wawa services too many hard working Americans in this area. For Delconians to say anything other than Wawa would be a betrayal of their own home town. It would feel like rooting for the Dallas Cowboys.
Actual Reasons Wawa Could Be Better
All of the props centered around Sheetz is about their grill. If Wawa expands their food services to include a fryer or grill station, it's game over for Sheetz. Right now the Wawa brand is way cleaner. Sheetz is loud.Also that Wawa Tea though ...
The Wawa green tea alone dominates Sheetz. I lived near a Sheetz in York Pa for 10 years and it never garnered the kind of love and loyalty wawa gets from me here in SJ. Sheetz feels like it's trying too hard and failing. Wawa just gets it done. Coffee is solid, meatball is fine, (look, if you live in the northeast, don't get your hoagies at a convenience store) and the Wawa teas are awesome. I remember nothing special about Sheetz.- Alex from Magnolia, NJ
Philly comedian Pat House makes the best point about Wawa: no other establishment has a better customer-to-customer door-holding etiquette.
Conclusion
At the end of the day it's hard to say which convenience store is truly best. We received the following quote in relation to this topic, and it describes the conundrum best:
Sheetz but in the same way I don't date blonde girls because both my sisters are blonde, I've just been around it my whole life so I'm bored with it. IMO every Sheetz is a tremendous brunette in a sundress smiling at me but I don't hate ya if you are a person who prefers WAWA or to tries to fuck my sisters.Chris from Powelton Village in Philadelphia, PA
Tell Us Your Opinions
Do you have thoughts on this matter? Contact us and share. Great responses will be read on the podcast.Enjoy conversations where we pit two things against each other? Check out these other podcast episodes in the Versus Category.