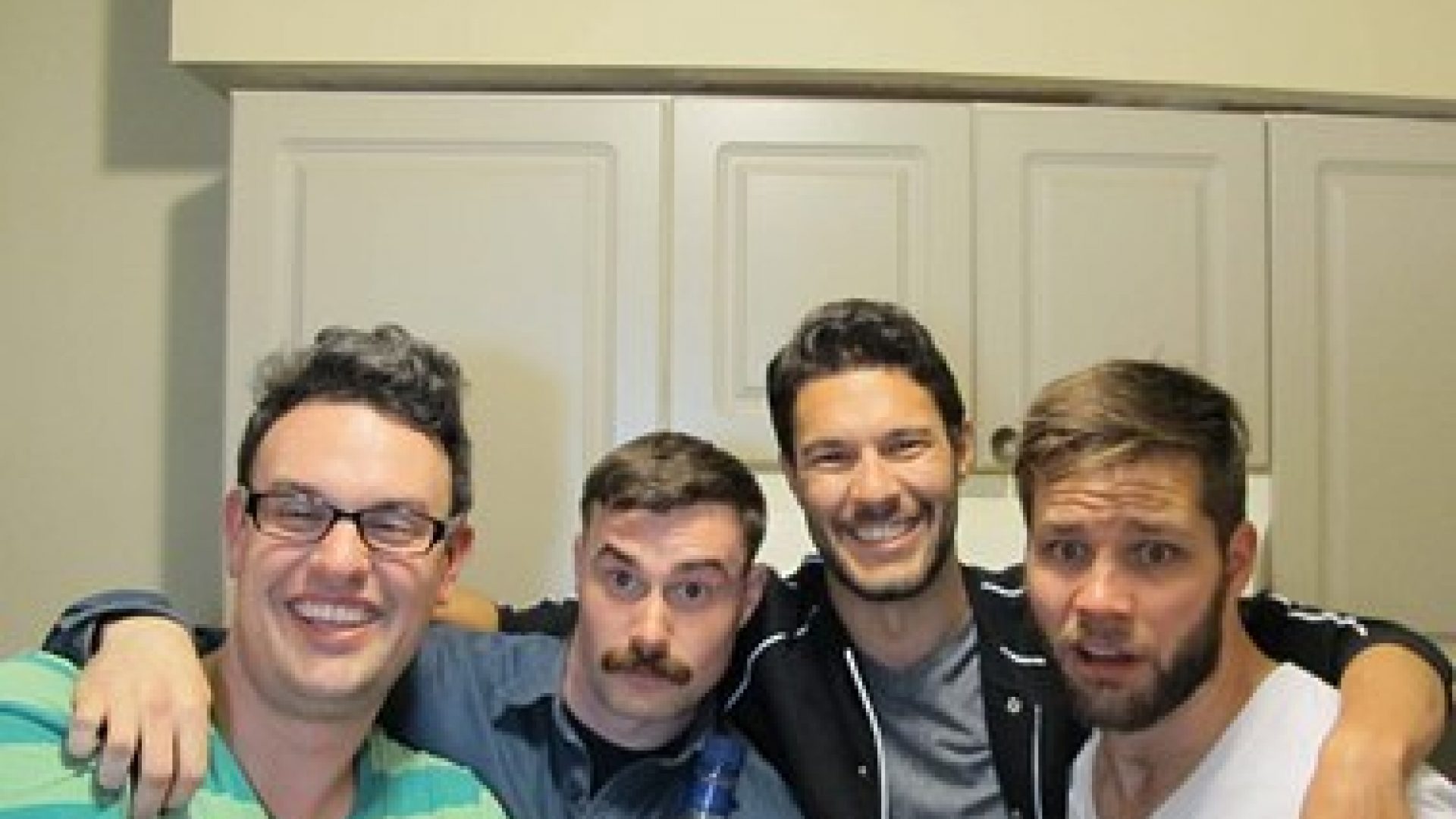 Listen to Full Belly Laughs Episode 16
Use the audio player below to enjoy Full Belly Laughs Podcast Episode 16: Stirred, Not Shaken: The Ultimate Martini Recipe.
A great martini recipe starts with the right hardware. You don't want to serve this cocktail in a solo cup. It's too classy for a back porch frat party. You're a working adult. You want to put on some music while you whip up a quick Rachel Ray dinner, then kick back with this sophisticated drink while you watch Lady Dynamite.
Martini Recipe Every Guest Will Love
Ryan Shaner, Lou Misiano, and Josh Arnolde join Brian Durkin for some early evening cocktails. In honor of James Bond, Brian served martinis. To pair with such an elegant drink Brian supplied the guys with an antipasto platter. The boys can't contain themselves and talk about literally everything. A lot of it pretty raunchy. For more information about the food and drinks scroll below. For now let's learn about the guests.
All The Guest Voices
Below is the picture of the hooligans that you heard on tape.
Ryan Shaner
A comic force you can't forget after you experience him. One of Philly's best comedians, it's no surprise he's on Comedy Central (online). Check out his spot on Delco Proper Season 1 Episode 3. Those living in the Philly area may recognize Shaner on stage at Helium. Follow him on Twitter to keep up with his latest gigs.
Lou Misiano
Do you love to hate on things? Lou understands. That's why he runs the hilarious Good Good Comedy show Burn It Down. This month they go after The Jersey Shore. Each show ends with a lucky audience member providing the Facebook profile of their ex for the comedians to roast. Stay up to date with Lou's happenings by following him on Twitter.
Josh Arnolde
A super funny dude, Josh doesn't understand bored. He acts, writes, and performs in comedic and dramatic productions. According to IMDb he's known for The Other Woman, because we all know that algorithm is spot on. Follow him on Twitter to stay up-and-up on his local performances. He just finished playing the lead in The Importance of Being Earnest, and more gigs are on the horizon.
The Drinks and Food
We picked up the food from a notorious delicatessen in Philadelphia. It has about 3 locations around the city. Snacks for the antipasto platter included prosciutto, olives, roasted red peppers, and mozzarella cheese balls.
Martini Recipe
Hardware:
Martini Glass
Boston Shaker
Tall Mixing Spoon
Hawthorne Strainer
Another Strainer
The gear can be purchased online or at a retailer. We recommend a restaurant and bar supply store. The prices are usually better plus you'll get the real gear bartenders actually use. If you can't find this stuff a glass and a spoon plus some type of fine strainer will suffice. As for the martini glass, if you don't have one you at least need a vessel with a stem or handle.
Martini Recipe Ingredients:
2.5 oz Dry or Extra Dry Gin
1.0 oz Dry Vermouth
Olives
Lots of Ice
Put some ice in the glass. This will ensure the glass is closer to the temperature of the drink. A hot glass is no good and will through off the optimal temperature. Put the rest of the ice in your Boston shaker or mixing glass.Add the vermouth and stir. Do not shake. Stir enough to coat the ice with vermouth, then dump the remaining liquid. Make sure to use a strainer because you want to keep the coated ice. Add the gin and stir again with the coated ice. Do not shake. These ingredients are friends and mix together well, so no shaking needed. There is probably science behind exactly why which you can Google.Remove the ice from the glass and drop in an olive. Strain the drink into the glass and serve.
We Do Things Online
Give our Facebook page a Like so you can share our fun content. Follow Full Belly Laughs on Twitter and Instagram. We put out new stuff on those platforms all the time, so check it out. Don't forget to subscribe on iTunes. This way you won't miss any new episodes.Thanks again to our guests. Next week tune in to hear a famous food writer tell the gang which items at WaWa make her power list.