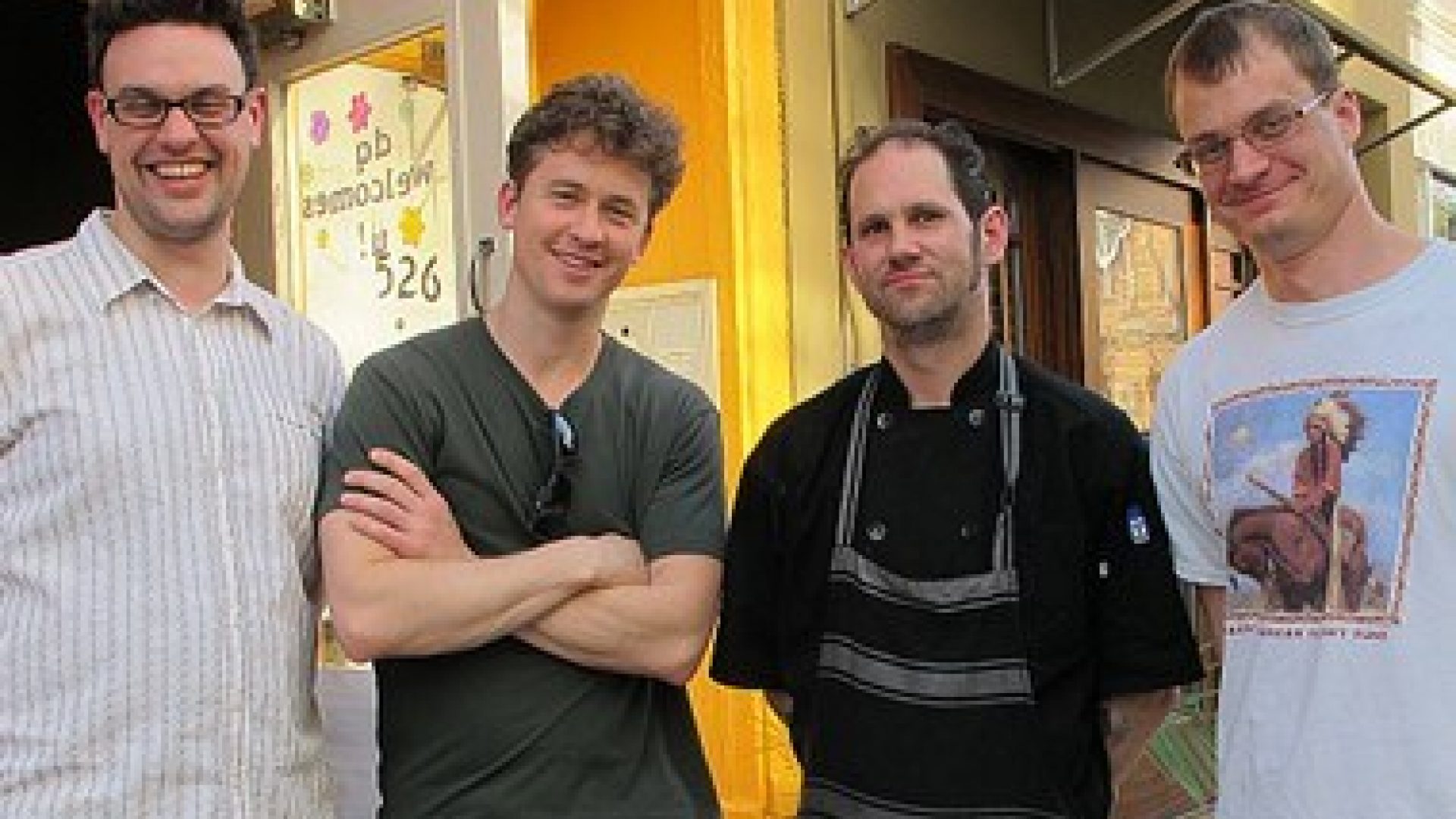 Listen to Full Belly Laughs Episode 15
Use the audio player below to enjoy Full Belly Laughs Podcast Episode 15: Live from Don Quixote Tapas & Things.
Live from Don Quixote Tapas & Things, Matt McCusker and Chris Wood join host Brian Durkin for a fabulous meal. The boys experienced easily the most luxurious meal on the program thus far. Just a half a block north of South Street on 4th, Don Quixote Tapas is the hidden BYOB treasure you need to experience.
Don Quixote Tapas & Things
Matt McCuskar, Chris Wood, and Executive Chef Eric Boston round out the table with Brian Durkin. Eric joins the gang towards the end of the program. He explains the menu at Don Quixote Tapas & Things, and elaborates on his culinary background. The gang sampled several dishes on the menu and loved every single one. Full details about everyone's reactions can be heard in the episode.
Meet the Guests
Learn more about the voices heard on the show.
Matt McCusker
The 2014 winner of Philly's Phunniest Competition, Matt McCusker is a local phenom. His show Digital Graffiti (with Good Good Comedy) brings the traditional roast to the new millennium. A dozen comics attempt to do stand-up, meanwhile a panel of comedians roast them in a group text chat playing on a TV behind the performer. To stay up to date on all of Matt's happenings, follow him on Twitter or check out his website.
Chris Wood
One of the greatest storytellers to ever grace the stages in Philly, Chris Wood's brand of stand-up keeps audiences laughing while on the edge of their seat. His delivery is unparalleled and everyone can't help but listen to what will happen next in all his stories. It's no coincidence that Chris runs the very successful Nobody Died storyteller series. He takes this show on the road so make sure to follow him on Twitter for upcoming dates.
Eric Boston
A master of his craft Eric Boston has 29 years of culinary experience. He started in his teens working in a bakery, and now he's the brains behind the menu at Don Quxiote Tapas & Things. Before coming to Don Quixote Tapas, he helped launch 6 restaurants including The Latest Dish, City Tap House, and Heirloom. Anything you need to know about Don Quixote Tapas and his menu can be found on their website.
The Food
On this episode we ate a bunch of tasty items. Check out their full menu and listen to this episode for our impressions of all the plates we tried. Plan your trip there now on Open Table. Don't forget to pack booze. Don Quixote Tapas & Things is BYOB.
As Jeb Bush would say, "Please Follow Me."
Don't forget to subscribe on iTunes. This way you will receive updates about the latest episodes. Like the Facebook page, and follow Full Belly Laughs on Twitter and Instagram. New and exciting content is released on these platforms all the time, so check us out.Thanks again to Don Quixote Tapas & Things for hosting us. We'll see you next time for a very classy episode of the show.