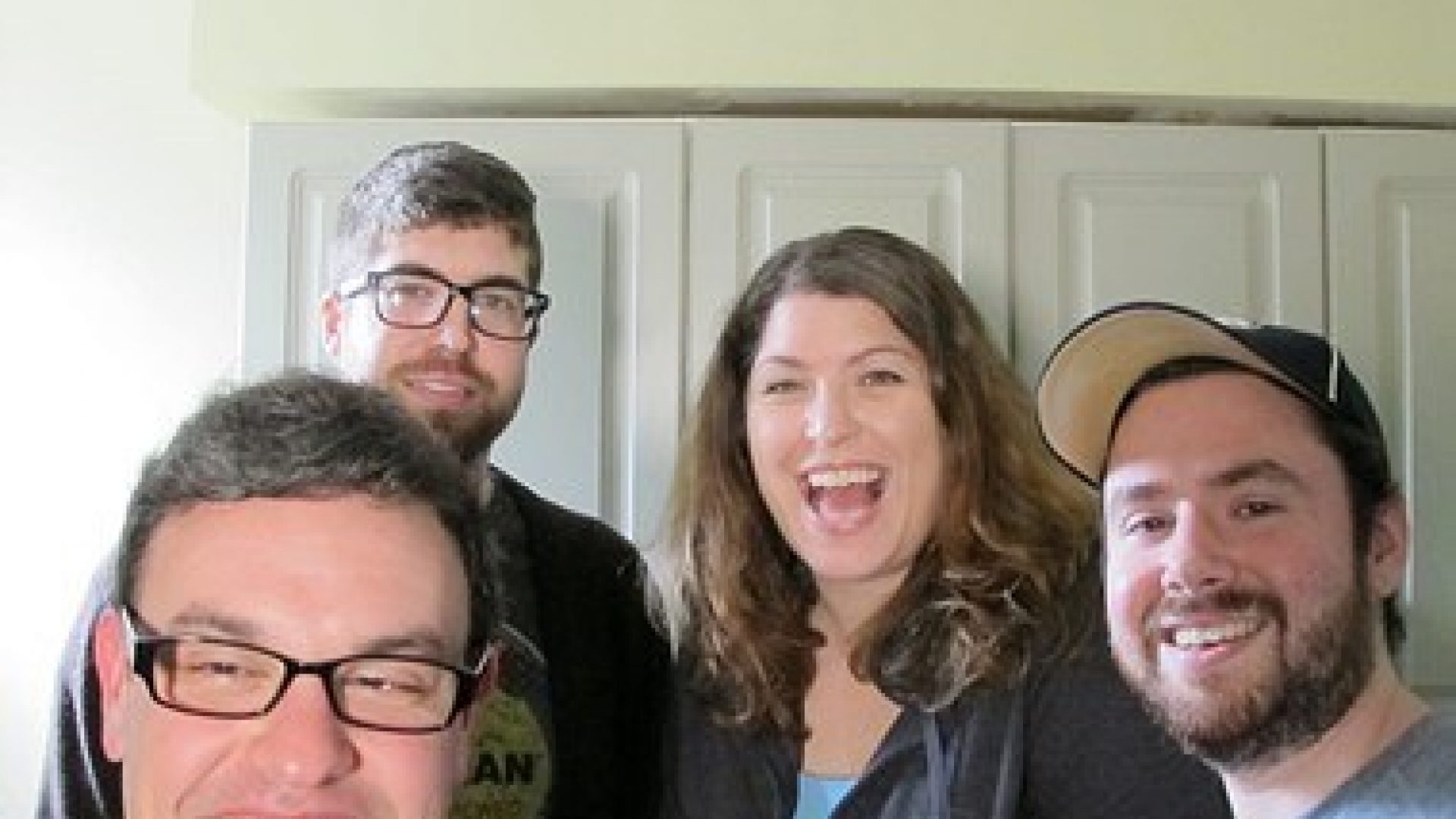 Listen to Full Belly Laughs Episode 17
Use the audio player below to enjoy Full Belly Laughs Podcast Episode 17: Budget Good Eats: Sweet & Spicy Chicken Recipe.
Budget Good Eats is one of the hardest things to do. When you set your mind to making a meal, you're considered about making a great dinner. You never want money to stand between you and quality. Many of the artists on the show adhere to a strict budget, but they don't compromise taste. Today we highlight easy and cheap meals that tickle your taste buds.
Budget Good Eats
The inspiration and recipe for today's meal comes from Anna Goldfarb. She shares the recipe with comedians Drew Castellano, Matt Haggerty, and host Brian Durkin. This dish borrows from Korean flavors, adding a nice sweet and spicy profile to the meat. All the ingredients can be used for other dishes, which is a true sign of budget good eats. The gang chats about eating habits while they dine. Closing out the party, the group plays an epic rendition of the trivia games Initial Listen and Continue Shopping.
The Stars of the Show
Here's a selfie of Brian and the guests in the kitchen.
Anna Goldfarb
She's the author of "Clearly, I Didn't Think This Through". It's a hilarious memoir you need to read. Anna continues to write for her blog Shmitten Kitten, but now concentrates on food writing. You can follow her on Twitter or check out her website for updates on her latest articles.Here's the link to her book mentioned on the podcast:Hey there. This is that sentence we mentioned on the podcast about Anna's book which is called "Clearly, I Didn't Think This Through: The Story of One Tall Girl's Impulsive, Ill-Conceived, and Borderline Irresponsible Life Decisions". End Hyperlink.
Drew Castellano
This comedian is so down to Earth he literally laid on the floor at on point during the show! Drew is a super funny dude that helps run a weekly comedy showcase in Haddonfield, NJ. Make sure to give him a follow on Twitter so you can keep the good times rolling.
Matt Haggerty
Affectionately known as Swaggerty worldwide, Matt keeps it real. Matt knows how to make an audience crack up as well as identify which Drake songs are best. The answer is all of them. Follow Matt on Twitter before he marries a Kardashian and becomes too lit for life. You can also see him co-hosting High Note Humor every Wednesday in Jersey.
That Budget Chicken Recipe
Check it that you got these ingredients.
Ingredients
2 tbsp Gochujang or Moroccan Red Pepper Sauce
1 tbsp honey
1 tbsp Seaseme oil
1 tbsp light soy sauce
1 tbsp rice wine vinegar (or apple cider vinegar)
4 boneless chicken breasts
Instructions:
In a bowl mix everything except the chicken. The sauce should be the consistency of ketchup. Taste it to your liking. Want it spicier? Add more pepper sauce/paste. Want it sweeter? Add more honey.
Once the marinade is on point, add the chicken. Brian recommends cutting the breasts into small chunks. More surface area will help the marinading process, and allow the chicken to cook fast without drying out. Put in the fridge for at least an hour, preferably over night.
Add the chicken and remaining liquid to a pan with a light coat of olive oil. Cook over medium heat. The sauce may turn a dark red. This means it's caramelized and extra tasty.
Serve over some rice which you were supposed to be cooking in parallel this whole time.
Feel free to deviate from this initial recipe. Budget good eats starts with creativity. If you found a new twist on this simple dish, send it to us. We'd love to see it!
Stay in Touch
Pretty please like us on Facebook. We post and share all types of content. Brian Durkin goes live with recipes and trivia games almost every night. Follow Full Belly Laughs on Twitter and Instagram. Fun jokes and commentary on the former, and dank memes on the latter. Don't forget to subscribe on iTunes. New episodes come out every Tuesday, and bonus behind the scenes audio is released on Sundays.Thank you once again to our guests. We'll see you next week.