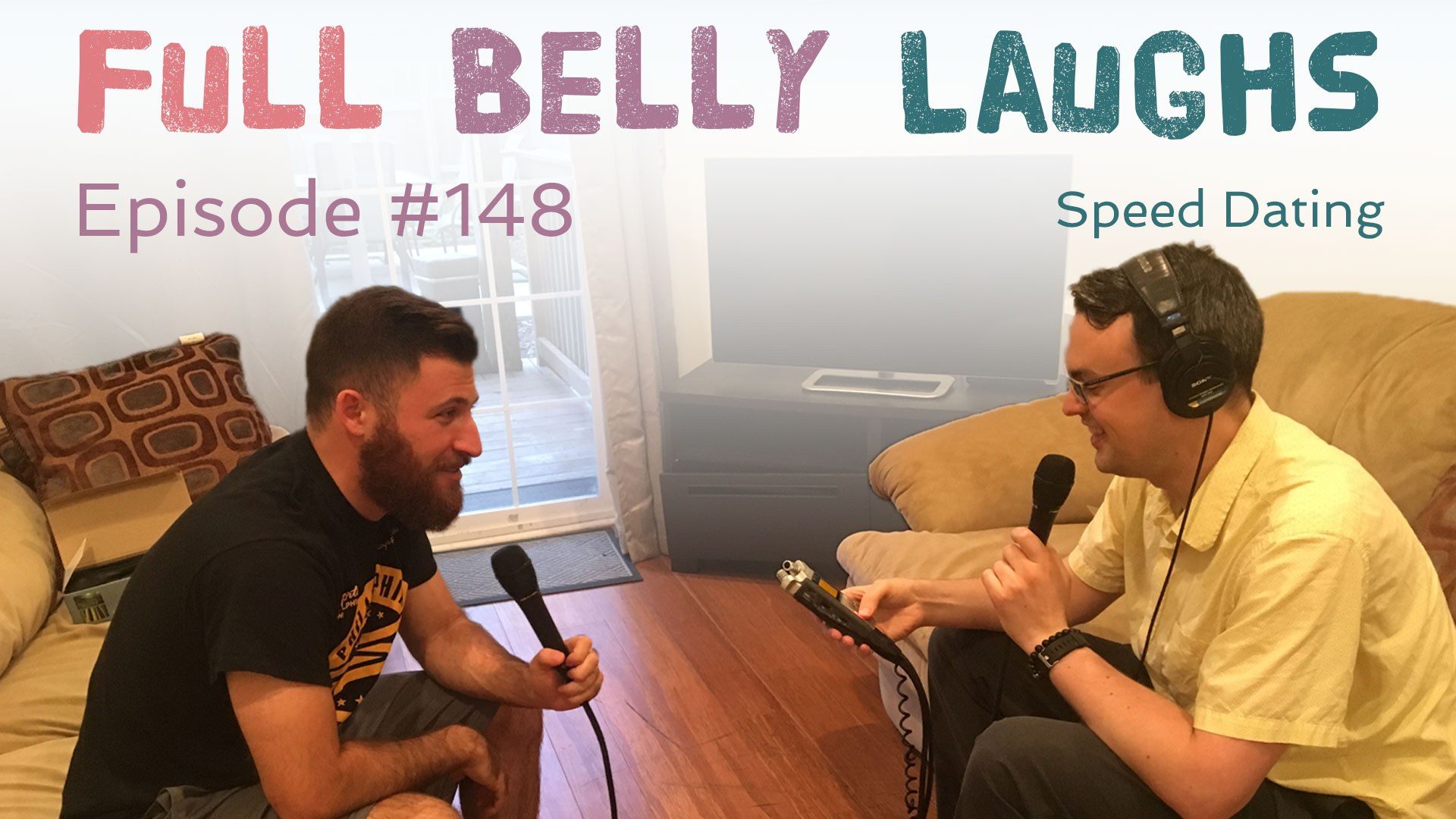 Listen to Full Belly Laughs Episode 148
Use the audio player below to enjoy Full Belly Laughs Podcast Episode 148: Speed Dating.
I had my buddy Luke Cuccurullo on the podcast to chat about his newest business: Unplugged Dating. You got to be a great host in order to put on amazing event after amazing event. Full Belly Laughs is the intersection of when food meets funny, and we like to describe ourselves as a dinner party meets board game night. With that in mind it was nice to have a chat with someone that knows how to run a great event.
Full Belly Laughs Podcast Episode 148 Show Notes
Luke and Brian chat about their education and how they fell into starting their own brands and businesses. That leads them into chatting about Luke's latest venture: Unplugged Dating. Their goal is to foster connections and remove technology to facilitate that. It's a fresh reinvention of an old dating tactic, and it's working! The reviews are clear: people really enjoy the events. It's a nice change of pace from the swipe left or right smart phone world.This is not a sponsored episode. Brian is friends with Luke in real life and endorses his business without any compensation. Brian really appreciates the mission of Unplugged Dating, and wanted to share it with the listeners. Luke also has a lot to offer in the way of running a great event. Since the cast is about hospitality and entertaining, it fits with the whole magic of hanging out and having a good time.
Speed Dating Pro Tips
From the conversation here are some things to consider if you want to try out speed dating:
Don't ask water cooler questions. Avoid stuff like "Where did you go to school? Where do you work?" Talking about the weather is also pretty mopey. In speed dating you don't have a lot of time, so ask questions that let you actually learn about the person.
Be a good sport. Obviously not every person you meet is going to be the love of your life, but it doesn't mean that the brief time ya'll have together needs to be miserable. So what if you're not attracted. Be a good sport and hang in there with some solid conversation for about five minutes.
Don't be creepy.
Podcast Show Notes: Links and References
Luke Cuccurullo from Season 8 of Married at First Sight chats about his company.
Luke Cucurullo from season 8 of Married at First Sight chats about his speed dating company, and provide some great tips.
Luke Cucurullo once married a stranger—you watch it on Season 8 of Married At First Site.
Recently quitting his Civil Engineer job, Luke is a professional Magic: the Gathering player and streamer. Mythic level limited player.
Postivity reigns supreme on his stream, so be sure to watch is stuff on Twitch.
Brian Durkin is on Twitter and Instagram.
Full Belly Laughs is on Facebook, Twitter, Instagram, and Pinterest.
If you enjoyed this content, please consider writing a review on the FBL Facebook Page. It really helps the show reach new people.
If you would like to financially support the podcast, please consider donating. All of our content is ad free thanks to donors. Your contribution will help keep it that way, and unlock exciting opportunities for more content. Learn more about how much it costs to make this podcast, or donate to FBL now.