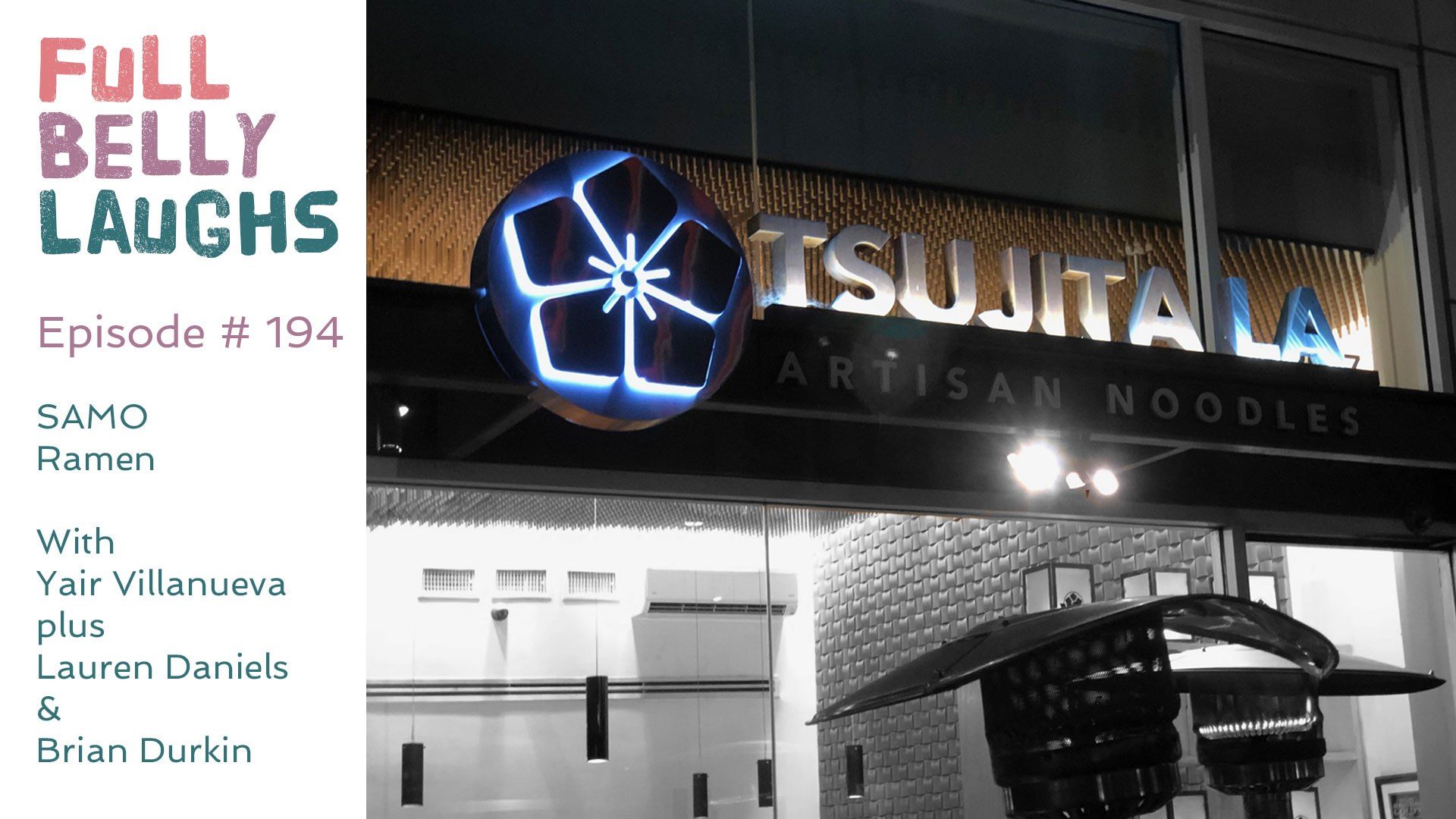 Listen to Full Belly Laughs Episode 194
Use the audio player below to enjoy Full Belly Laughs Podcast Episode 194: SAMO Ramen
Ramen is a classic dish most people have tried. There is a big difference though between high quality ramen, and the dollar instant noodles you heat up in college. Learn about what makes Ramen so amazing on this episode.
Full Belly Laughs Podcast Episode 194 Show Notes
Yair Villanueva joins Brian Durkin for an on location podcast recording. They do the episode in his car, and discuss all the great options that exist in Santa Monica. Throughout the conversation Yair breaks down what makes a great ramen great. The boys also trade stories about working retail, and how strange people are destined to walk in on your shift. After the conversation, the guys close the episode with a round of Super Fight.
Santa Monica Ramen
If you are looking for high quality Ramen in Santa Monica, this is the definitive list.
Tatsu
This is the gateway ramen. It's overall good, and they've got decent variety. It's a must try for anyone in the SAMO or Greater Los Angeles Area.
Daikokuya
Traditional style ramen and tsukumen. They've changed up their broth recipe and it's amazing! Check it out.
Tsuijita
The most famous LA spot on the list. They have multiple locations. If you had to only go to one place, this would be the place.
Killer Noodle
Focus on spicy ramen. If you like hot food, this is your ramen spot. You order on a scale from 0-5 for spicy. Even spicy lovers tend to tap out at a 3 or 4. Only order a 5 if you want to die or have already burned off your taste buds.
Podcast Show Notes: Links and References
Brian invites a ramen connoisseur to tell him about all of Santa Monica's ramen.
Learn about what makes ramen so great from a guy that's devours most of the ramen Santa Monica has to offer.
Yair Villanueva is a ramen connoisseur and scone fanatic. He also gets paid to be a nerd, which may or may not be better than nerding out for free. You can follow him on Twitter
Brian Durkin is on Twitter and Instagram.
Full Belly Laughs is on Facebook, Twitter, Instagram, and Pinterest.
If you enjoyed this content, please consider writing a review on the FBL Facebook Page. It really helps the show reach new people.
If you would like to financially support the podcast, please consider donating. All of our content is ad free thanks to donors. Your contribution will help keep it that way, and unlock exciting opportunities for more content. Learn more about how much it costs to make this podcast, or donate to FBL now.