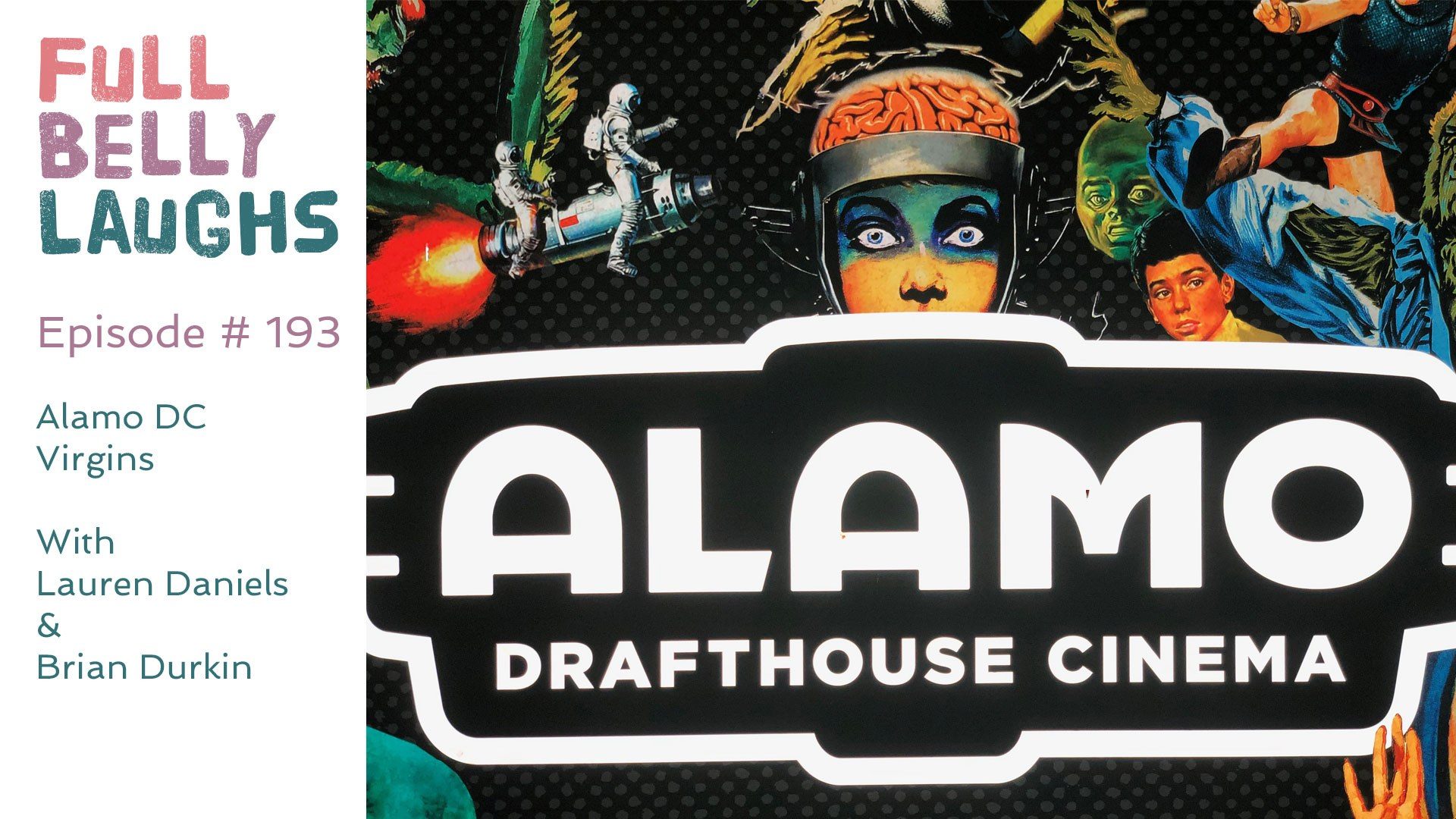 Listen to Full Belly Laughs Episode 193
Use the audio player below to enjoy Full Belly Laughs Podcast Episode 193: Alamo Drafthouse Cinema Virgins.
The Alamo Drafthouse Cinema lives up to the hype. If you've listened to a movie podcast before, someone at some point has name dropped this dope cinemaplex. Lauren and Brian finally got to try it out for the first time, and they have lots of great things to report.
Full Belly Laughs Podcast Episode 193 Show Notes
The episode begins with some general silliness as Lauren tries to under Brian's tangents. It all converges though into talking about their Labor Day Weekend. They discuss the interesting characters they saw on their walk to and from dinner, as well as discuss one of their favorite spots: Stout Burger. It's a nice little bonus review for an episode dedicated to a movie theater. After reminiscing on the events that happens mere moments before recording, the power couple jumps into the meat and potatoes of the episode. They give their thoughts about the Alamo Drafthouse Cinema, and their review of The Peanut Butter Falcon. Afterwords they do a bit of Shia LaBeouf trivia.
Alamo Drafthouse Cinema Review
The Alamo Drafthouse is a reason to go pay to see something in the theater. In the era of streaming, it's hard to justify a movie ticket. The standard rate for one person to see a single movie in theaters is about two months of a streaming service. So what does Alamo do to make the experience worth it? They have a full menu and bar, and deliver the food to your seat. The ordering system is very simple, and ensures that it won't disturb the film for anyone. The aesthetic of the place is very cool and retro, plus they serve up some really weird short films while waiting for the movie. Lauren and Brian enjoyed it so much, they immediately booked tickets to see another film there.
Podcast Show Notes: Links and References
Arthouse plus blockbuster movies theater, and they serve food. What's not to love?
We try the Alamo Drafthouse Cinema for the first time. Hear or read about our first impressions, and why this is a theater you need to check out.
Lauren Daniels is a content creator, yogi, graphic designer, vegan, and essential oil enthusiast. She believes there are a myriad of healthy, eco-friendly (and pocket friendly) swaps for your everyday life. Discover these alternatives by watching her videos on YouTube, or following her on Instagram and Pinterest.
Brian Durkin is on Twitter and Instagram.
Full Belly Laughs is on Facebook, Twitter, Instagram, and Pinterest.
If you enjoyed this content, please consider writing a review on the FBL Facebook Page. It really helps the show reach new people.
If you would like to financially support the podcast, please consider donating. All of our content is ad free thanks to donors. Your contribution will help keep it that way, and unlock exciting opportunities for more content. Learn more about how much it costs to make this podcast, or donate to FBL now.