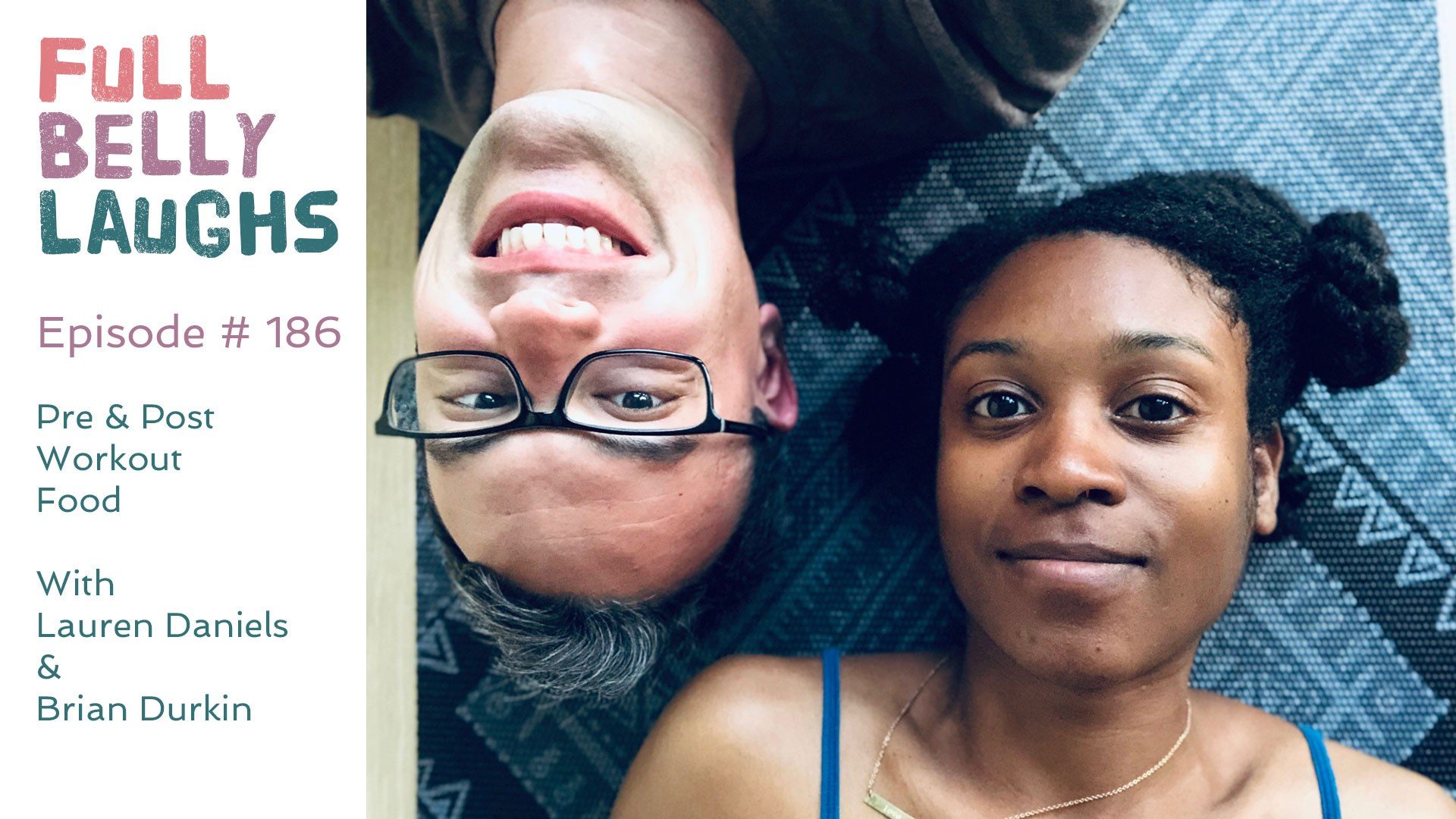 Listen to Full Belly Laughs Episode 186
Use the audio player below to enjoy Full Belly Laughs Podcast Episode 186: Pre & Post Workout Food
We discuss all the meal options for your pre-workout and post-workout. If you were ever curious on what to consume before you start to exercise, or after you finish exercising, we have all the fun tips for you.
Full Belly Laughs Podcast Episode 186 Show Notes
Lauren Daniels chats with Brian Durkin about the meals she eats after her workouts. They chat about her regiment of working out, which included an astonishing number of yoga classes. Lauren explains how this practice helped prepare her for a difficult day of fitness classes. She also mentions how her meal plans really helped her recover. Brian sheds some light on his nutrition from back when he used to have a personal trainer. After discussing working out and the meals to eat before and after exercising, Lauren and Brian play some Super Fight.
What to Eat Before a Workout or After a Workout
It's important to stay hydrated. Keep the fluids flowing before you decide to hit the gym. And those fluids need to be water, or an electrolyte drink that's part of your overall plan. Beer and wine is not the best pre-workout choice. After a workout you want to try and consume something within an hour (if possible). If you want to build muscle, concentrate on proteins after working out. If you want to build endurance, focus on carbohydrates after a cardio-intense workout.
It also depends on your overall health and nutrition. Eating correctly before or after the gym doesn't matter if you slam a case of beer later. Figure out your goals. Next discover some foods you enjoy that contain the nutrients you need based on your fitness goals. Finally keep the practice. With routine you will get there.
Podcast Show Notes: Links and References
Pump iron not your stomach! This is the best food to eat before or after working out.
Read about or listen to this hilarious discussion about the best pre-workout and post-workout nutrition.
Lauren Daniels is a content creator, yogi, graphic designer, vegan, and essential oil enthusiast. She believes there are a myriad of healthy, eco-friendly (and pocket friendly) swaps for your everyday life. Discover these alternatives by watching her videos on YouTube, or following her on Instagram and Pinterest.
Brian Durkin is on Twitter and Instagram.
Full Belly Laughs is on Facebook, Twitter, Instagram, and Pinterest.
If you enjoyed this content, please consider writing a review on the FBL Facebook Page. It really helps the show reach new people.
If you would like to financially support the podcast, please consider donating. All of our content is ad free thanks to donors. Your contribution will help keep it that way, and unlock exciting opportunities for more content. Learn more about how much it costs to make this podcast, or donate to FBL now.