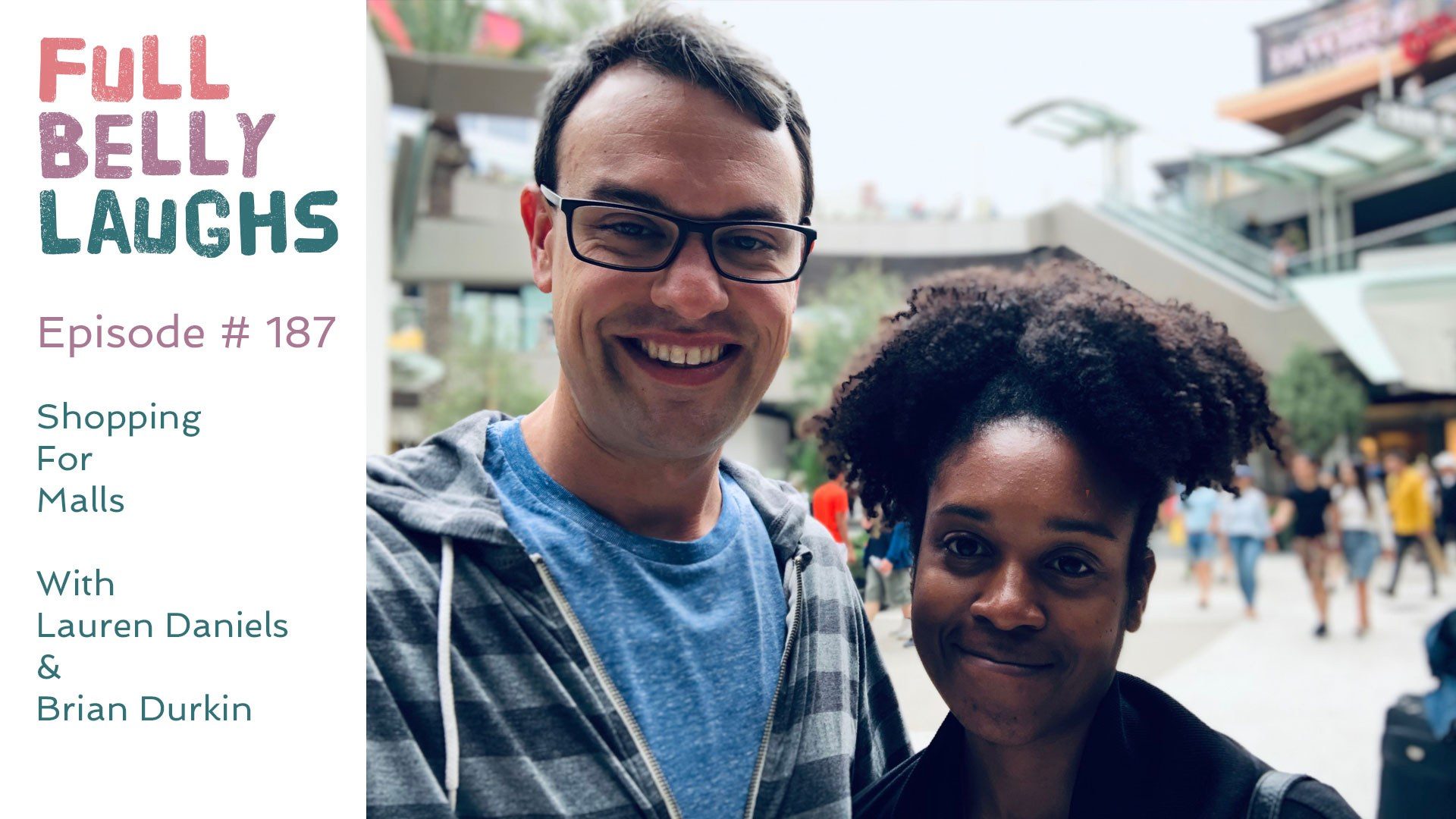 Listen to Full Belly Laughs Episode 187
Use the audio player below to enjoy Full Belly Laughs Podcast Episode 187: Shopping For Malls
Lauren and Brian discuss the difference between regular malls and luxury malls. Figure out what makes a mall high-end versus low-end, and what you can expect to eat at each place.
Full Belly Laughs Podcast Episode 187 Show Notes
Lauren Daniels and Brian Durkin go on an adventure to find a new mall. When you move to a new neighborhood, you need to discover that place of commerce where you can just chill. On their journey they tried out Westfield Century City and Westfield Culver City in Los Angeles. There are striking differences between these two malls. One is a luxury mall, and the other one is clearly not. But that's not a bad thing, as they point out. They also have a good laugh about the silly stores that exist at both types of malls. After a fun conversation they play a few rounds of Super Fight. Also for the true fans, stay to the very end for a bonus game.
Luxury Malls Vs Shopping Malls
If you want a specialized item, then go to the luxury mall. Every luxury mall includes specialty boutiques you didn't even know could exist. This includes the food court. There will be plenty to discover in the luxury mall. The real question is can you afford to taste what they have to offer?
That's where a regular shopping mall comes in. When you just need to buy some basic stuff, the true shopping mall is where it's at. They also cater to families way better than a fancy, luxury mall. Typically there will be some time of "fun zone" where the kids stay active, and you can cross some chores off your list.
Podcast Show Notes: Links and References
There is a big difference between regular and luxury malls.
The gang discusses the differences between a regular shopping mall and a luxury mall. Read or listen to the episode to learn the pros and cons of each.
Lauren Daniels is a content creator, yogi, graphic designer, vegan, and essential oil enthusiast. She believes there are a myriad of healthy, eco-friendly (and pocket friendly) swaps for your everyday life. Discover these alternatives by watching her videos on YouTube, or following her on Instagram and Pinterest.
Brian Durkin is on Twitter and Instagram.
Full Belly Laughs is on Facebook, Twitter, Instagram, and Pinterest.
If you enjoyed this content, please consider writing a review on the FBL Facebook Page. It really helps the show reach new people.
If you would like to financially support the podcast, please consider donating. All of our content is ad free thanks to donors. Your contribution will help keep it that way, and unlock exciting opportunities for more content. Learn more about how much it costs to make this podcast, or donate to FBL now.