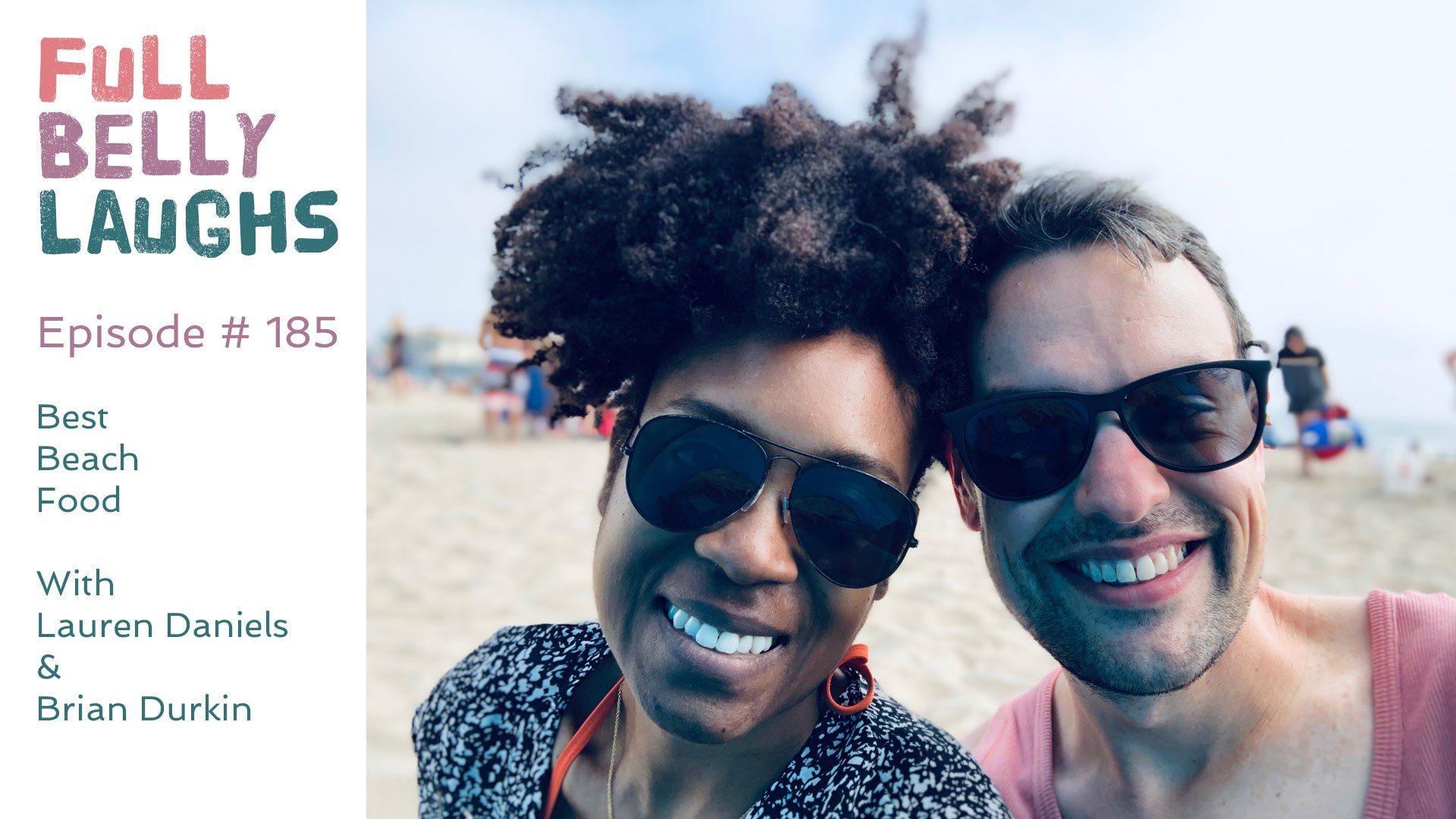 Listen to Full Belly Laughs Episode 185
Use the audio player below to enjoy Full Belly Laughs Podcast Episode 185: Best Beach Food
Lay out in the sun and enjoy some good eats. But what will you consume? We are here to answer this challenging question. There are so many challenges when it comes to packing a great meal for the beach. Is it heavy to carry? With the seagulls attack us over it? Will it pack well? Can children contaminate it with sand or water quickly? We help answer all of these questions and more.
Full Belly Laughs Podcast Episode 185 Show Notes
Lauren Daniels joins Brian for another great conversation. They chat about their days and some other random things, including Jaden Smith. They quickly zero in on the topic at hand: best beach food. They discuss the wonderful things Lauren packed for their beach trip. From there they name other items families or just humans could consume at the beach. After thinking about the possibilities, they lay down a list of great items to consider. After the conversation they play a round of Guess Who? while simultaneously playing Punderdome. It's a must-listen moment.
Best Beach Food
There are several items that are perfect for a day at the beach. Here are some of our favorites:
Overnight Oats
Grapes
Watermelon
Salad Sandwiches (Egg Salad, Chicken Salad, etc.)
Pretzels, chips, Chex Mix, etc.
Liquid Death
That last one you don't really need, but bringing water is a good idea for the beach. It's easy to forget out dehydrated you might become having fun in the sun.
Podcast Show Notes: Links and References
A day in the sun on the sand is fantastic, unless you get hungry.
Lauren Daniels is back, and she explains all the meals and snacks she prepared for the beach. Read about or listen to the best beach food for anyone.
Lauren Daniels is a content creator, yogi, graphic designer, vegan, and essential oil enthusiast. She believes there are a myriad of healthy, eco-friendly (and pocket friendly) swaps for your everyday life. Discover these alternatives by watching her videos on YouTube, or following her on Instagram and Pinterest.
Brian Durkin is on Twitter and Instagram.
Full Belly Laughs is on Facebook, Twitter, Instagram, and Pinterest.
If you enjoyed this content, please consider writing a review on the FBL Facebook Page. It really helps the show reach new people.
If you would like to financially support the podcast, please consider donating. All of our content is ad free thanks to donors. Your contribution will help keep it that way, and unlock exciting opportunities for more content. Learn more about how much it costs to make this podcast, or donate to FBL now.