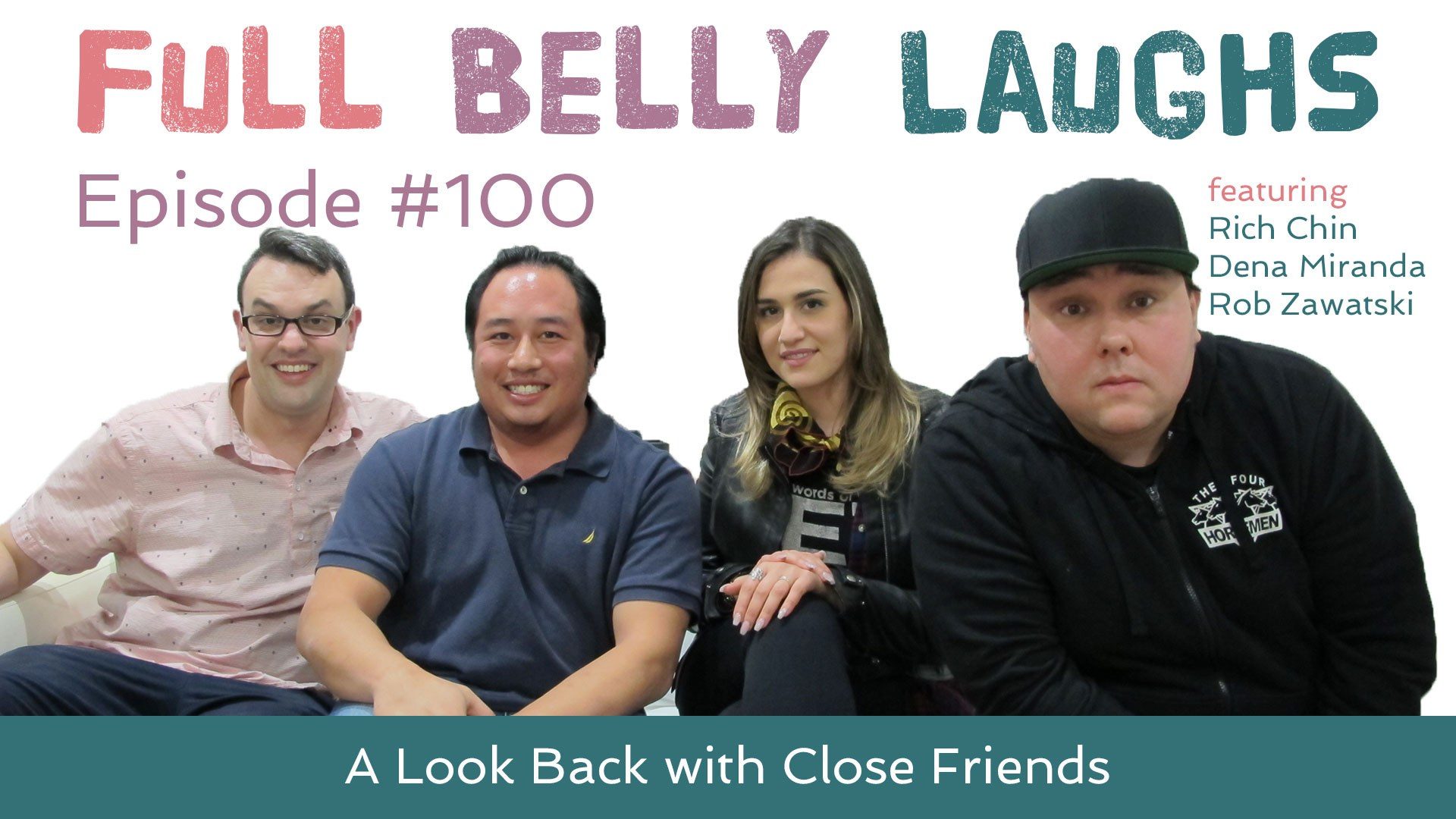 Listen to Full Belly Laughs Episode 100
Use the audio player below to enjoy Full Belly Laughs Podcast Episode 100: #100 - A Look Back with Close Friends.
Brian invited three of his close friends to help tell the origin story of how the podcast came into being. It's amazing how these friends brought him to this stage in his life, and how they continue to inspire him. It's a heart warming episode that every fan will appreciate. Use the audio player to start listening, or continue reading to enjoy the highlights from the show notes.
Origin Story
Brian Durkin came up with the idea for the podcast after having brunch with a close friend from college. He wanted to do something creative again. It had been a long time since he took a break from writing, and no surprise that his 9-5 wasn't making him feel complete. While out to brunch he had the thought, "Wow. Food bloggers have it so good. They just sit around, eat food, and write about it." With that naive, but somewhat accurate comment, Brian set out to do his version of a food content.Brian always loved to eat and cook, but most importantly he loves to laugh. He could never live with himself as a critic, so doing a comedy food blog made the most sense. Poking fun at weird things in food, or being the anti-food blog, was the inspiration for the website Full Belly Laughs. Early on though the Full Belly Laughs brand moved away from being a strict satire of food blog content. It became synonymous with Brian Durkin as it incorporated trivia, games, and hosting parties. As a natural host, Brian's the friendly neighborhood Spike that likes to throw a gathering. Thus the Full Belly Laughs podcast evolved into the audio form of that. Listeners get to be flies on the wall to the hangouts Brian would host anyway.
Important Contributors to the Origin Story of Full Bell Laughs
Rob Zawatski is a close friend of Brian, and he's the reason for the podcast. Brian used to only listen to music before Rob introduced him to this new art form. Brian was hooked. He came to Rob with the idea for Full Belly Laughs, and Rob provided a lot of guidance. He helped him acquire equipment, gave notes about the show, and helped him record the theme song. Without Rob, you wouldn't know Brian, because Brian never would have started Full Belly Laughs.Dena Miranda is a great friend of Brian, who keeps him looking and feeling sharp. She's the mastermind behind Lather Hair Studio in Brewerytown. Even before the shop opened, Dena used to make sure Brian looked sharp with fresh cuts. Beside providing great hair cuts, she also gives Brian some amazing emotional support when needed. Not every day you sit in the chair do you feel your best, and a great stylist will pick you back up.Dena is also a professional singer, and you can see her doing jazz standards in her band Dena and the Mellowton3s. You probably recognize Dena's voice, because she sings the theme song for the podcast.Rich Chin is a fantastic buddy of Brian, who he met in the gaming world. An avid player of games, particularly card games, Brian and Rich immediately hit it off. He's an incredible supporter of the show. He writes into the polls, and gives insightful feedback on how to improve the program. Most importantly he donates financially to the show. As the solo donor to the program, Rich helped fund some new equipment for Full Belly Laughs. Without his contributions, the great audio sounds in each episode wouldn't be possible.
---
Looking to be an awesome fan just like Rich? Full Belly Laughs is on Patreon. It's a way where you can support the show. Depending on which level you would like to contribute, you'll earn different rewards. Check out our Patreon and see which reward level is best for you.