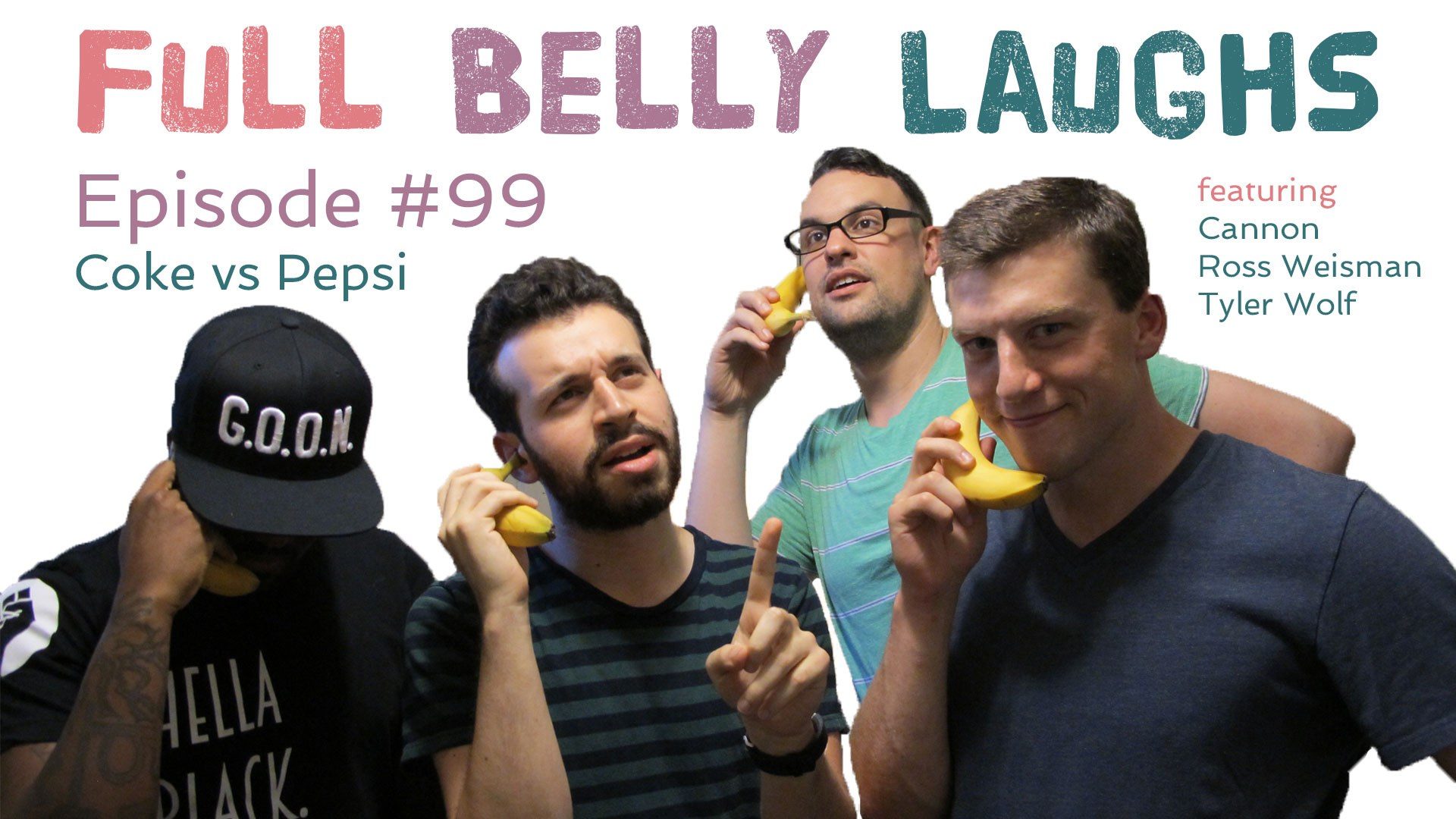 Listen to Full Belly Laughs Episode 99
Use the audio player below to enjoy Full Belly Laughs Podcast Episode 99: Coke vs Pepsi.
It's the battle of the top dog soft drinks: Coke vs Pepsi.
Full Belly Laughs Podcast Episode 99 Show Notes
The boys chat about all types of jawns. From NYC vs Philly, and the podcast life, every chimes in with their thoughts. It was a great discussion, especially when they got into it about Coke vs Pepsi. After debating the soft drinks they moved on to doing a Hyperthetical and playing some other board games.
Coke vs Pepsi
Once again our fans came through with some amazing responses to this prompt. Thank you to everyone that participated. Here are some of the best answers.
Coke Fans
Whether it's Santa or Polar Bears, this can is for you.
Mexican coke with real sugar rather than corn syrup! - Kevin from Redmond, WAMy Peepaw worked for coca cola for 35 years. It's a loyalty thing. - Moshe from Bridgeport, NJ... the less sweet taste of Coke products, but what really makes the difference for me is the carbonation level. I love the more highly carbonated Coke. (I am one of those people who over carbonates everything I make with my SodaStream, too.) - Vicki from West Norriton, PACoke. Only because Pepsi reminds me of this guy named Vince that my mom used to date when I was a kid who I thought was a total badass but I met him again as an adult because he ended up being my mechanic and he is a Pepsi-guzzling redneck with a fake hip. - Tara from Point Breeze in Philly
Pepsi People
It's hip to be square, but totes legit to love Pepsi.
Coke. Pepsi tastes like cleaning fluid and mop water left to sit in the sun. We straight up don't speak of Diet Pepsi. - Angelina from East Passyunk in PhillyPepsi. Coke is for weaklings and guys named Carol. - Jack from Port Richmond in PhiladelphiaI feel afraid of coke. It seems more acidic than Pepsi for some reason. If it can clean a penny, maybe it's too harsh to flow through my intestines. - Colleen from Clark Park in PhillyPepsi because I'm a child of the 80's and Pepsi was cool in the 80's (see Back to the Future) while Coke was something Hippies drank while they were trying to teach the world to sing in perfect harmony in the 70's and the 70's sucked! And have you ever heard of Crystal Coke? No you haven't!! - Alex from Magnolia, NJ
---
Do you have an opinion about Coke vs Pepsi? Be sure to share your feelings by tweeting at us. Or you can use our Contact Form.