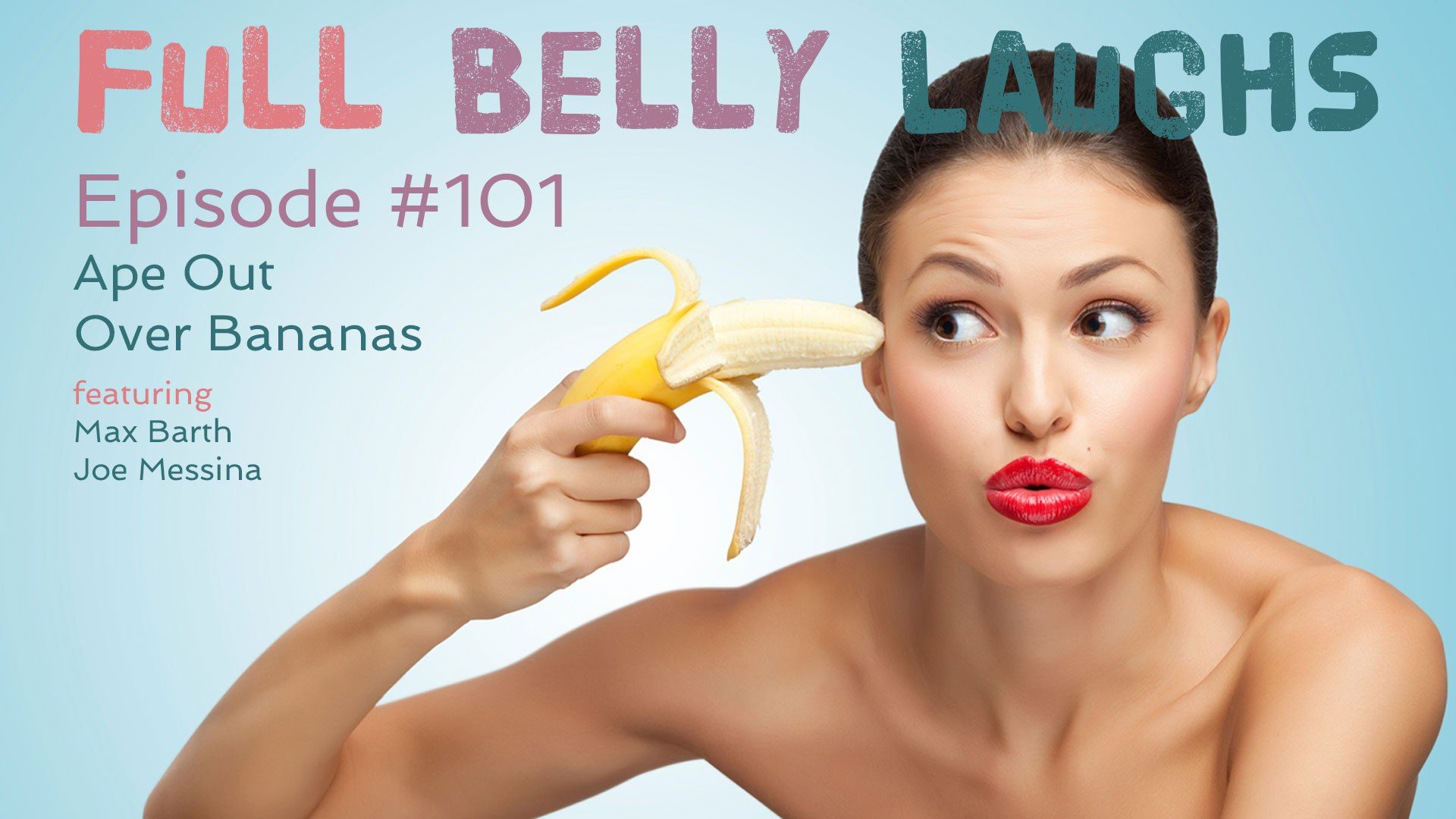 Listen to Full Belly Laughs Episode 101
Use the audio player below to enjoy Full Belly Laughs Podcast Episode 101: Ape Out Over Bananas.
We ape out over bananas on this episode. Like a teenage gorilla with raging hormones, we debate the pros and cons of all things bananas. Which way should you eat a banana? Where is the most decent place to eat a banana? When do you know it's time to eat a banana? All these questions and more are answered on the podcast. If you can't listen, check out the show notes below.
Episode 101 Shownotes
Former guest Max Barth suggested this topic for his return to the show. He had a lot to say about bananas. His opinion with ripeness clashed with a fan who wrote in. He also couldn't accept the fact that people eat bananas in different ways. Max also preguessed the correct answer to the hyperthetical! We do our best playing Head Games, but realize the segment needs work.
All Things Bananas
Here's what you need to know about bananas.
You Can Eat Them Forwards or Backwards
Most people use the stem of a banana like a "tear here" on a plastic bag. This is not the only way to approach this fruit. Other people peel open a banana from the bottom, and use the stem like a Popsicle stick. Traditionalist hate this method. Much like cuckservatives and libtards, there is no common ground. You either do it their way or the right way.
Bananas Are a Nice Complement
Many things get so much better with bananas. Peanut butter and chocolate (two of Christian Mangual's favorite things) improve vastly with bananas. Obviously if you don't like bananas this doesn't really apply to you. But even the banana haters probably like something with banana in it. They just don't realize it. The subtle flavor sings backup well in a smoothie, plus it adds a much needed element for thickening the liquid.
Bananas Don't Really Go Bad
Okay that's a a lie. Bananas do go bad. But unlike other fruits and vegetables, bananas on their way out can be salvaged. Wait a while so you can make banana bread with past ripe bananas. Sure you could have eaten the fruit when it was ready, but no one actually eats groceries. You buy that stuff as an insurance against going out to eat. When you consider that banana bread can be made with pretty booty bananas, it's adds to the theoretical shelf life of bananas.
---
Do you got opinions about bananas? Let us know using the Contact Form.If you enjoy the show, but sure to rate/review the podcast on iTunes.