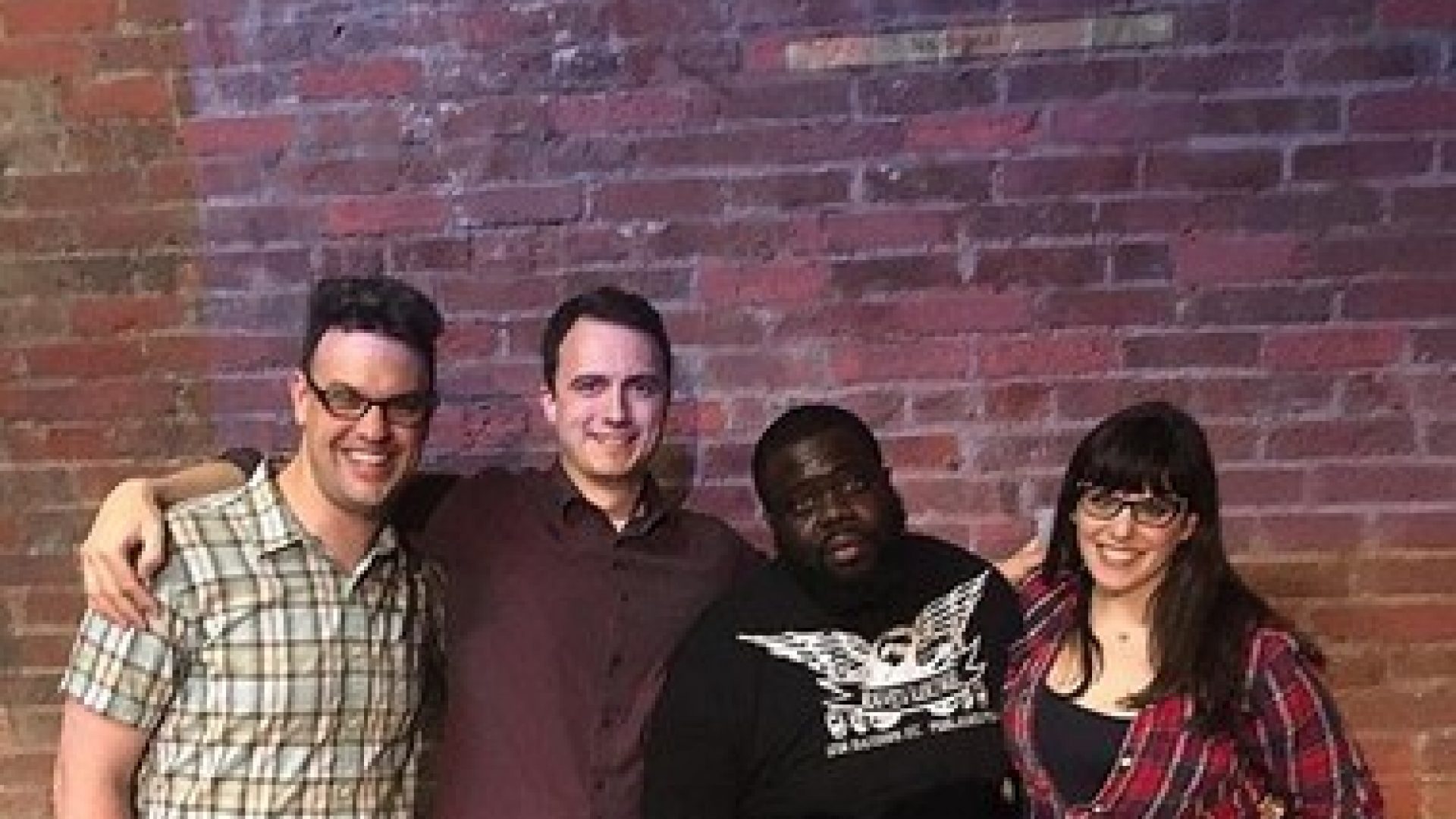 Listen to Full Belly Laughs Episode 21
Use the audio player below to enjoy Full Belly Laughs Podcast Episode 21: PHIT LIVE with Tim Raymus, Jillian Markowitz, & Chris Cotton.
PHIT live recording of the Full Belly Laughs podcast. All the fun games and conversation, only this time the dining room table is on stage.
PHIT LIVE
Our home away from home, Full Belly Laughs performs the podcast live on stage at the Philly Improv Theater. We performed there before and always enjoy coming back. Follow Philly Improv Theater for upcoming information about future shows.
Panel of Professional Funny Peeps
Brian, Tim, Chris, and Jill after the performance.
Tim Raymus
One of the best musical comedians in Philadelphia, Tim's songs keep audiences tapping their feet while they laugh. His next gig is at this month's Laughs on Philly: UnPasteurized. Give this man a follow on Twitter so you can stay in tune with his funny melodies.
Chris Cotton
A veteran comedian, Chris always elevates any project he touches. His new limited edition comedy series kicks off next month. Make sure to attend one of his J.A.S.O.N. (July, August, Sept., Oct., Nov.) comedy shows at the Raven Lounge. Until then follow him on Twitter and watch his new show Trackbreakers.
Jillian Markowitz
Jill sings a bunch of funny original songs that you need to hear. Check out her YouTube page and subscribe if you like what you hear. Follow her on Twitter so you can stay tuned for her new podcast: Getting Intimate with Jillian Markowitz. It's a show where she interviews people on her bed about their secrets.
Save the Date: August 3rd
Former guests on the show Rachel Peters and Amanda Taylor will be performing their original show Calendar Boys. You can catch Jill in this production.Hush Hush: Full Belly Laughs might be performing a secret show at the same venue. So tell your friends and family to be there.
No Recipe
Any time we do a live show on stage there is no recipe. Sorry for the inconveience. Check out any one of our episodes recorded in the home studio for a great dish you can make at home.
Stay Connected
See you next week when we return with a special nerdy edition of the show.