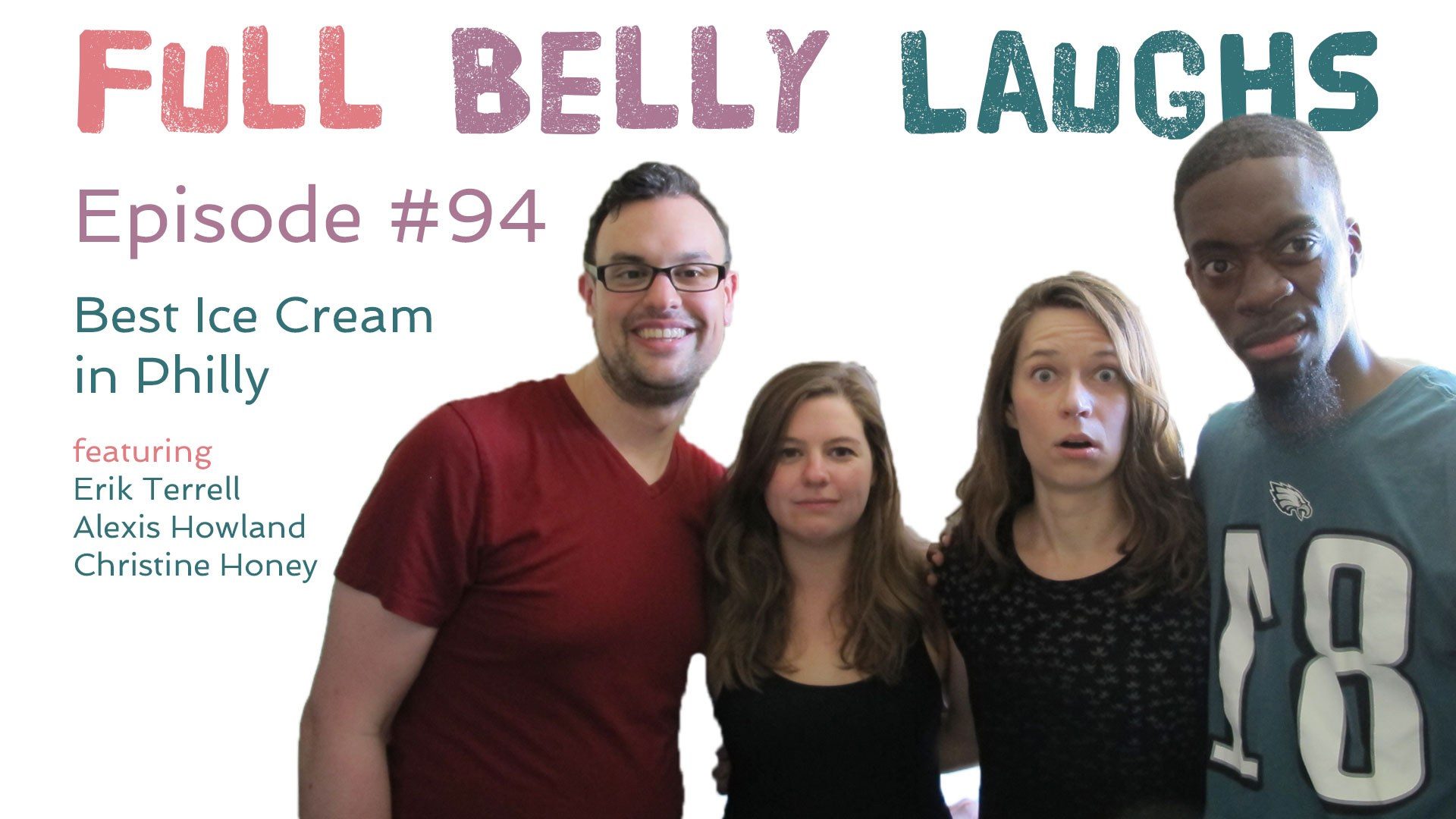 Listen to Full Belly Laughs Episode 94
Use the audio player below to enjoy Full Belly Laughs Podcast Episode 94: Best Ice Cream in Philly.
Philly ice cream is the best in the country. There is no debate about it. We offer the best varieties and style. Each flagship ice cream shop in the city is world class in their type of ice cream. Do you like traditional? Soft serve? Avant-garde flavors? Philly ice cream has it all, and we break it down for you on this episode. Use the player above to hear about it or continue reading to learn about each place.
Full Belly Laughs Podcast Episode 94 Show Notes
The comedians break down their favorite ice cream places and take suggestions from listeners. Before the discussion they revisit the topic from last week: best cereal. After dissecting Philly ice cream they play a round of Scattergories to round out the episode.
Best Philly Ice Cream
Looking for an amazing cup or cone? Look no further. We got you.
N2 Sweet Cafe
The newest edition to the ice cream landscape, N2 Sweet Cafe is here to stay. The coolest dessert cafe in Philly, this place uses liquid nitrogen to make their sweet treats. You can even see the science it person when you order. You can taste the difference, and it rules. N2 Sweet is like no other, and you need to taste the difference.
Little Baby's Ice Cream
What it comes to flavors, no one comes close to Little Baby's Ice Cream. Headquartered in East Kensington with an embassy in Cedar Park, Little Baby's pushes the envelop every day. New flavors offered throughout the day including earl grey sriracha, chipotle chocolate, and rose pistachio. Our personal favorite is El Vocho: crushed pineapple ice cream and diced jalepanos with fresh mint and cliantro. You could go to this place everyday and experience new flavors. Bonus: they have fun and creepy commercials.
Big Gay Ice Cream
Do you prefer something a bit more simple and familiar? Hit up Big Gay Ice Cream. They have the best soft serve ice cream in all the land. If you grew up on Dairy Queen, this is your spot. No one touches them on the soft serve department, and their topping combinations are incredible. The Bee Arthur is fantastic.
Franklin Fountain
A pillar of the city. Franklin Fountain honors the traditions of the city and does ice cream as it once was years past. Authentic. Bold. And true flavors. When it comes to just plain good ice cream you can't go wrong with Franklin Fountain. Summer nights there is about 50 people deep, even at midnight. This place is the truth.
---
Do you have an ice cream recommendation? Let us know about your favorite place, or what you order at these places, but hitting us up on our Contact Form.