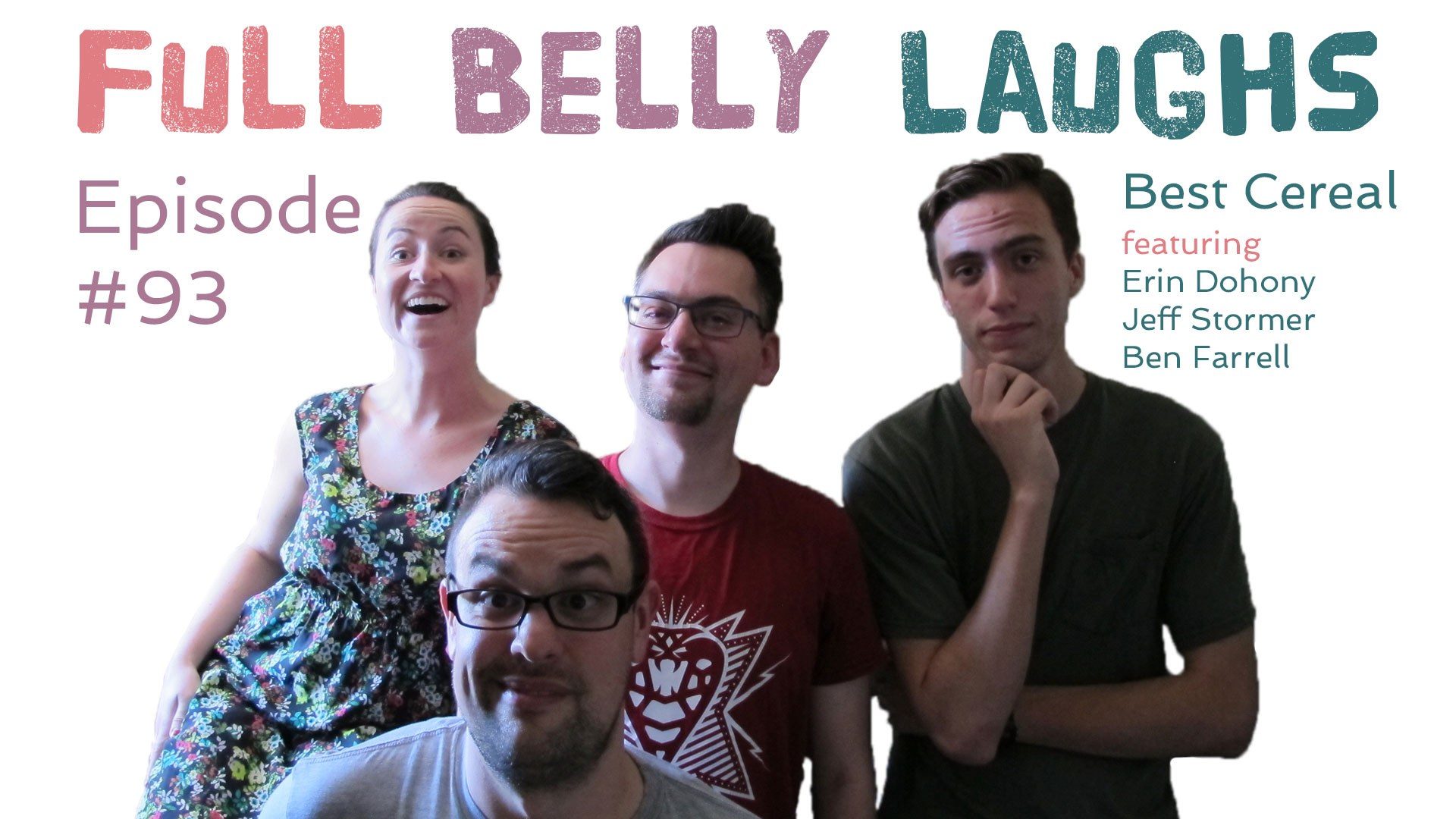 Listen to Full Belly Laughs Episode 93
Use the audio player below to enjoy Full Belly Laughs Podcast Episode 93: Best Cereals.
We list the best cereals on this episode of the podcast. Philadelphia comedians and podcasters round out the lineup of guests. Each of them gives their opinions on what should qualify as the best cereal. They also react to listener nominations to add to the list of best cereals. The show starts off with a lot of off topic conversations, but eventually hones in on the task at hand.Use the audio player to enjoy this episode, or continue reading to learn about the best cereals.
Show Notes for Episode 93 of the Full Belly Laughs Podcast
The group went around the table and listed off their favorite cereals. Brian had the most boring answer with Corn Flakes. But the gang only got to best cereals after visiting the best diners in Philly conversation from last week. After all the chats the comedians and podcasters play a few rounds of Guess Who. We deviate from the game only to rag on Ken Bone, because that dude is wack.
Follow up with the Guests on Twitter
Party of One Podcast
Check out Jeff's podcast "Party of One". It's available on all the things, including iTunes.
Best Cereals List
Time to recognize the best cereals.
Cinnamon Toast Crunch
That cinnamon swirl is so legit. You can't deny it. Why would you want to. Believe me. Just gimme that ...
Trix
"Because it's for kids, and I'm a kid at heart!" said any adult who hates responsibility.
Kix
Kid tested. Mother approved. Why did she approve? Because she's a terrible mother. Why would you trust your kids with thorough scientific research?
Corn Flakes
If you eat it fast enough, it's actually enjoyable.
Fiber One
Nate Dogg's "Regulate" is actually about this cereal.
Coco Puffs
When you're done eating the cereal, you're left with a bowl of chocolate milk!
Fruity Pebbles
For those all in on Flintstones. They even take the Barney Rubble aspirin.
Count Chocola
The novelty is strong with this one.
Boo-Berry
"Oh yeah ..." said everyone who notices Count Chocola just showed up on the shelf in October.
Franken Berry
Did you know that Sammy Sosa just signed on as the mascot?
---
Did you favorite cereal not make our list? Tell us about it on social media, or use our Contact Form. Fun and interesting answers will be read on a future episode.