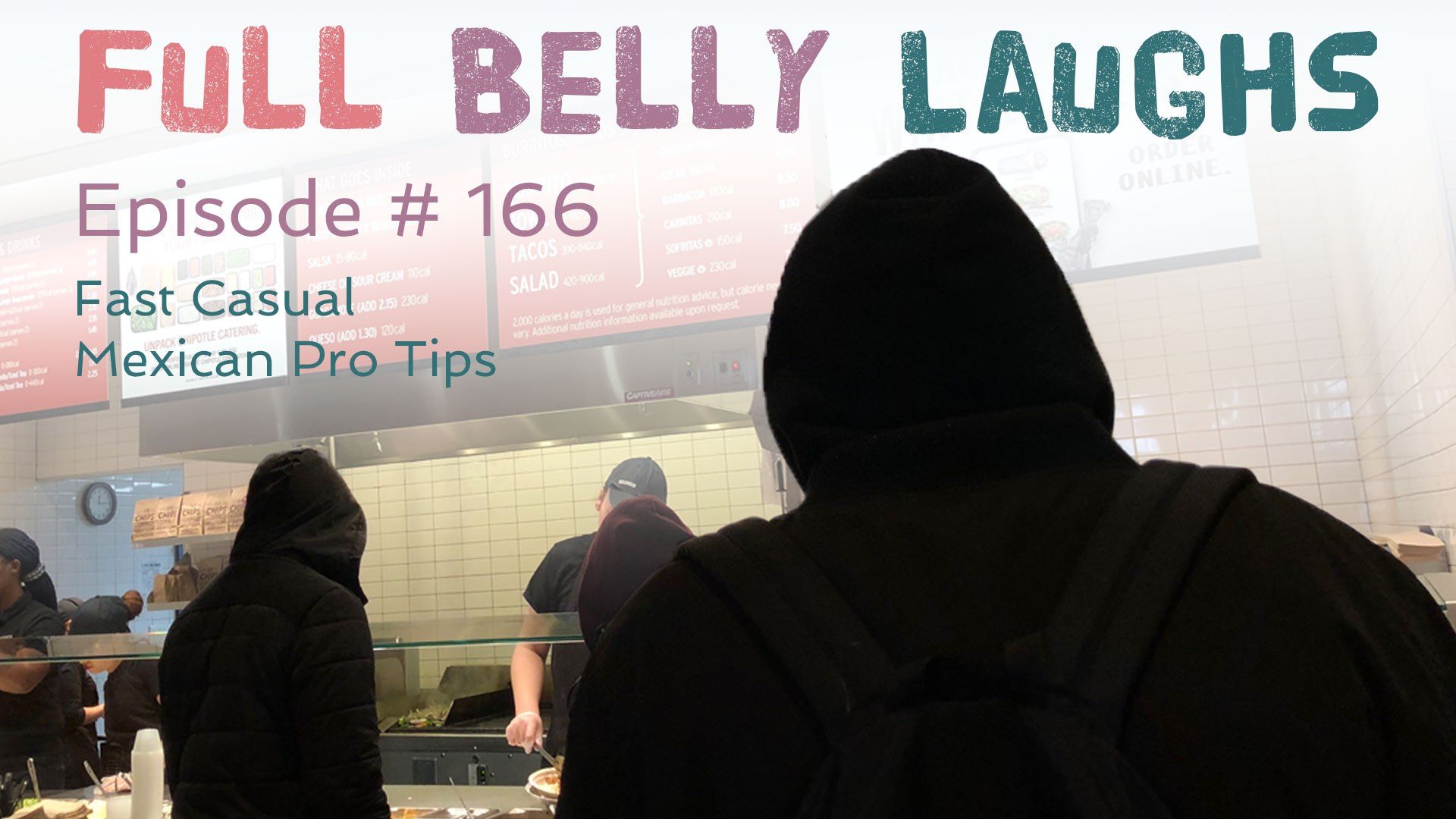 Listen to Full Belly Laughs Episode 166
Use the audio player below to enjoy Full Belly Laughs Podcast Episode 166: Fast Casual Mexican Pro Tips
This is the definitive guide on how to order at a Mexican fast casual restaurant. We lay down all of the key ingredients to a tasty build-your-own burrito.
Full Belly Laughs Episode 166 Show Notes
Brian Durkin lays down a solo cast about one of his favorite things: fast casual Mexican restaurants. He eats at Chipotle about five times a week, so he has a lot of experience in this area. He shares a lot of holistic advice, regardless of your chain affiliation. His tips will help Qdoba heads and Moe's bros alike. After blessing the listeners with his detailed research, he plays a couple rounds of Punderdome. The jokes start strong, but do they finish strong? You'll have to be the judge of that.
Mexican Fast Casual Pro Tips List
Here's a quick round up of the tips talked about on the podcast:
Make It Your Way

Build the meal so your favorite ingredients shine
Plenty of options for carnivores and vegans

Order Clearly
Avoid Black Hat Moves (shady ways to earn free stuff)
Chipotle Hacks
I always get the veggie bowl at Chipotle because it comes with free guacamole. From there I make sure to order a free tortilla on the side, which I use to create my own Mexican naan with the guac. Game changer: you can order more than one side tortilla free of charge. This is not a black hat move, because it's built into the cost. Most patrons get bowls without tortillas, so you are essentially getting their wasted one. With extra rice, beans, and veggies in the bowl you could build two burritos with the extra tortilla. That could drop your price per burrito to less than 5 dollars each ($4.10 at the time of this writing).