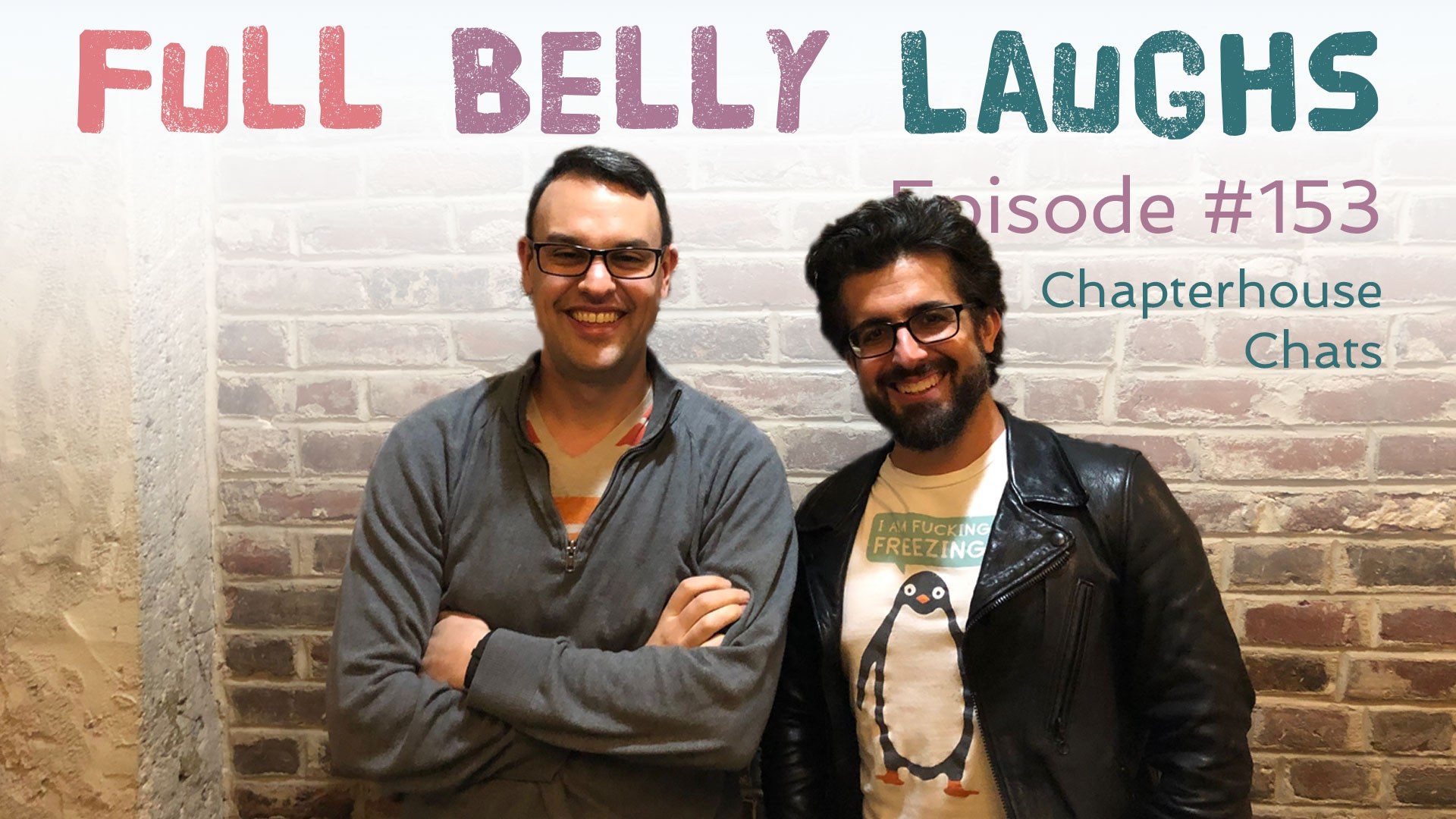 Listen to Full Belly Laughs Episode 153
Use the audio player below to enjoy Full Belly Laughs Podcast Episode 153: Chapterhouse Chats.
On this very special episode comedian John Poveromo comes down to Philly and lays down an instant classic episode. Brian and John talk about a whole bunch of different topics, eventually finding their way to Jersey Shore cuisine. It's a blast and a must listen.
Full Belly Laughs Podcast Episode 153 Show Notes
Brian keeps the introductions short and sweet so we can get right to the action. The conversation with John jumps right into the preamble about them recording, and from there the awesome riffs keep flying. The guys go back and forth talking about comedy, food at the shore, and even the most exciting topic of all: the weather. But in all seriousness this isn't your typical water cooler dribble. These guys keep in fun and zingers flying back and forth.It's a true blessing to have a comedian as talented as John on the show. All the episodes feature funny people, but the speed at which John is able to crack wise shows he's been in the game for some time.
All Things John Poveromo
"Not Your Run-of-the-Mill-Standard-Issue-Garden-Variety Stand-Up." - Asbury Park Press
John is a Brooklyn born Jersey raised Stand Up with the perfect blend of self deprecation and optimism. He's a dynamic and unpredictable performer, which makes him engaging and fun to watch as he struggles to make sense of himself and the world. Audiences connect with his honesty and vulnerability on stage, which makes each one of his shows original, refreshing, and of course funny as hell.John has done a lot of cool stuff. Here's some of the highlights:
Featured in the New York Times and the Asbury Park Press
Heard on Sirius XM Radio
Featured at the Jersey City Comedy Festival and The New York Underground Comedy Festival
Appeared on Comcast On Demand's "Young Comedians Showcase"
And those were just his appearances! Check out some of his hilarious writing in these places:
ESPN's Sports Nation
Current TV's Viewpoint with John Fugelsang
Joy Behar's 'Say Anything' on HLN
The Independents
CNN's Newsroom
Red Eye with Greg Gutfeld
Hannity
VH1's "Best Of" series
Discover all things John Poveromo on his website. There you can find tour dates, clips of his comedy, and plenty more.