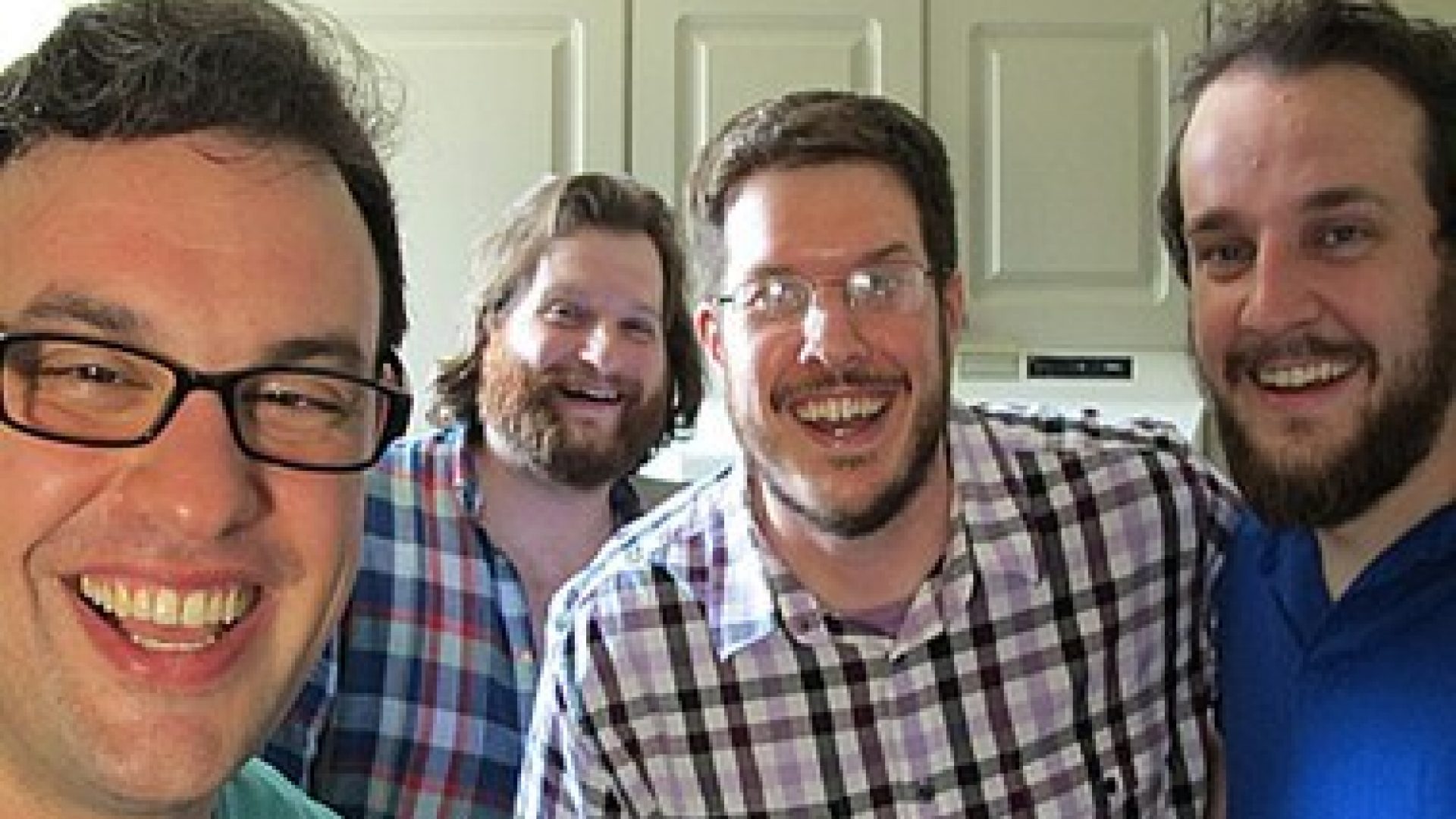 Listen to Full Belly Laughs Episode 19
Use the audio player below to enjoy Full Belly Laughs Podcast Episode 19: Next Level Peanut Butter & Jelly Sandwiches.
Homemade peanut butter is one of the simplest items you can make at home. It's also one of the tastiest! The hosts of the Doom Thugs podcast stop by the show to give the recipe a try. Take a listen to find out how they enjoyed it, and to see who reigned supreme after some rounds of trivia.
Homemade Peanut Butter is The Next Level
Sure anyone can buy a jar of peanut butter, but as we all know fresh and homemade always trumps store-bought. The best part is with the right tools everyone can make peanut butter. It's one of the easiest recipes out there. It will last a long time in the refrigerator too (up to 2 months). Goes great with jelly for some PB&J action, but the applications are limitless.
Featured Guests
Here's a selfie of the Doom Thugs crew plus Brian.
Doom Thugs
Meet Harrison Flatau, Michael Antonelli, and Justin Law. They're the hosts of Delco's #1 podcast: Doom Thugs. And that number one spot is well deserved. They focus on topics near and dear to the Delco resident's heart. From brunch to the best store at the Granite Run Mall, they cover it all. We saved this recipe for their appearance on the show episode, because we wanted to treat them right.
Homemade Peanut Butter Recipe
The things you will need.
Ingredients
1 Pound Roasted Peanuts (already shelled and what not)
At least a tbsp of Koshar Salt
At least 1.5 tbsp of Honey (preferably raw if possible)
Peanut Oil
Instructions:
Add everything but the peanut oil to your food processor. Turn on the blade and watch this machine do it's magic. After about a minute, turn it off and scrape down the sides. Process again for another minute tops.
Once the peanuts are processed, chunky, and thick, turn the processor on again. This time drizzle in peanut oil. Stop the processing and drizzling every so often to check the consistency. Continue this step until it looks like and tastes like peanut butter.
You can use this homemade peanut butter for anything. We recommend a nice PB&J. Try to pick up artisan jams or jellies. Eating all those preservatives in commercial products doesn't feel right when you make your own peanut butter.
The Small Batch Kitchen
Thank you once again to The Small Batch Kitchen for supplying the spread for today's episode. Check out their website and order any one of their delicious spreads. Every one of their products are all natural, handmade, and use local produce. Order your next tasty treat today.
Stay Connected
Thank you once again to Doom Thugs. We'll see you next week with a special live episode.