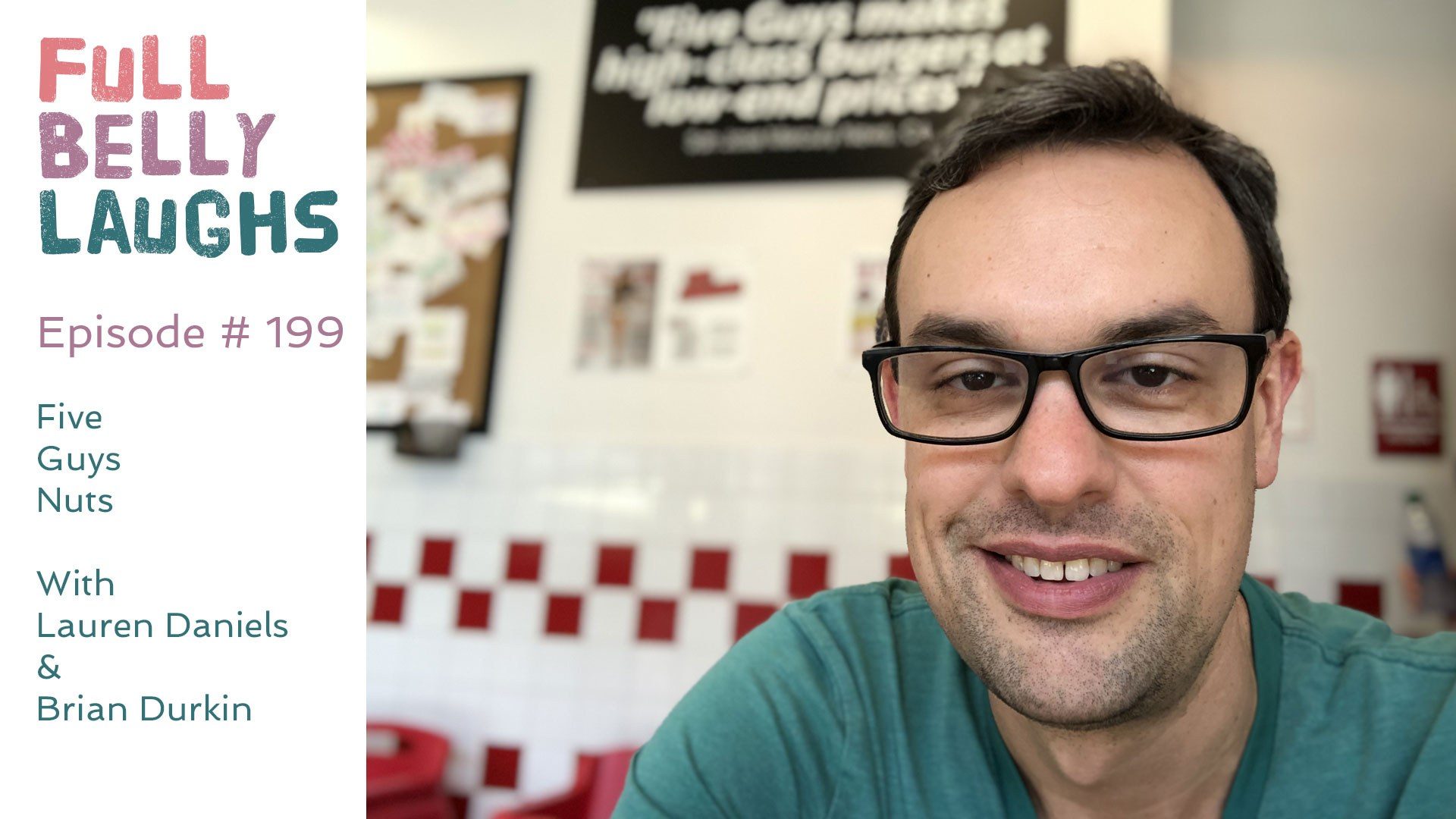 Listen to Full Belly Laughs Episode 199
Use the audio player below to enjoy Full Belly Laughs Podcast Episode 199: Five Guys Nuts
Five Guys Burger and Fries offers one of the best meals on the planet: free peanuts. We are not mistaken. The marquee legume is one of the best meals in the universe, and you can get it for free at your local Five Guys. Sure the burgers are solid and the fries are generous, but don't sleep on the nuts.
Full Belly Laughs Podcast Episode 199 Show Notes
Brian Durkin makes a confession to his girlfriend Lauren Daniels to kick off the show. He admits that he was a bad boy and ate at Five Guys Burger and Fries. She didn't care. The event did lead to some great conversation about the free nuts at Five Guys, what their menu is like, and the people that go there. It's quite the experience, and dining in at high noon is like no other. You should do it if you can, especially if you have no money. The peanuts are free and the staff is probably not paid enough to make you leave. From the Five Guys chat the couple talks about interesting phrases and supermarket entrance ways. To close the program they play Alpha Buzz with Alexa on their Amazon Echo Dots.
Five Guys Burger and Fries Has Free Peanuts
Seriously. You can go eat them. Ask for a courteous cup for water and you're good to go. If you are on bad times, or trying to win a frugal award, you can go for nuts and water at Five Guys every day of the week. It's a decent diet, that will end in death. Too much of one thing is bad, but then again we all die eventually. If you want to ball out and eat free nuts from Five Guys every day, then you should do you. If you are curious about eating free nuts from a fast food chain, you should do it. You only live once, and you don't want this bucket list item going uncrossed off.
Podcast Show Notes: Links and References
A fast food joint that literally gives food away: you can eat their nuts for free all day.
You can go to Five Guys restaurants and eat peanuts for free. Learn how you can do this at literally any time.
Lauren Daniels is a content creator, yogi, graphic designer, vegan, and essential oil enthusiast. She believes there are a myriad of healthy, eco-friendly (and pocket friendly) swaps for your everyday life. Discover these alternatives by watching her videos on YouTube, or following her on Instagram and Pinterest.
Brian Durkin is on Twitter and Instagram.
Full Belly Laughs is on Facebook, Twitter, Instagram, and Pinterest.
If you enjoyed this content, please consider writing a review on the FBL Facebook Page. It really helps the show reach new people.
If you would like to financially support the podcast, please consider donating. All of our content is ad free thanks to donors. Your contribution will help keep it that way, and unlock exciting opportunities for more content. Learn more about how much it costs to make this podcast, or donate to FBL now.