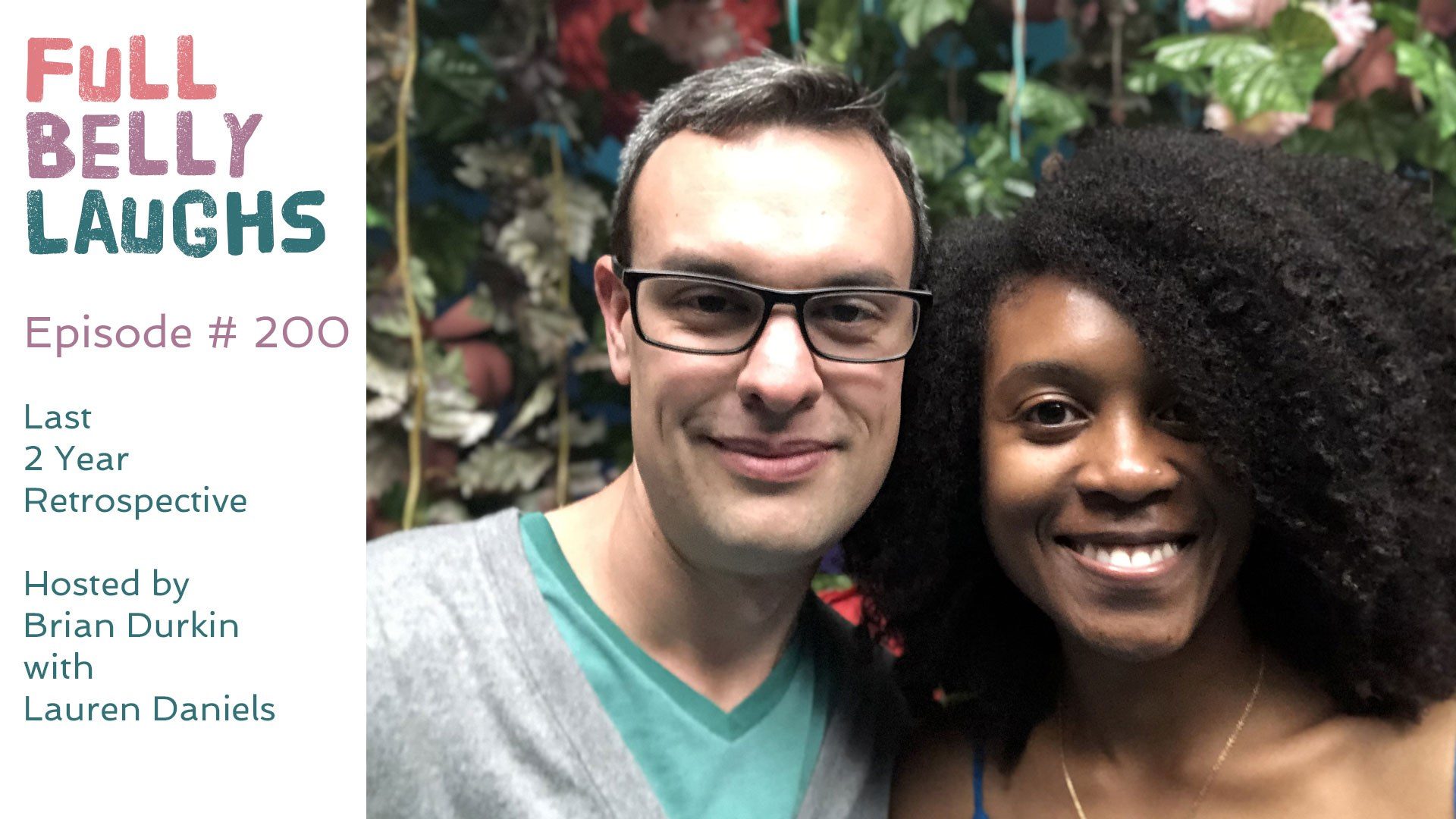 Listen to Full Belly Laughs Episode 200
Use the audio player below to enjoy Full Belly Laughs Podcast Episode 200: Last 2 Year Retrospective
Brian and Lauren sit back and chat about the last 100 episodes of Full Belly Laughs. The podcast has been kicking it since February 9, 2016. It's been about 23 months since the 100th episode milestone, so the hosts take some time to reflect.
Full Belly Laughs Podcast Episode 200 Show Notes
They FuBeLa power couple start off with their usual cute banter, then jump into the topic at hand: celebrating the 200th episode of the podcast. Brian goes down memory lane remembering some of his favorite episodes and guests. He also chats about how the format of the show has changed. It wouldn't be a true milestone episode without talking about the future of the show. To celebrate the history of the podcast, Lauren Daniels and Brian Durkin play all the classic games from the podcast. They go through a round of Punderdome, Super Fight, and Guess Who?
200th Episode of Full Belly Laughs
Thank you to everyone that has ever listened to the Full Belly Laughs podcast. There is so much content out in the world, and the fact that you found our corner of the world is a miracle. If you've stuck around to listen to more than just one episode, then we're so happy you connect with us. We promise to keep making more stuff, and look forward to continuing to make you smile and laugh in the future. Here's to 200 more episodes!
Podcast Show Notes: Links and References
This is the 200th episode of the Full Belly Laughs Podcast.
The hosts chat about their favorite episodes from the past 2 years. They also play all the fan favorite games on celebration of all things FBL.
Lauren Daniels is a content creator, yogi, graphic designer, vegan, and essential oil enthusiast. She believes there are a myriad of healthy, eco-friendly (and pocket friendly) swaps for your everyday life. Discover these alternatives by watching her videos on YouTube, or following her on Instagram and Pinterest.
Brian Durkin is on Twitter and Instagram.
Full Belly Laughs is on Facebook, Twitter, Instagram, and Pinterest.
If you enjoyed this content, please consider writing a review on the FBL Facebook Page. It really helps the show reach new people.
If you would like to financially support the podcast, please consider donating. All of our content is ad free thanks to donors. Your contribution will help keep it that way, and unlock exciting opportunities for more content. Learn more about how much it costs to make this podcast, or donate to FBL now.