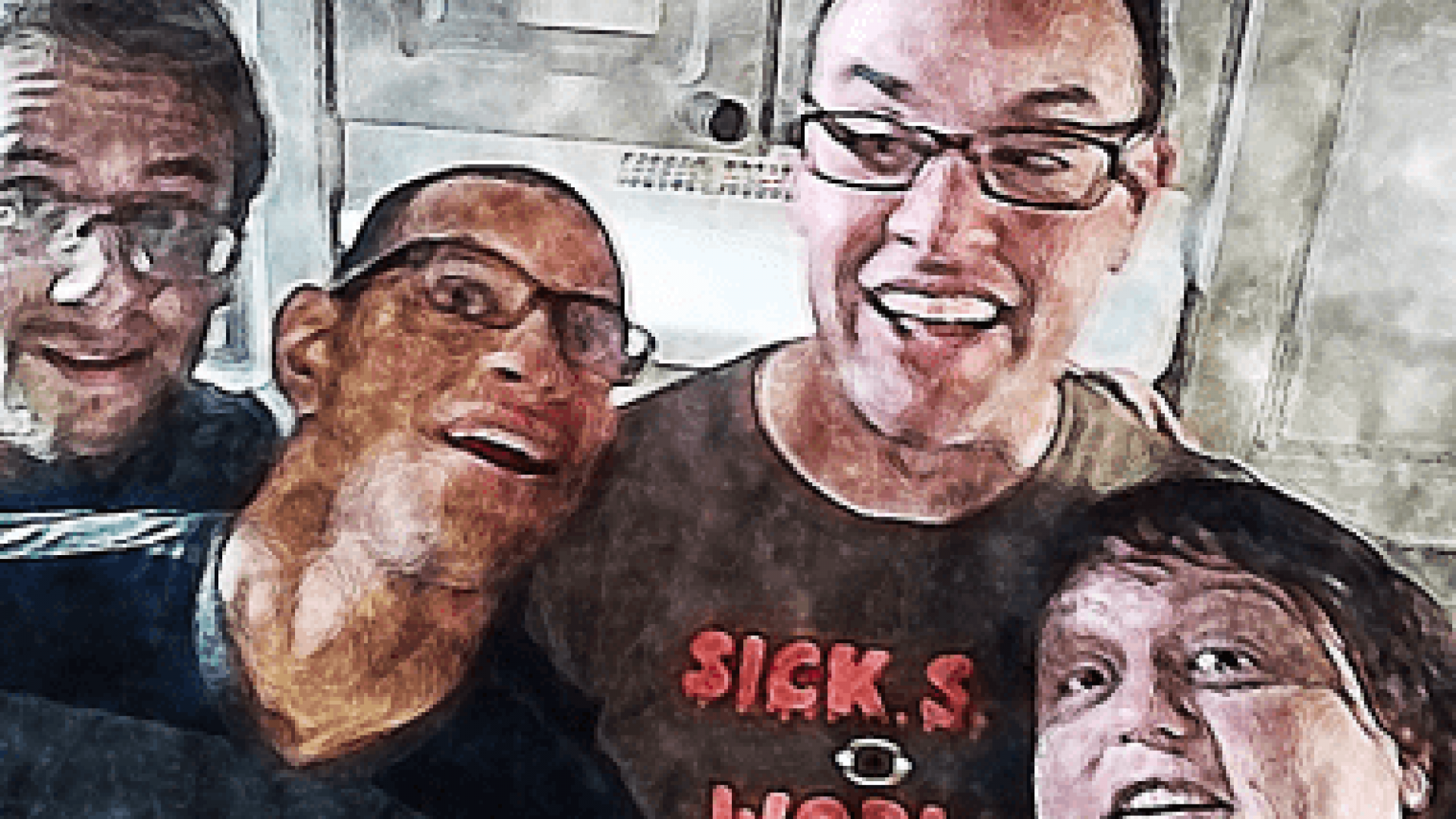 Listen to Full Belly Laughs Episode 5
Use the audio player below to enjoy Full Belly Laughs Podcast Episode 5: Mushroom Spinach Risotto.
Today Brian cooked up a batch of mushroom spinach risotto. This week he's joined by comedians Pete Steele, Nicole Yates, and Christian Mangual. The gang chats about Fuddruckers. They also remain concerned with the jock population of the Full Belly Laughs listeners.
Meet the Guests
Here's the rundown on the guests featured on this episode.
Pete Steele
His hilarious comedy can be found throughout Philadelphia. A performer and producer on several Good Good Comedy Shows, Pete still has time to run one of the best weekly comedy shows in Philly: We Do! at Medusa Lounge. Stay on top of all his jokes and shows by following Pete on Twitter.
Nicole Yates
Nicole hosts the amazing food podcast "DidjaEat?". She also performs sketch and stand-up essentially everywhere. Stay up to date on her happenings by following her on Twitter.
Christian Mangual
Christian is not afraid to speak his mind. His super funny insights can be seen throughout the Philly comedy scenes. He also would love to tell you how Alanis Morissete "Ironic" is not ironic. Stay tuned to his yuk yuks on Twitter.
Eat the Food
Did that dish sound dee-lish? Below is an approximate recipe for how Brian made this mushroom spinach risotto jawn.
Mushroom Spinach Risotto
Prep Time: 30-90 minutes based on your ability to chop up foodTools: Large sauce pan, another pan that should be smaller, and a thing to stir withCook Time: 30-40 minutes
Ingredients
1 cup of Arborio rice
Vegetable Stock/Broth (32 oz minimum)
Olive Oil
Spinach, washed
Mushrooms (white, baby bella, or crimini), washed and sliced
Fresh Dill minced
Fresh Rosemary minced
Salt and Pepper
Optional: Basil (dry or fresh)
Cooking Steps
Add some olive oil to the pan along with the rice. Enough to coat. Put heat up to high and only let cook for a minute or so. Do not cook in oil alone for too long. Once you smell a nutty flavor move to the next step.
Pour in some of the vegetable broth (1-2 cups). Reduce heat to medium. Continue to stir until liquid reduces most of the way. Add more broth. Repeat this step until the rice is finished (soft but not mushy).
In another pan, while cooking the rice, add the mushroom slices on low heat. Turn up the heat to medium if the rice is almost finished. Kill the heat once the mushrooms reduce in mass.
Pour in the mushrooms and liquid into the large pan with the rice. Add the spinach, dill, and rosemary. Turn off the heat and stir to combine. The heat still in the pan will cook the spinach.
Plate and serve. I recommend a bowl, but plates are dope too. If you want to add more protein to the dish, I recommend making Spinach and Feta Chicken Sausages.Come back next week for another hilarious episode and bangin' recipe.