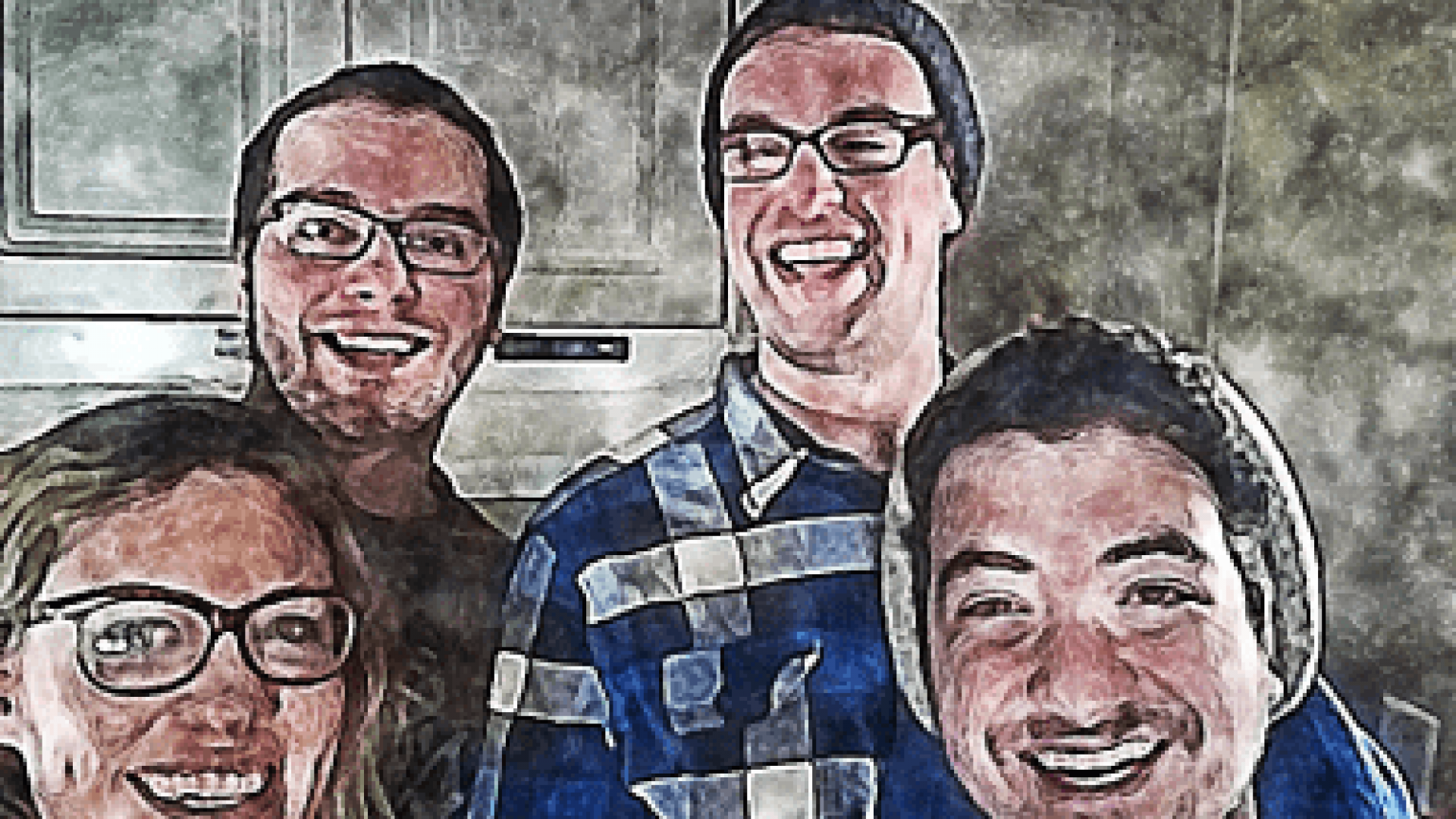 Listen to Full Belly Laughs Episode 3
Use the audio player below to enjoy Full Belly Laughs Podcast Episode 3: Chicken Noodle Soup.
Today Brian made a warm and healthy Chicken Noodle Soup. This week he's joined by comedians Mike Fisher, Amber Harner, and Aaron Abramowitz. The gang chats about mirepoix and childhood nicknames. They also touch on cooking for yourself at home while sipping away at the delicious chicken noodle soup.
Meet the Guests
Here's the rundown on the guests featured on this episode.
Mike Fisher
You may recognize Mike performing all throughout Philly. When you see him on stage he probably reminds you of your custom character from Tony Hawk Pro Skater. Follow his funny posts on Facebook.
Amber Harner
Check out Amber on the independent team The Sardines. You won't be disappointed. Her characters are well developed and always keep audiences rolling with laughter.
Aaron Abramowitz
You can find Aaron cohosting Trending Topics with Mekki Leeper every month. When you aren't checking him on on a Good Good Comedy show, then keep up on his funny antics on Facebook.
Eat the Food
Did that dish sound dee-lish? Below is an approximate recipe for how Brian made his Sweet Potato & Kale jawn.
Chicken Noodle Soup
Prep Time: 20-60 minutes based for your comfort level in the kitchenTools: A large pot, a small pot, and things to stir food. A cutting board would help.Cook Time: 30 minutes tops, probably. Usually around 15-20 minutes.
Ingredients
A couple pounds of white boneless chicken breasts
Chopped Carrots
Chopped Celery
Chopped Onions
2 cups of Orzo rice
At least 64 oz of Chicken Stock/Broth
Chopped Parsley (Fresh is best)
Minced Rosemary (Fresh is still best)
Fresh Squeezed Lemon Juice from at least 2-3 Lemons
Cooking Steps
Boil chicken breasts in 32 oz of chicken broth until cooked through.
Remove the chicken from the broth and slice into chunks.
Add rice to the liquid, cover, bring to a boil, then drop the heat until it maintains a simmer while covered. Rice will take about 8-12 minutes. Looking for the grains to become soft, like cooked rice.
Add chopped carrots to the large pot with some oil. Add your favorite seasonings. Salt and pepper should be good enough. Add white pepper for a little bit more of a kick. Cook on medium high heat covered. Until carrots are tender. Added onions and celery then cook until carrots are soft and onions are translucent.
When the rice is finished add the contents of the small pot to the large pot. Add the cooked and sliced chicken back in. Add the parley and rosemary and lemon juice. Simmer for about 3-5 minutes. Add additional chicken broth/stock if too thick. Adjust simmer time based on how much new liquid you add to the party. About 1-2 minutes per 8 oz.
This recipe will legit make you feel better. I make it any time I feel run down and a cold is coming on.Come back next week for another hilarious episode and bangin' recipe.