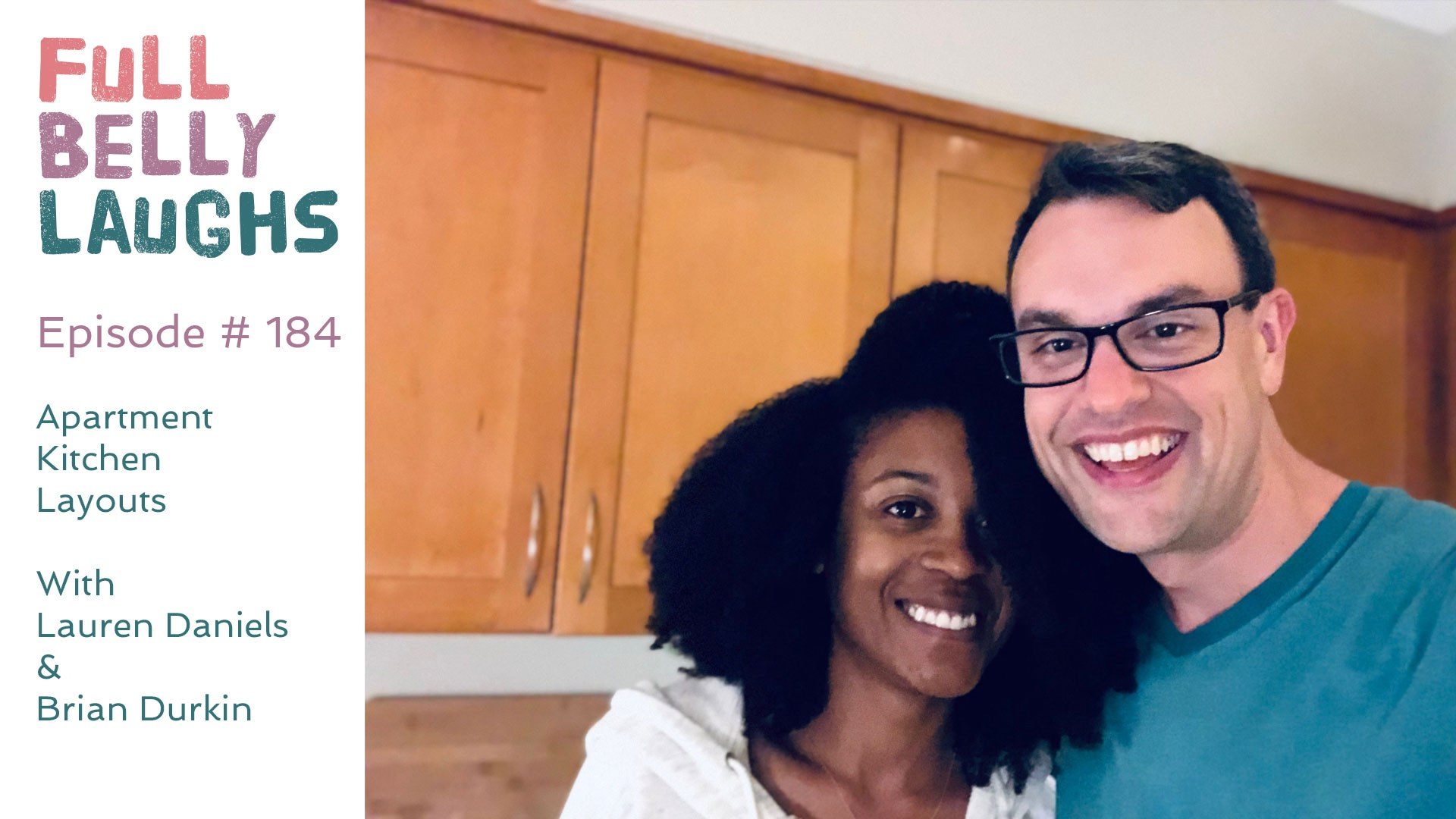 Listen to Full Belly Laughs Episode 184
Use the audio player below to enjoy Full Belly Laughs Podcast Episode 184: Apartment Kitchen Layouts
The bae and host lay down the different variations when it comes to kitchens in apartments. Learn about what qualifies as a Bachelor, efficiency, full-loaded, capped, and dishwasher-included kitchen. Spoiler: that last one comes with a dish washing machine, and hoping a human that also washes dishes too.
Full Belly Laughs Podcast Episode 184 Show Notes
This is a very homey episode, as host Brian Durkin invites his girlfriend Lauren Daniels back onto the cast. They've been window shopping other apartments, and it occurred to them that there are a lot of kitchen variations. When it comes to smaller places, especially a Studio apartment, kitchens come in all shapes and sizes. They discuss the differences between each type, and the benefits to living in that situation. An episode of Full Belly Laughs wouldn't be complete without some funny asides, and this episode delivers on that front. They end the conversation with a throwback board game: Guess Who?!
Apartment Kitchen Types, Layouts, and Benefits
There are four main types of kitchen layouts:
Bachelor. This includes a min fridge and a microwave, and that's about it. Best for someone that hates to cook, or expects to eat all their meals out. Probably would suffice for a student with a meal pass at the student cafeteria, or someone that works in the food service industry.
Efficiency. This includes a fridge, microwave, cabinets, a sink, and a stove built into the countertop. No oven. If you don't like to bake and prefer to make meals on the stove top, then this will work for you. Usually enough storage in the fridge to handle a week's worth of groceries for a conscious couple, or a greedy solo dweller. This works best for people that forget they even had an oven.
Full Kitchen. Standard fare, except dishwashers are not standard here. Be prepared to wash everything by hand. Honestly a good life skill/lesson if you want to cut down on waste. If you watch Marie Kondo and think you want to life with less, dry making a conscious effort to use less dishes. Washing them by hand versus a machine taking the load will make this change happen quickly.
Kitchen Plus Dishwasher. This is the Cadillac of apartment kitchen layouts. Your landlord either isn't charging enough rent, you live in a bad neighborhood, or at this point in life you should really be a homeowner.
NOTE: Appliances nowadays make it easier to scale down your reliance on what comes in a kitchen. Something like the Instant Pot or a beast of a toaster oven could make up for the appliances your apartment lacks.
Share Episode #184
Let your people know about this awesome episode. Share Apartment Kitchen Layouts on any one of these social media platforms.