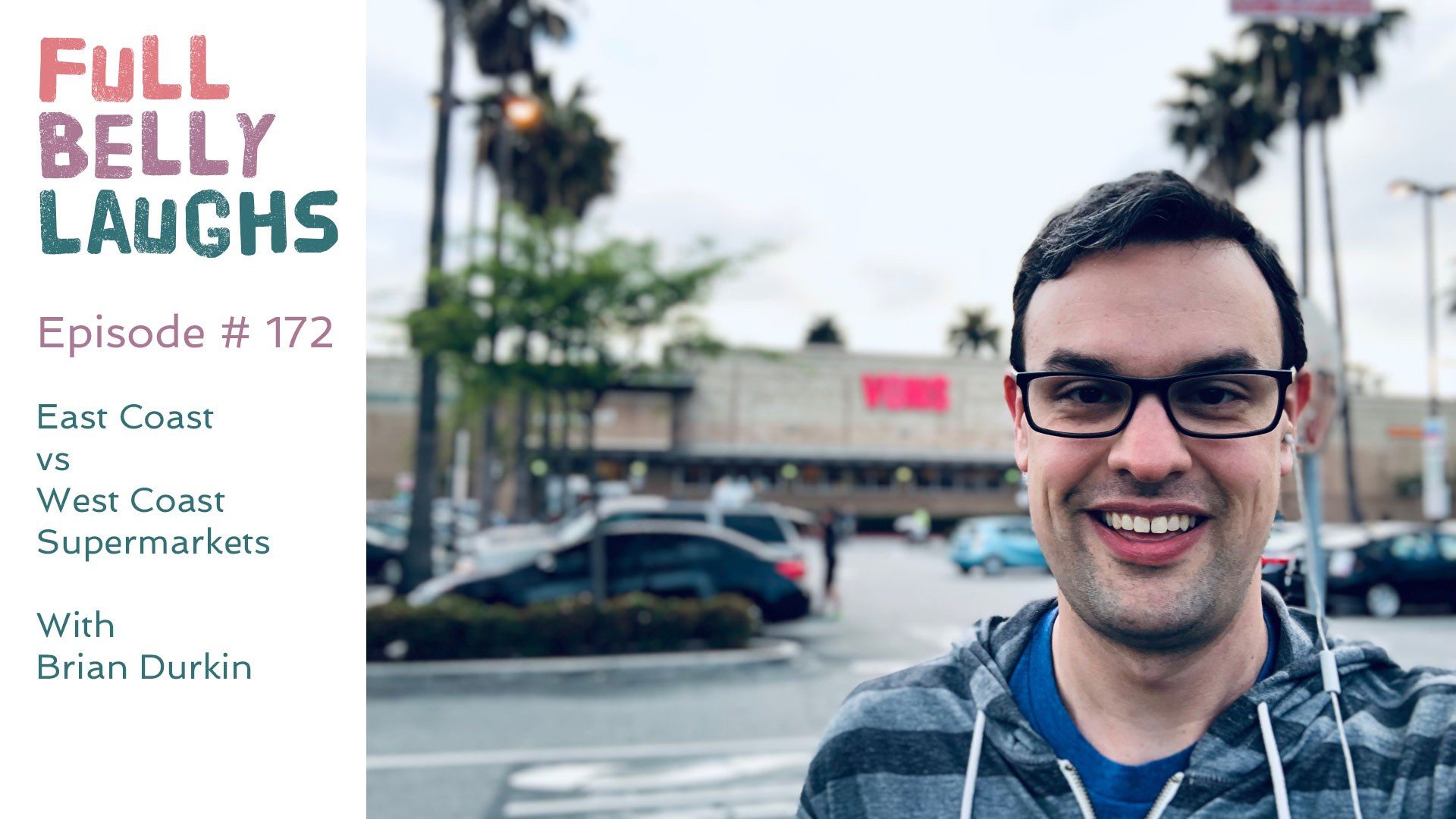 Listen to Full Belly Laughs Episode 172
Use the audio player below to enjoy Full Belly Laughs Podcast Episode 172: East Coast vs West Coast Supermarkets
There are some differences between east coast and west coast supermarkets. It's not just about the items that are available. The brands and companies are not the same. But even with the familiar chains there are supermarkets on the West Coast with some major design flaws.
Full Belly Laughs Podcast Episode 172 Show Notes
Host Brian Durkin records his first episode in his new home in Santa Monica, CA. He gives the listeners a little update on his life and how things have been since the move. After that he dives straight into his supermarket journeys. Since he is without income at the moment, he's been food shopping smart a lot. He compares the various supermarket chains in the LA area, and gives tips on which ones are great for different product types. After that he airs his big grievance about all supermarkets in general on the West Coast. After the conversation he does a few rounds of Punderdome.
East Coast Vs West Coast Supermarkets
The big difference is space. Shockingly the East Coast supermarkets are designed with more room in the aisles, and more space for lines by the cashiers. With West Coast Supermarkets, not only are the aisles narrower, there is less room between where the aisles end and the cashiers begin. This makes it so each line for a single cashier needs to feed down an aisle. Now you are stuck in an aisle waiting to check out and you have no idea that status of any other line.
On the East Coast you would be able to jump out of line and in front of a different cashier. This design flaw also renders it impossible to have a master line that feeds to all cashiers. The Trader Joe's in Center City Philadelphia is a masterclass in this technique. Unfortunately there is no room to do this approach with West Coast supermarkets.