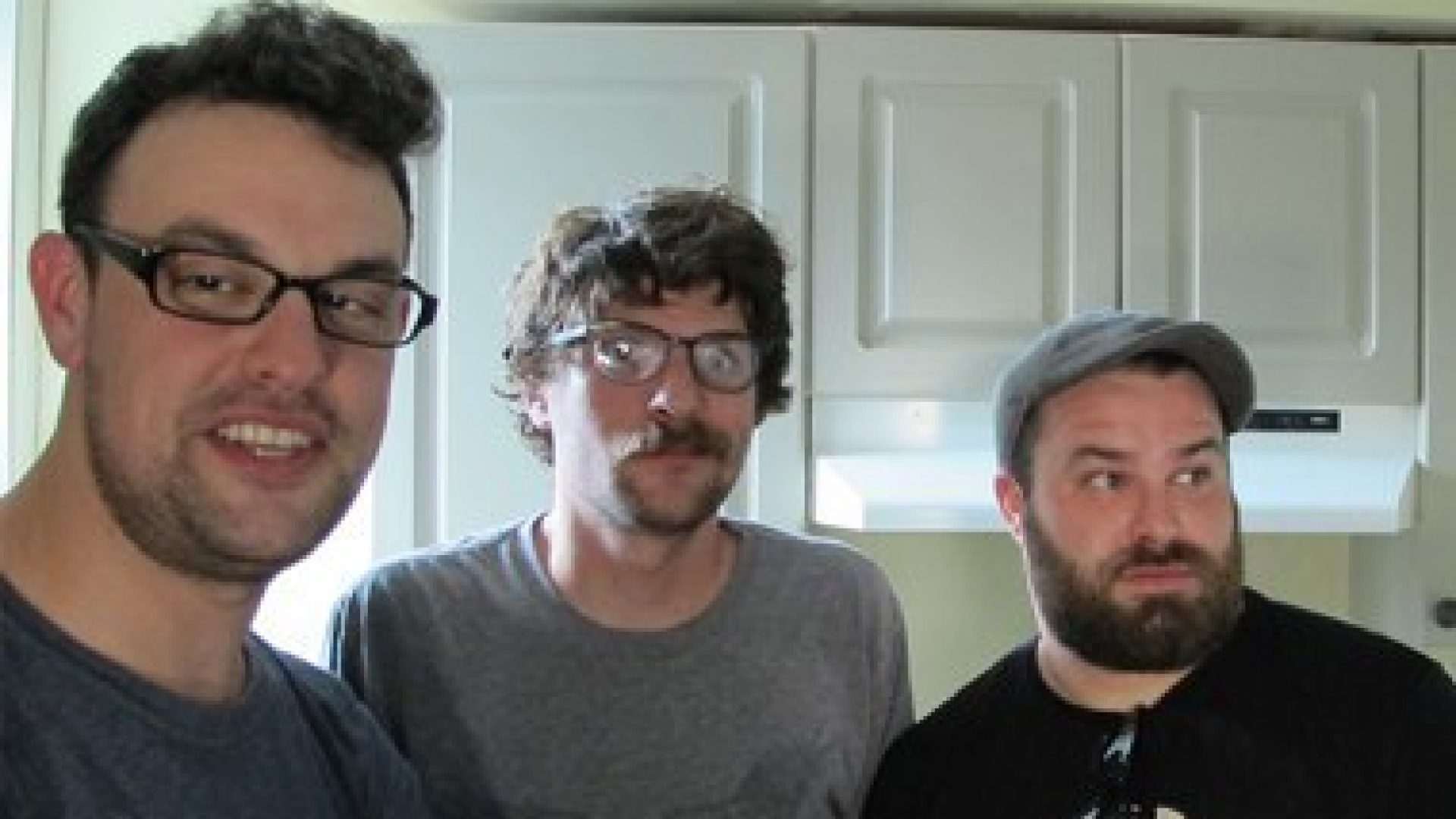 Listen to Full Belly Laughs Episode 26
Use the audio player below to enjoy Full Belly Laughs Podcast Episode 26: Comedians Discuss Tofu and Polenta plus the Internet.
Tofu and polenta is not a combination you see often. Host and home cook Brian Durkin decided to give the idea a whirl. And what better way to start then with two guests that have never eaten Tofu.
Tofu and Polenta: A New Favorite
Comedians Chris Stenta and Brian Finnell followed Brian Durkin on this culinary adventure. Tofu and polenta is not something you see together often, but they were game to try it.The Tofu marinates in a Moroccan red curry sauce for several hours before hitting the pan. In the meantime Brian pureed red peppers, mushrooms, and onions. After sauteing the veggies he added them to each disc of polenta before topping it off with the seared tofu. Finishing off the dish Brian included a couple droplets of the marinade and lime juice.
The Taste Testers
Brian Durkin with Chris Stenta and Brian Finnell.
Chris Stenta
July 11th @ 10 pm: Philly's Phunniest

Call the box office and mention you want to see Chris for 50% off your tickets.
Brian Finnell
How to Make this Tofu and Polenta Jawn
Every recipe needs an ingredients list, even a new creation like Tofu and Polenta.
The Things You Will Need:
(Super) Firm tofu cut into 1 inch cubes
Red peppers, red onions, and mushrooms pureed
Traditional polenta
Fresh squeezed lime juice
Moroccan red curry sauce
Honey
Soy sauce
Rice wine vinegar
Sesame seed oil
Hot sauce
Oranges sliced
How to Actually Make This Thing
Combine the Moroccan red curry sauce, honey, soy sauce, rice wine vinegar, and sesame seed oil in a bowl. The ratio should be 1:1 spicy ingredient to everything else. If you want the dish to be less spicy, then balance it with the vinegar, honey, etc. Use as much as you will need to marinade the tofu. Combine the marinade and the tofu into a plastic bag or sealed container and let it chill in the fridge for several hours.
Cut the polenta into 1/4" discs. Sear until golden brown.
Saute the pureed veggies in a sauce pan over medium high heat. About 3-5 minutes. Enough so the mushrooms release a bit of moisture and the onions turn translucent.
Sear the Tofu over high heat. Make sure not to crowd the pan. Turn the Tofu over after about 1-2 minutes. Make sure to sear 2-3 sides of each tofu cube before evacuating from the pan.
Assemble with the polenta discs at the bottom, add a spoonful of the puree, then 2-3 cubes of Tofu on top. Add a bit of lime juice and some marinade on top. Serve on a plate with orange slices.
Follow Us, Ya'll
Thanks again to Stenta and Finnell for doing the show. Check out another full length episode this Tuesday.