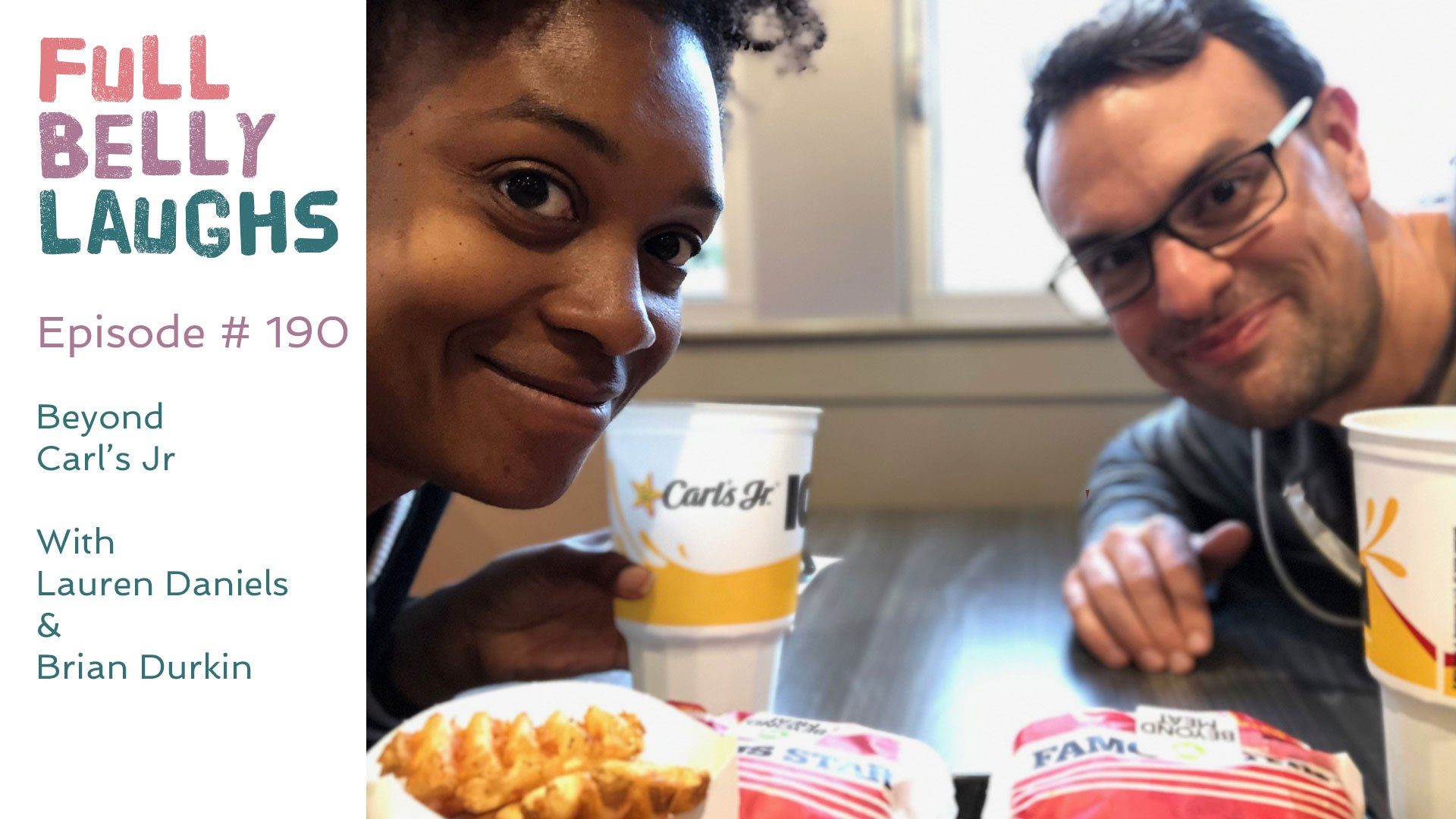 Listen to Full Belly Laughs Episode 190
Use the audio player below to enjoy Full Belly Laughs Podcast Episode 190: Beyond Carl's Jr
We go to Carl's Jr for their Beyond Burger promotion. It happened to be our first time at the famed restaurant. On this episode we recap our experience trying Carl's Jr and their Beyond Burger for the first time.
Full Belly Laughs Podcast Episode 190 Show Notes
Lauren and Brian rented scooters to get to Carl's Jr. There isn't one in walking distance of their domicile, and they just couldn't wait to get in on the plant-based action. They arrived onsite and took in all the sights and smells. It was their first time at Carl's Jr, and they were "beyond" excited. When they reached the counter they order large drinks, and whispered "Beyond Upgrade" to the cashier. He didn't really hear them, so then they ordered at a normal volume. They paid. Food arrived. They ate. The end.
Carl's Jr Beyond Burger
The Beyond Burger at Carl's Jr is a legit veggie and vegan option. In order for the sandwich to qualify as vegan, be sure to get no cheese or sauces. Also if you get a side order of something, don't be fooled by the fried zucchini. This is a trap for the vegans of the world, because it's actually not vegan. If you can avoid this pitfall, the experience was quite solid. Lauren and Brian were happy to report good times at Carl's Jr. They enjoyed the Beyond Burger and the fast food restaurant's plant-based options. It used to be rare that places like this would provide something, so it's nice that it's more common. It's not going to be the best Beyond Burger you've ever had, but it's better than not eating if you have dietary restrictions.
Podcast Show Notes: Links and References
Vegan options at fast food restaurants are upon us, and we let you know how they taste.
On this episode of the podcast the gang tries out Carl's Jr for the first time, and they order the Beyond Burger. Read or listen to their experience.
Lauren Daniels is a content creator, yogi, graphic designer, vegan, and essential oil enthusiast. She believes there are a myriad of healthy, eco-friendly (and pocket friendly) swaps for your everyday life. Discover these alternatives by watching her videos on YouTube, or following her on Instagram and Pinterest.
Brian Durkin is on Twitter and Instagram.
Full Belly Laughs is on Facebook, Twitter, Instagram, and Pinterest.
If you enjoyed this content, please consider writing a review on the FBL Facebook Page. It really helps the show reach new people.
If you would like to financially support the podcast, please consider donating. All of our content is ad free thanks to donors. Your contribution will help keep it that way, and unlock exciting opportunities for more content. Learn more about how much it costs to make this podcast, or donate to FBL now.