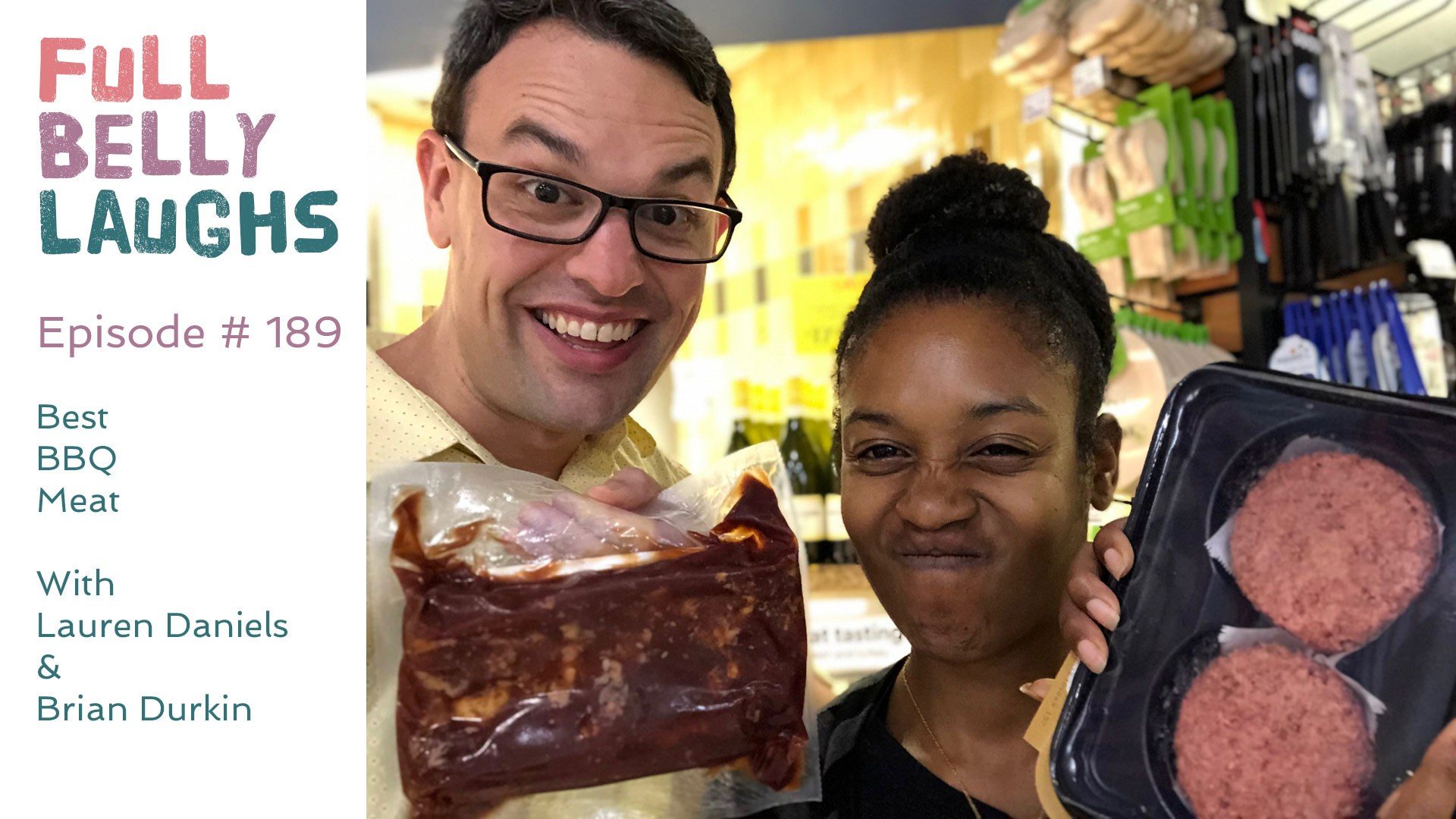 Listen to Full Belly Laughs Episode 189
Use the audio player below to enjoy Full Belly Laughs Podcast Episode 189: Best BBQ Meat
The best BBQ meat will be found at a high quality barbecue establishment, or in a state known for barbecue. Assuming you are able to visit a legit BBQ joint, what meat do you select? This choice tells a lot about your character, what you value, and who you are as a person. On this episode we delve into those choices and why certain meats speak to us.
Full Belly Laughs Podcast Episode 189 Show Notes
Lauren and Brian discuss their favorite barbecued meats. Brian starts off by saying he's a pig boy, and loves the swine. Lauren reminisces about when she still ate meats. She brings up a great point about what even qualifies as barbecue, which expands the conversation. After some fun banter and chit-chat about barbecue meats, we turn to the Facebook polls. Full Belly Laughs sent out a beacon for the members of the FuBeLa nation to voice their opinions on this matter. And they did not disappoint. One gentleman from Texas killed the game when it came to this request, and he lays down a whole another layer of BBQ meats we didn't consider. After the discussion Lauren and Brian play some trivia.
Best Barbecue Meats
A lot of people voiced their opinions on this poll, and we gathered the data from our Facebook thread. The votes are in and we are happy to share that people love burnt ends! That was the fan favorite, but pretty much every meat got some love. Here's a rundown of the BBQ meats with the most votes:
Burnt Ends
Brisket
Jerk Chicken
Pork Belly
Peking Duck (if you go international)
Cheeseburgers (at a family barbecue)
Podcast Show Notes: Links and References
When you want to smoke and barbeque meats, you need to pick the right cuts.
We asked the members of the FuBeLa nation to give us their favorite BBQ meats. Learn a thing or two about barbecued meats and what makes them great.
Lauren Daniels is a content creator, yogi, graphic designer, vegan, and essential oil enthusiast. She believes there are a myriad of healthy, eco-friendly (and pocket friendly) swaps for your everyday life. Discover these alternatives by watching her videos on YouTube, or following her on Instagram and Pinterest.
Brian Durkin is on Twitter and Instagram.
Full Belly Laughs is on Facebook, Twitter, Instagram, and Pinterest.
If you enjoyed this content, please consider writing a review on the FBL Facebook Page. It really helps the show reach new people.
If you would like to financially support the podcast, please consider donating. All of our content is ad free thanks to donors. Your contribution will help keep it that way, and unlock exciting opportunities for more content. Learn more about how much it costs to make this podcast, or donate to FBL now.