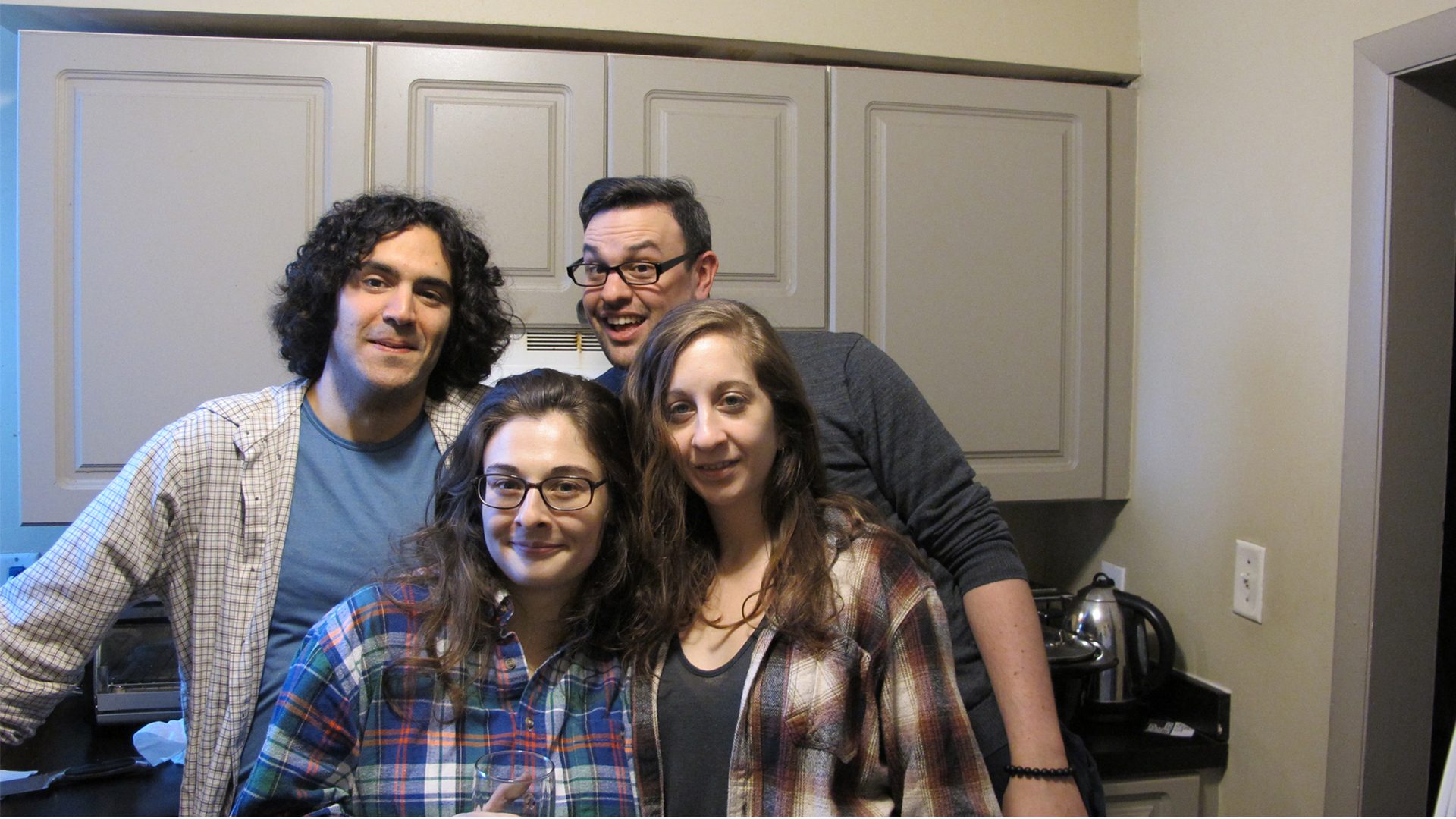 Listen to Full Belly Laughs Episode 55
Use the audio player below to enjoy Full Belly Laughs Podcast Episode 55: Comics Discuss CAKE Comedy Tour.
The CAKE Comedy Tour is comprised of Carrie Gravenson, Abbi Crutchfield, Kaytlin Bailey and Erin Judge. They used to tour as Pink Collar Comedy. Kaytlin Bailey stopped by the studio to tell us all about their cool tour. If you're deaf, you can read about it below.
CAKE Comedy Tour
It's a multi-city comedy tour with 4 super funny comics. Well it will hopefully be a multi-city tour. The gang is using Kickstarter to sell the tickets for the show in advance. As the campaign hits its stretch goals, they add more cities to the tour. It's the first ever comedy tour to be financed through Kickstarter. So go make history, and help ensure this awesome thing comes to your town.
How Do I Know the CAKE Comedy Tour is Awesome?
Well I just told you. But if you need more proof, here's a boat load of credits.
Abbi Crutchfield
She is the host of You Can Do Better on truTV. She has also been featured on Comedy Central, TBS, and NBC. Her work on Twitter has earned numerous top lists including Best Tweets of the Year by Huffington Post Comedy and Paste magazine. She is a contributor to the popular e-greetings site Someecards. An alum of UCB and the People's Improv Theater, she now produces The Living Room Show weekly in New York City. She featured opposite Jay Pharoah in the music video for Above Average's Bad Kisser, on truTV's Friends of the People, on TBS's Full Frontal with Samantha Bee, NBC's Mysteries of Laura, and Comedy Central's Broad City.
Erin Judge
She lives in Los Angeles, writes (mostly) funny stuff, and performs comedy all over the world. Erin's debut novel, Vow of Celibacy, was released by Rare Bird Books in August 2016 to great reviews. Her words also appear in VanityFair.com, the Advocate, and Salon, to name a few.Erin has appeared on NBC's Last Comic Standing, on Comedy Central's Live at Gotham (2008), and at lots of festivals, including Women in Comedy, Bridgetown, Boston, and Laugh Your Asheville Off. Her first comedy album, So Many Choices, is available from Rooftop Comedy. Erin co-hosts Romantic Comedy, a popular monthly comedy show at The Ripped Bodice bookstore in LA.
Kaytlin Bailey
She is a stand up comic. You may have seen her on MTV, A&E or Lifetime. You may have heard her on SiriusXM's RaceWars, she's also a popular podcast guest. Her critically acclaimed one woman show Cuntagious sold out NYC Fringe & United Solo. Bailey founded the internationally touring Pink Collar Comedy Tour. Playboy magazine featured her critically acclaimed Naked Show. You should look up her Roast Battles if you're into verbal boxing matches. You may have seen her on the obscure television show CentralXPress a decade ago, but probably not. She performs regularly all over New York, but she's especially proud to be associated with, and thankful to, the Creek & the Cave. She also writes for Vice.Make sure to follow Kaytlin on Twitter.
Carrie Gravenson
She won the New York Underground Comedy Festival's Emerging Talent Stand-Up Competition, was runner-up at the Catch a Rising Star Competition, and has been a semi-finalist in the Ventura Comedy Competition and the She Devil Comedy Contest. Carrie played an inebriated reporter in "World Series of Corn Hole," featured on Funny or Die, and s he made good use of her repressed Queens accent as Sandie, the clueless talent agent in "Black Actress."Carrie has been featured in The NY Daily News, CBS Local and The Queens Chronicle. She's headlined at Carolines on Broadway, NYC's premier comedy nightclub, and continues to headline in other venues around North America.
Say No More. I Want In!
You can pledge your support to the campaign, and get the tour in your city by checking out their Kickstarter.
Guests on the Pod
The panel wasn't just Pink Collar comedians.
Joe Messina
A regular on the podcast, you know and love him. Make sure to stay on top of his projects by following him on Twitter. He also has a podcast called Breaking Up with Joe. Brian Durkin, your trusty host of Full Belly Laughs, produces his show and runs tech. He even chimes in from time to time, so give it a listen.
Rachel Fogletto
Another return guest on the show, and we are always super happy to have her. She's one of the best comedians in Philly, and just finished doing an hour at Good Good Comedy Theater. Rachel produces Comedy for Gentleman. It's a fantastic comedy showcase that happens every month in Philadelphia. And while you're at it, give her a follow on Twitter too!
Speaking of Live Shows
Full Belly Laughs performs the podcast live every month at the Philly Improv Theater. Be sure to make it a new habit to come out. The show is always a lot of fun, and we give away great prizes.
---
Thank you as always for listening and reading. Special shout out to Kaytlin Bailey for making time to do the show. Be sure to check out her Kickstarter for CAKE Comedy Tour. And thank you as always for spending your time with Full Belly Laughs. You could have been doing anything, but you chose to spend it with us. And for that we appreciate and cherish you.