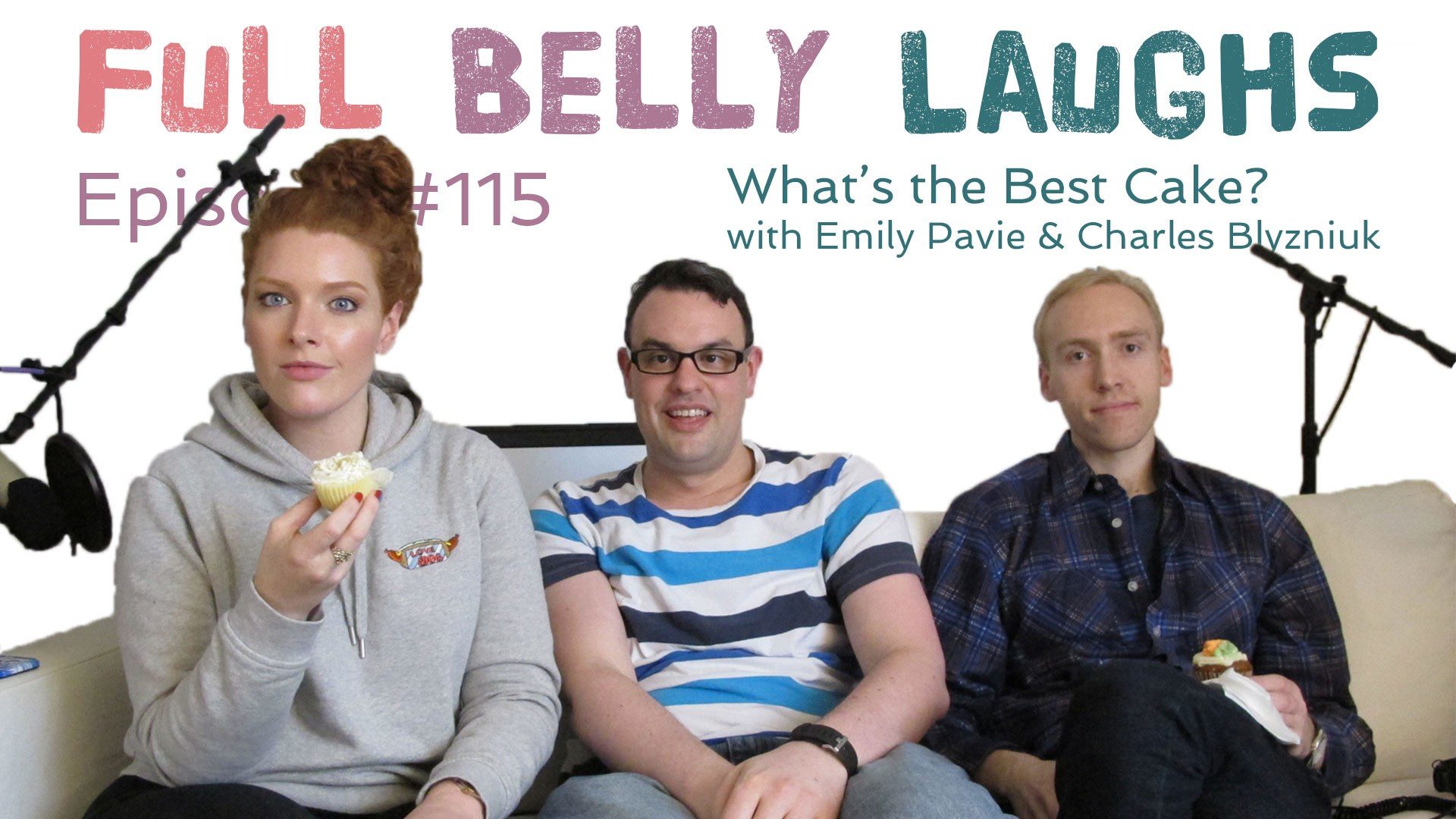 Listen to Full Belly Laughs Episode 115
Use the audio player below to enjoy Full Belly Laughs Podcast Episode 115: What's the Best Cake?.
Is there a best cake? Many believe they know the answer, so we delve into all the comments and submissions to see which cakes deserve the throne. We got our picks. Is your favorite a contender? Did it make it to the top of our list?
Full Belly Laughs Podcast Episode 115 Show Notes
This episode includes a bunch of awesome cake-related content. First and foremost the gang reassembles for another hang. Emily Pavie and Charles Blyzniuk return to chat about cakes and play some board games. We listed off our favorite cakes, and tried our best to stay the course. Another topic caught our attention so well that we needed to hold those thoughts for next week. Before jumping into the games the group weighed in on some listener comments related to the best cake.
Chat with Pastry Chef Jose Ramos
Jose was in full effect per usual. His swagger is unparalleled as he drops cake knowledge on host Brian Durkin and those listening. His advice for what makes a great cake: "the cake". Lots of insightful and baller information comes out of this conversation. At the very least it's hilarious.
Best Cake
There are a lot of great cakes, but which is the best cake? Honestly it's going to be a personal preference. But the best cake for any situation will be the one that people actually want to eat. An Ace of Cakes cake might look amazing, but who wants to destroy that beauty by eating it?
Cake Recommendations
Here are some recommendations for cakes you can buy and consume based on the situation.
Strawberry Shortcake
If you love fruits and fairytales this is your cake. I'm pretty sure there is an animated or illustrated character by this name. If not it sounds like there should be, so order and eat this cake anyway.
Cheesecake
So different from the other cakes on this list, but deserving of a top spot. Cheese is a dominant force in any food conversation, so you know it's going to represent in the dessert department. Buy this cake for people that don't like cake. The texture and taste are so different from a regular cake. True lovers of the layered desserts might eat this, but they won't love it as much as a cake hater.
Confetti Cake
It's the ultimate party cake. The filling legit looks like an explosion of sprinkles that just want to celebrate in your mouth. There is nostalgia here that can't be denied. Also confetti is a butt baker's best friend. If you stink at baking, you can probably make confetti cake. So get in there and wipe up this rainbow bake-by-numbers dessert for your bae. The effort will be appreciated.
Triple Chocolate by Death of Chocolate Cake Covered in Molten Chocolate Syrup
For people that would choose chocolate over all other food groups. Each city must contain basic restaurants that cater to the suburbanites that come downtown to feel fancy. Think your favorite spot isn't one of those jawns? If they have some obscene chocolate cake dessert offering, then think again. And avoid that establishment during restaurant week at all costs.
Ice Cream Cake
You can't go wrong with this classic. Even resident hater and pastry chef Jose Ramos approves of ice cream cake. It does feel like cheating since it's ice cream and not a fluffy sugar tower. But at the end of the day it doesn't matter. Ice cream rules. The chocolate shavings that add texture to the ice cream cake rule the world. Enough said.
Pound Cakes
Not a euphemism for penetrating buttholes, this is a classic cake that toes the line of good. Most pound cakes are just meh at best, but find the right one and it's cake in its truest form. There is a spot in Port Richmond in Philadelphia that does pound cakes so insanely well. Google is your friend. We could make you search for it, but that would be rude. After taking a moment from typing we discovered that the name of the place is Stock's Bakery. They are so old school and legit that they don't have a website. That link is what the Google Wikipage rich snippet suggests, and it takes you to some programmer's science fair project of recreating Yelp. Either way Stock's makes a mean pound cake. Get on that.
Olive Oil Cake
I slept on this jawn for far too long. My first dance with this dessert was in Oakland at Hopscotch. It brings a light and fluffy texture to the much needed cake saturation. So many booty cakes (bad cakes, not butt butts) forgot the essence of a great cake. The right olive oil cake will honor the true nature of a great cake. Pair this with some kind of lemon custard or whatnot and die happy.
Philly Food Porn Recommends Cake Life
Our friends at Philly Food Porn think the best cake might be at Cake Life. I can attempt to the awesome treats in this little shop. They also got great impulse buys, and incredible cards. It's close to the Girard stop on the El, so a very easy walk from lots of great hangout places.
---
Got any hot tips in the cake game? We'd love to hear them so we can keep this page up to date, or give you a shout out on a future episode of the podcast. Drop us a line with our Contact Form.