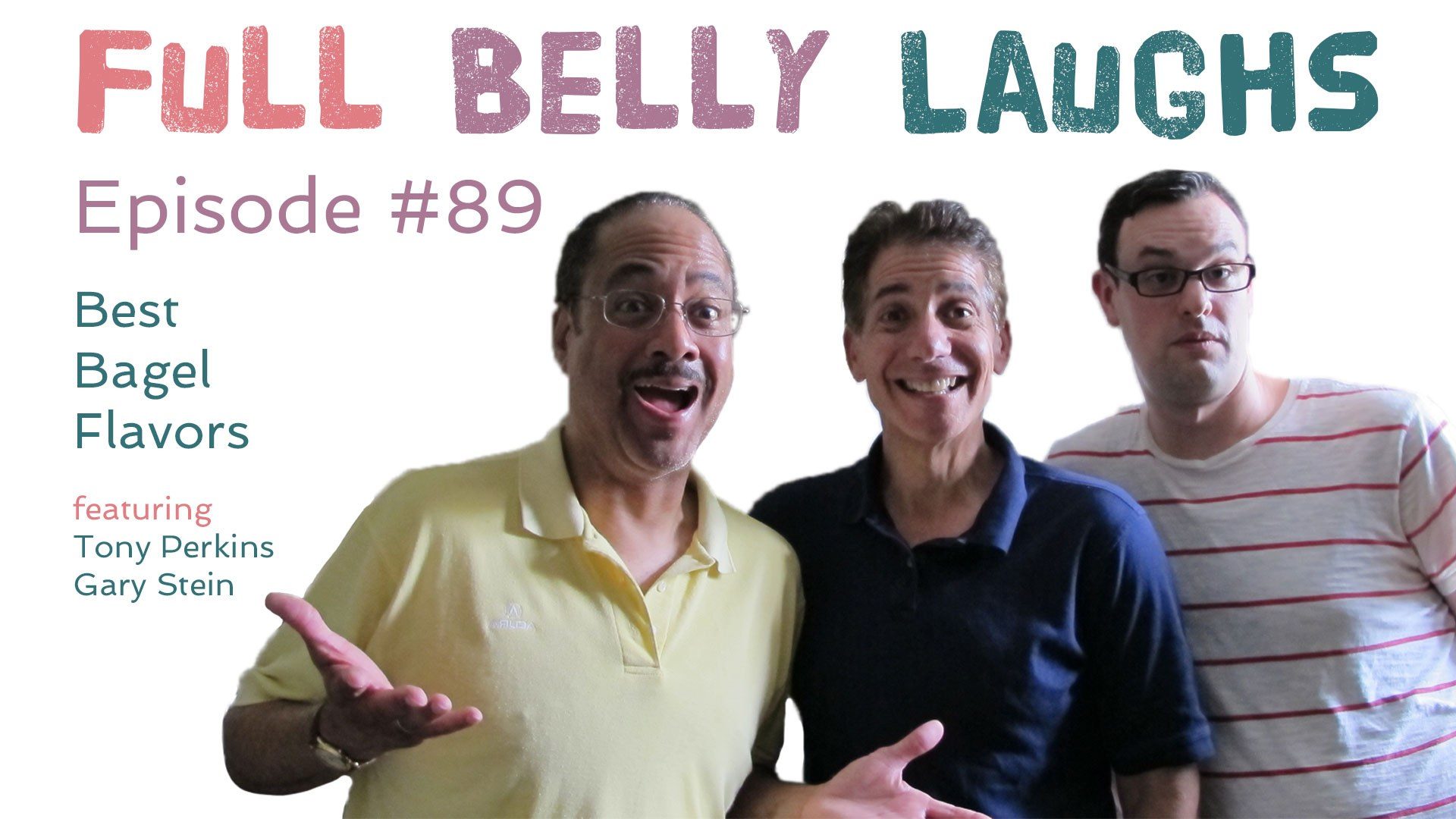 Listen to Full Belly Laughs Episode 89
Use the audio player below to enjoy Full Belly Laughs Podcast Episode 89: Best Bagel Flavors.
When it comes to the best bagel flavors, we all have our favorites. The guests on this show, as well as our fans, wrote in to tell us about their favorite bagels. Use the player above to listen to the podcast, or scroll down for the show notes.
Show Notes for Full Belly Laughs Podcast Episode 89
If you don't know them already, oh boy, do we have a treat for you. Tony Perkins and Gary Stein grace the cast this week. They are two hilarious friends who also do a podcast: The Tony Perkins Show featuring Gary Stein. The cover current events and chat with some incredible people, including Jackie "The Joke Man" Martling and Ringo Starr. Tony and Gary and kind, funny, and great company. Please check out their podcast. You can even hear them chat about Full Belly Laughs on various episodes.
Best Bagel Flavors
The guys gave their opinions, and it was business as usual. No wild picks. Just your classics made the round-up. Fans of the podcast though had some really passionate answers to this question. We'll use their words to break down the most beloved and best bagel flavors.
Everything Bagel
When bagel has everything, it's must certainly be the best! According to Eamon Dougherty, former guest and podcaster, says:
Everything Bagels are the best because they have everything!!!!!! Runner up are Bagel Bites, because when Pizza is on it you can have it any time?
Ross from Conshohocken agrees:
Everything bagels are my jam, though I'll sometimes break it down with a poppyseed bagel! What's that, you say? Sun-dried tomato basil bagels from Giant? Yeah, gimme gimme. Also, whitefish spread please. I'm Jewish, so please count my response as double on this matter.
Plain Bagels
It's either all or nothing. And sometimes simple is better. According to Alex from Magnolia, the best way to go is no frills:
Time for old man status. Plain or a nice egg bagel with extra cream cheese is all I ever want. Nice and toasty...mmmm...
Salt Bagels
This is a thing apparently, and not just an upset bagel. Mallory from Southhampton, NJ explains:
Salt bagels are underrated. The salt and cream cheese balance each other out nicely. Plus who doesn't love things covered in salt, great for high blood pressure.
You Knead Bagels
Knead Bagels is a fantastic bagel shop near Washington Square in Philadelphia. Definitely check this place out if you haven't been. When you go, be sure to order the togarashi. It's life-changing.
Know How to Pronounce Bagel
When you order your favorite bagel flavor, be sure to order with the correct pronunciation. Nicole from Port Richmond explains:
I like a cinnamon and raisin or a blueberry beg-ul (because I'm from Philly, that's why) ... also like about half my body weight in cream cheese on there. I DO NOT WANT TO SEE THE TOP OF THE BEG-UL. If I do, there is not enough cream cheese.
---
Do you have an opinion about bagels? Share it with us through our Contact Form. Fun answers and new perspectives will be read on the show.