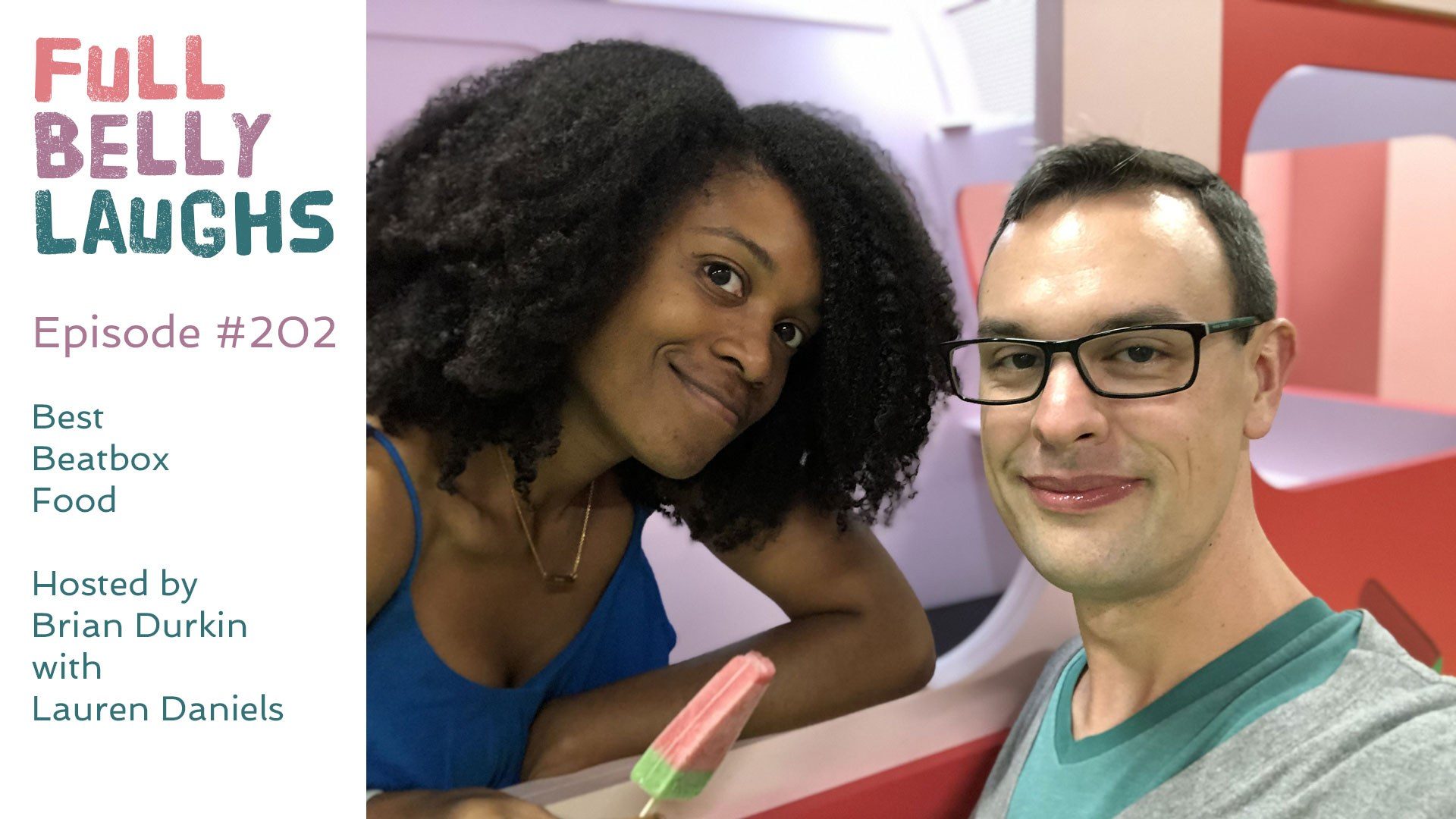 Listen to Full Belly Laughs Episode 202
Use the audio player below to enjoy Full Belly Laughs Podcast Episode 202: Best Beatbox Food
When you spit sounds from your face, your nutrition is everything. You need to get right to make them beats tight. Here's the method to our madness for slinging dope tones from the bellows of our mouths.
Full Belly Laughs Podcast Episode 202 Show Notes
Brian Durkin starts the episode with a recap of his latest trip. He tells Lauren Daniels about his journey to Pittsburgh, and the interesting food he ate along the way. It's a fun and winding road to discover all of the treats he consumed. Brian laid down some random facts and thoughts about wokeness, cancel culture, and the right to transition. The last topic he did a real number on. Not only did he touch on trans politics, but he ebbed and flowed between topics like water flowing from down a river to the ocean. It was not nearly this deep. He mostly spouted nonsense; it's an improvised comedy podcast.
That's when Brian was overtaken by the music. The beats possessed his body, but mostly his mouth. He started to release the angelic tones, and Lauren lost her mind. She testified multiple times to the sheer amazement that was Brian's uncanny ability to make sounds with his mouth. From there he discussed the diet that lead him to become such a natural at beatboxing. After this rabble, the couple played a round of Alpha Buzz on Amazon's Echo Dot.
Best Beatboxing Food
If you want to be a world class beatboxer, nothing beats practice. You need to flex your skills at all times. Make noises nonstop. The only time you should be taking a break from making noises with your mouth is when you're eating. For reals, eating with your mouth open all sloppy is gross.
What you should eat if you're a beatboxer is all about stretching and flexing though mouth muscles. Here are some of our favorite things to chew on:
Flesh
Laffy Taffy
Bubblegum, but only if you blow bubbles
Podcast Show Notes: Links and References
When you want to be a dominating beatbox performer, you need the right diet.
If you want to make sounds with your mouth, you need to learn to beatbox. Discover the diet that will give your jaw natural box beating skills.
Lauren Daniels is a content creator, yogi, graphic designer, vegan, and essential oil enthusiast. She believes there are a myriad of healthy, eco-friendly (and pocket friendly) swaps for your everyday life. Discover these alternatives by watching her videos on YouTube, or following her on Instagram and Pinterest.
Brian Durkin is on Twitter and Instagram.
Full Belly Laughs is on Facebook, Twitter, Instagram, and Pinterest.
If you enjoyed this content, please consider writing a review on the FBL Facebook Page. It really helps the show reach new people.
If you would like to financially support the podcast, please consider donating. All of our content is ad free thanks to donors. Your contribution will help keep it that way, and unlock exciting opportunities for more content. Learn more about how much it costs to make this podcast, or donate to FBL now.