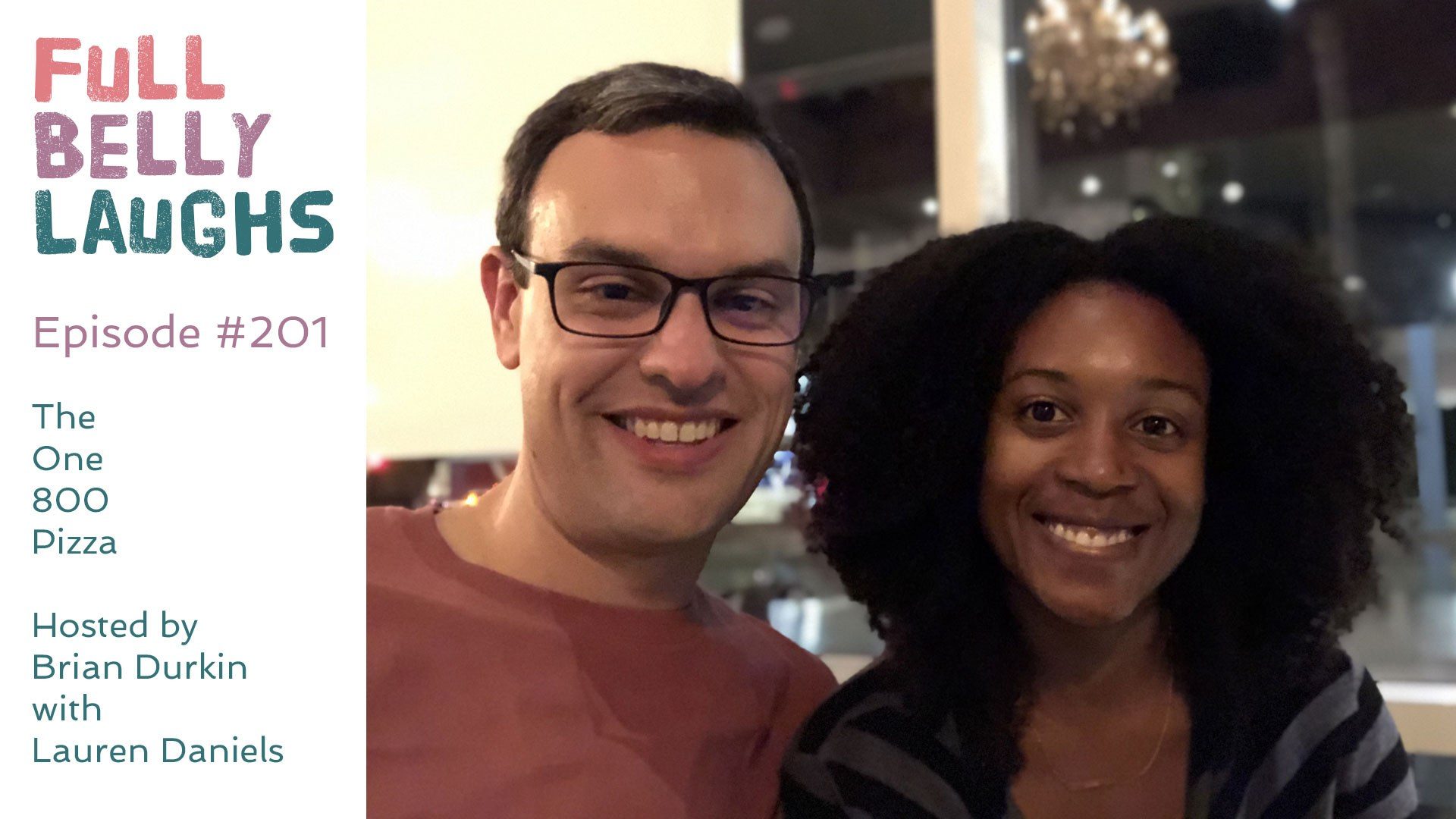 Listen to Full Belly Laughs Episode 201
Use the audio player below to enjoy Full Belly Laughs Podcast Episode 201: The One 800 Pizza
800 Degrees is a national chain pizza shop, and we tried it for the first time. Our experience was glorious. The heaven's opened their gates as we feasted on freshly baked sauces and faux cheeses - on the account of being vegan and whatnot. Hear all about our experience and a bunch of other crazy random things.
Full Belly Laughs Podcast Episode 201 Show Notes
Brian Durkin was firing on all cylinders this episode, kicking things off with a nice song and dance (the dance only viewed by those in studio). Brian and his girlfriend Lauren discuss many topics, such as her new title as pseudo co-host and heroin. They arrive at the meat of the episode: their first experience eating at 800 Degrees. Overall they really enjoyed the food and service. After reviewing this restaurant, they play their new favorite game on Amazon's Echo Dot: Alpha Buzz.
800 Degrees Review
This is a fantastic artisan pizza shop. Don't fear the national chain aspect of this business. They got the goods and taste great! One of the best things going for this place is that they have optimized the fast casual experience. When you go to fill up your drink, at the same station is any to-go container you might need. Saving the patron the step of cutting in line to pack up their leftovers is a true gift. If you ever have the chance to spend like twenty bucks on a pizza for yourself, you can do it up at this place.
Podcast Show Notes: Links and References
Custom personal pizzas doesn't have to be bad or horribly expensive. It can be just right.
On this episode the gang reflects on their first time going to 800 Degrees. Discover what makes this chain so amazing.
Lauren Daniels is a content creator, yogi, graphic designer, vegan, and essential oil enthusiast. She believes there are a myriad of healthy, eco-friendly (and pocket friendly) swaps for your everyday life. Discover these alternatives by watching her videos on YouTube, or following her on Instagram and Pinterest.
Brian Durkin is on Twitter and Instagram.
Full Belly Laughs is on Facebook, Twitter, Instagram, and Pinterest.
If you enjoyed this content, please consider writing a review on the FBL Facebook Page. It really helps the show reach new people.
If you would like to financially support the podcast, please consider donating. All of our content is ad free thanks to donors. Your contribution will help keep it that way, and unlock exciting opportunities for more content. Learn more about how much it costs to make this podcast, or donate to FBL now.