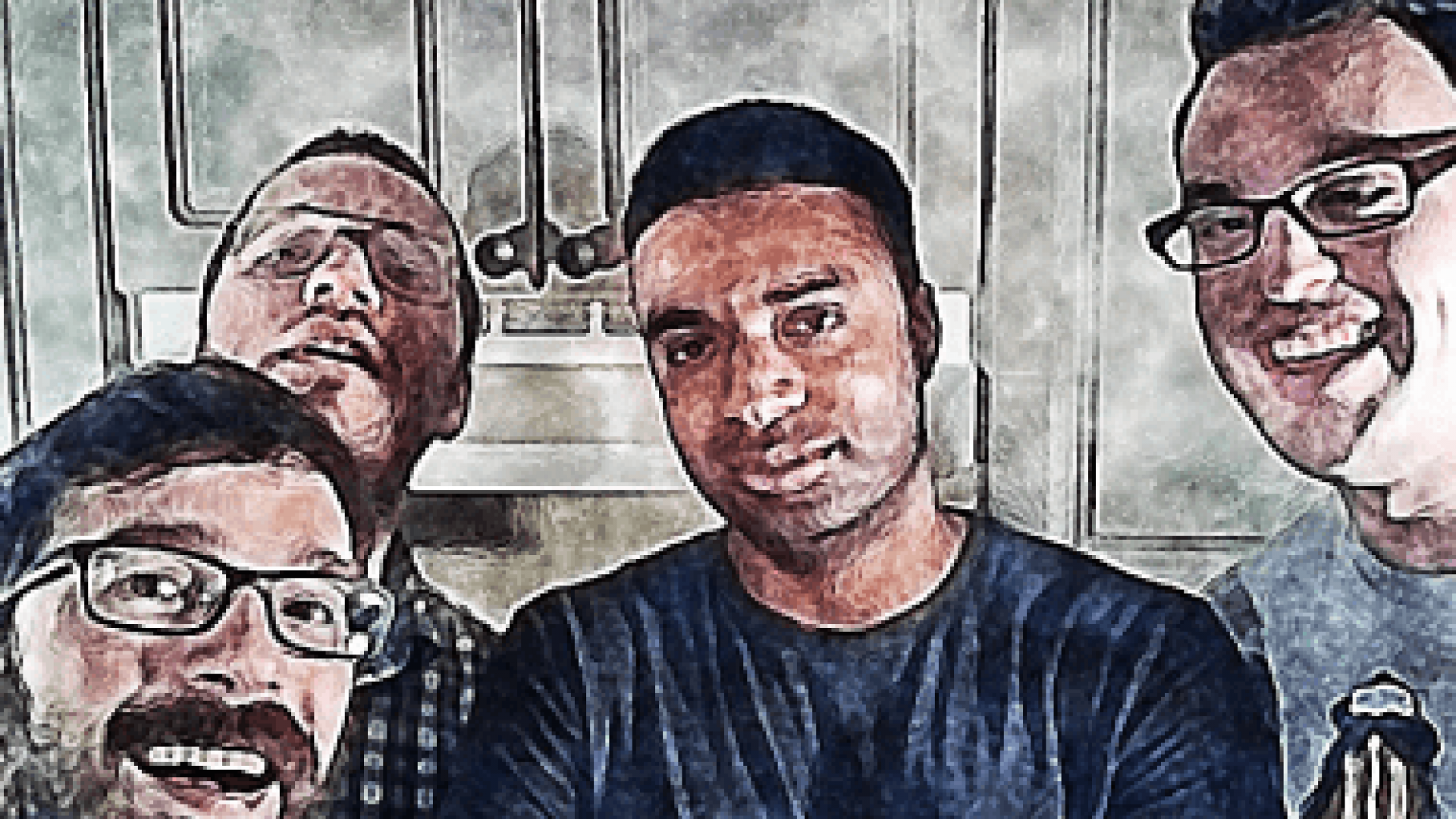 Listen to Full Belly Laughs Episode 9
Use the audio player below to enjoy Full Belly Laughs Podcast Episode 9: Sweet & Savory Pork: The Foolproof Pork Chop Recipe.
The pork chop is a great protein choice for a balanced meal. Making that meal balanced with flavor is a different story. One can cook a pork chop with a sweet brown sugar glaze, or with a savory gravy. But why settle for one choice?
The Perfect Pork Chop
Garrett Smith, Robert Ecks, and Setoiyo chow down on blueberry basil pork chops. Brian accompanies the chops with roasted peaches and charred cauliflower. The boys love the dish. While eating they discuss podcasting as well as other mediums of entertainment. The gang admits that Vine would keep them youthful, and no one at the table understands Snapchat.
Meet the Guests
Here's the rundown on the guests featured on this episode.
Garrett Smith
A master of movie and nerd trivia, Garrett always brings a fresh comedic perspective in his act. If you enjoy movies definitely check out the podcast he co-hosts entitled I Like to Movie Movie. Stay tuned to Garrett's latest shows and gigs by following him on Twitter.
Robert Ecks
His unique style of comedy and rhetoric of silence allows Robert to command any stage. Along with Garrett, Robert helps run the We Do! Comedy Show every week in Philadelphia. Don't miss any of Robert's super funny insights on Twitter.
Setoiyo
A natural born entertainer, Setoiyo tells it like it is. He's not afraid to attack any subject with his comedy. He helps run the legendary Philly Comedy Attic. For more dates, deets, and links don't miss a beat and follow Setoiyo on Twitter.
Eat the Food
Did that dish sound dee-lish? Below is an approximate recipe how to make that jawn.
Blueberry Basil Pork Chop
Prep Time: 20-60 min to let the rub mix in.Tools: sauce pan (preferrably with a lid), tongs, wire rack, sheet pan, knifeCook Time: 20 minutes tops
Ingredients
Boneless Pork Chops
Brown Sugar
Cayenne Powder
Garlic Powder
Paprika
Salt and Black Pepper
Cooking Steps
First and Foremost make the spice rub for the pork chops:

2 parts Brown Sugar
1 part Cayenne Powder, Garlic Powder, Paprika, Salt, and Black Pepper
Note parts can translate into tsp, tbsp, cups, etc. Make as much as you need. You can always store extra. Just keep the ratios illustrated by the parts metaphor.
Whisk to combine

Pat down the pork chops with paper towels to soak up excess moisture. Apply the spice rub. Pat the spice into the meat with your hands. Wash those porky hands after this step. Store chops in the fridge for 15-60 minutes.
Preheat the Oven to 375.
Sear the chops in a saucepan covered over high to medium-high heat for about 3-4 minutes per side. Evacuate the pork from the pan and place on a wire rack above a sheet pan covered with parchment paper. Place in the over for 8-10 minutes. Take the pork's temperature to ensure doneness (145 degrees Fahrenheit).
Scoop out some Blueberry Basil Spread from The Small Batch Kitchen and place it over the sliced pork chops.
Roasted Peaches and Charred Cauliflower with Grape Tomatoes
This pork chop dish is not complete without a sweet side dish and a savory side dish to complement the spread. Follow the links for the Roasted Peaches and Charred Cauliflower to replicate the meal for the episode. Don't forget to order some Blueberry Basil Spread from The Small Batch Kitchen.Come back next week for another hilarious episode and bangin' recipe.