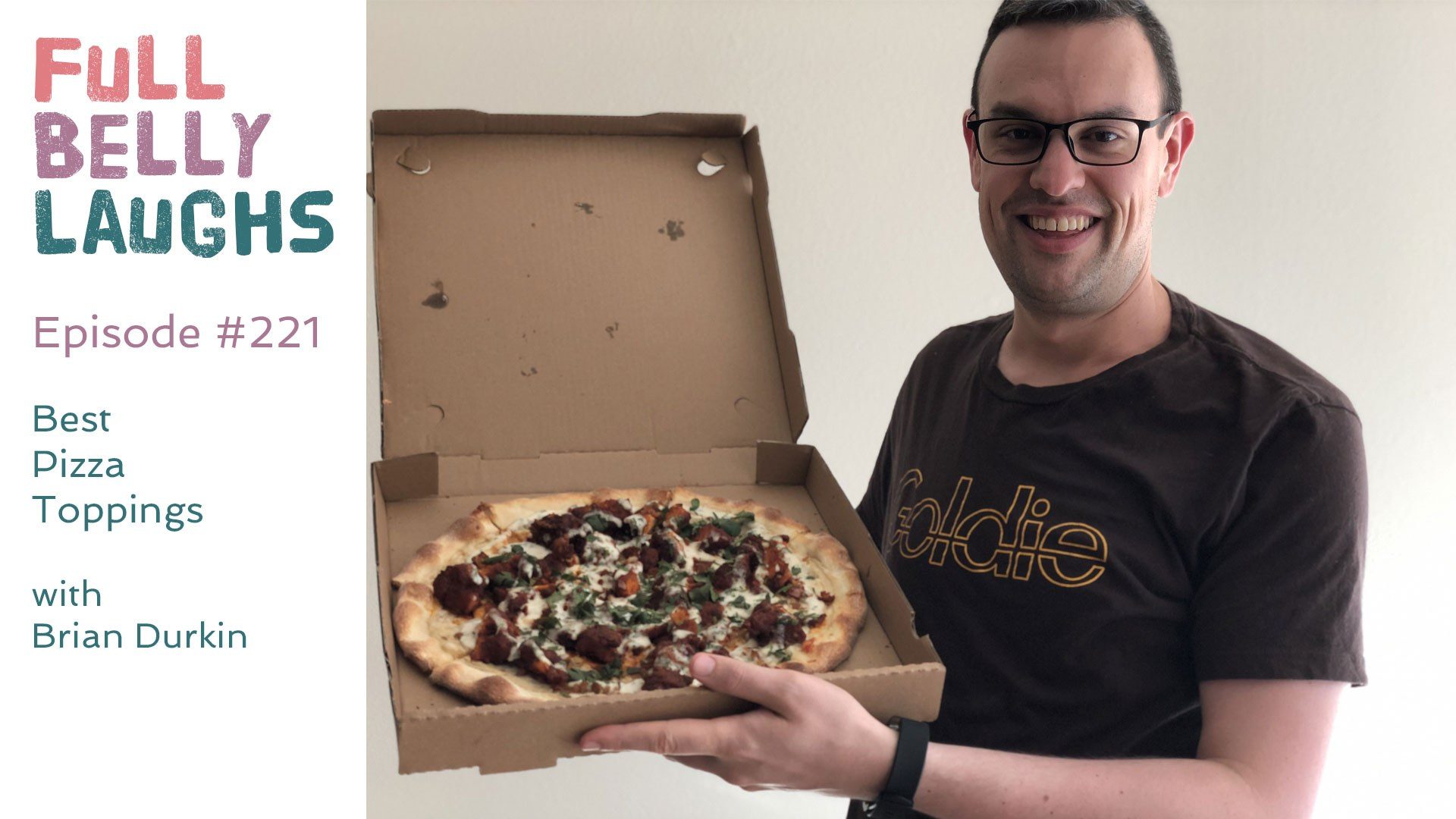 The Top Toppings According to the People
Comedian Brian Durkin polls the Full Belly Laughs Podcast audience about their favorite pizza toppings. They write in about which pizza toppings are the best and why. This episode also includes a great spotlight on the logical fallacy false cause, which Brian highlights with some fake commercials. The episode also includes a fun round of Super Fight.
Fan Favorite Pizza Toppings
We polled our audience, and they did not disappoint. According to our poll, these are the top pizza toppings:
Pepperoni
Extra Cheese
Sausage
Mushrooms
Pineapple
Pineapple juice
Green peppers
Onions
Honorable mentions include meatballs, bacon, broccoli, and feta cheese.
Best Pizza Toppings

There's no denying the power of extra cheese and pepperoni. These are the most people toppings. Pepperoni also feels the most "pizza" of all the toppings. There's a reason we say "a pizza with mushrooms" and "a pepperoni pizza"; pepperoni is just synonymous with pizza. It's hard to imagine a pizza party that doesn't include an order of pepperoni pizza. For our money, either pepperoni or extra cheese are the safest picks from any pizza shop.
If you have a solid mom and pop establishment near you, then you will want to be a bit more adventurous with your toppings. This is when pepperoni or extra cheese are not best, because these artisan establishments can do so much more with other ingredients. Come combinations to try:
Meatball parm (meatball slices with your favorite cheese on top)
Green pepper, Onion, and salami on a white pie with ricotta
Bacon and pineapple (the bacon enhances the pie with its added crunch and saltiness)
Whatever the person paying wants (let's be real, free pizza can have any topping)