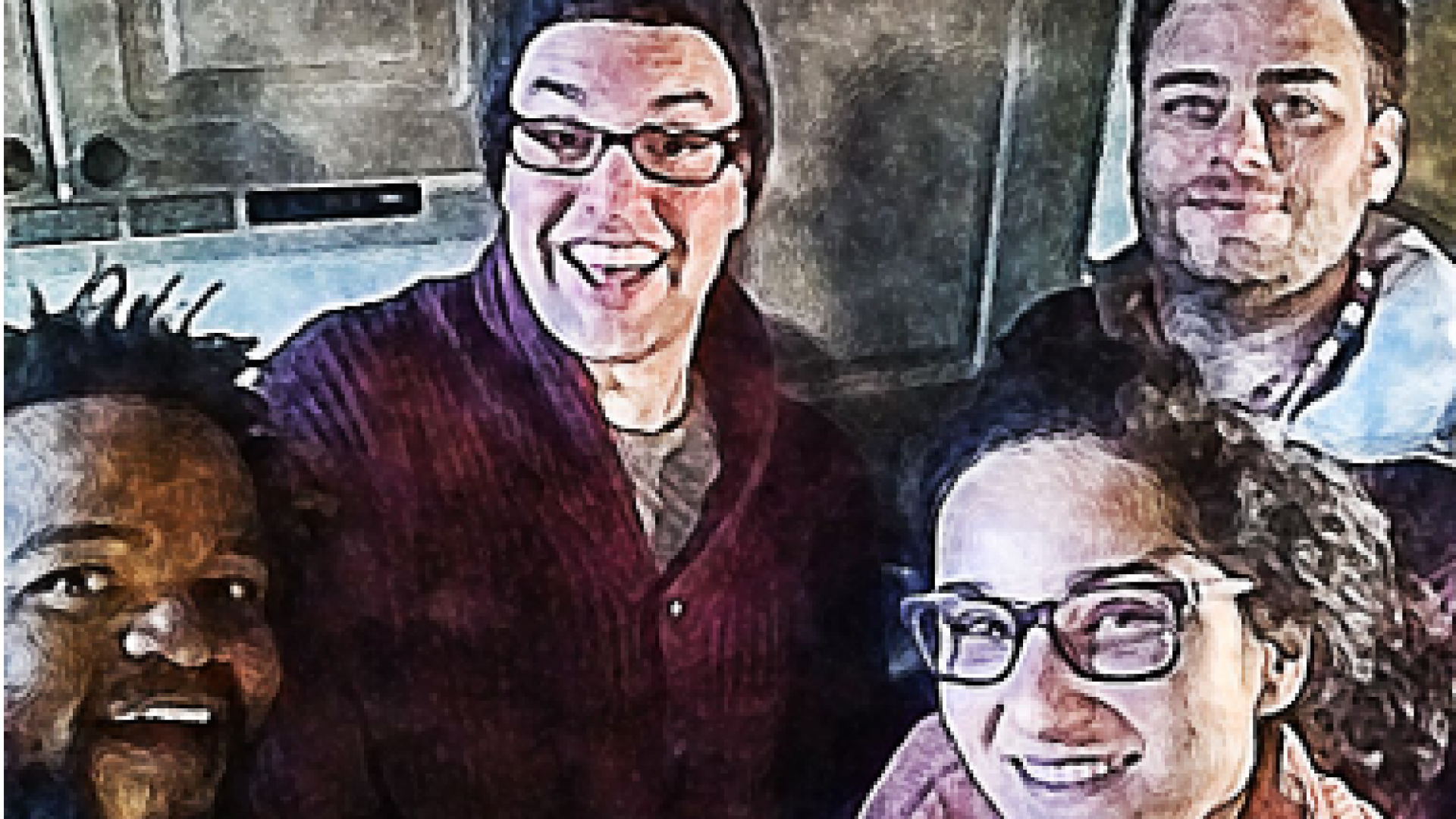 Listen to Full Belly Laughs Episode 1
Use the audio player below to enjoy Full Belly Laughs Podcast Episode 1: Spicy Turkey Chili.
Welcome to the inaugural episode of the Full Belly Laughs Podcast. This week Brian Durkin is joined by comedians Jon, Delcollo, Alyssa Al-Dookhi, and Keane Cobb. The gang enjoys a hearty but spicy turkey chili on this cold day in Philly.
Meet the Guests
Here's the rundown on the guests featured on this episode.
Jon Delcollo
Do you have no patience for bad bathrooms? Us too! Check out Jon Delcollo's YouTube Show "Golden Thrones" to learn about the swankiest toilets in town. Longwood's Secret Garden is our favorite. Follow Jon on Twitter @jonnydelco. Champion of the Philadelphia March Madness Comedy Competition, Jon is sure to deliver an LOL or two on your feed.
Alyssa Al-Dookhi
An Arab American writer and comedian, Alyssa performs stand-up all over. She's been on Comedy-Gasm! and The Bechdel Test Fest. Alyssa co-hosts Eat Your Beats, the live show where funny wordsmiths rap about food. If you are on this site, we can promise you will like Eat Your Beats (check GoodGoodComedy.com for upcoming shows). For more Alyssa follow her writings at thedookness.tumblr.com.
Keane Cobb
If you ever stumbled into The Raven Lounge on a Thursday night then you know Keane Cobb. He is the glue that holds together the Philly Comedy Attic. He's a veteran comedian who is always putting out content. He is @KeaneCobb. Go follow and thank us later.
Eat the Food
Did that dish sound dee-lish? Below is an approximate recipe for how Brian made his Spicy Turkey Chili.
Spicy Turkey Chili
Prep Time: 15-60 minutes adjusted for your comfort level in the kitchenTools: Slow Cooker and other stuffCook Time: 8 hours
Ingredients
A boneless turkey breast (3 lbs)
Two regular sized cans of beans
A Sweet Onion or two
Big can (28 0z) of Diced Tomatoes
Small can (15 oz) of Tomato Paste or Sauce
Smaller Can of Pickled Jalapenos
Tiny Can(s) of Green Chilies
Small can (15 oz) of Corn
A Bunch of Spices to rub all over that turkey

Need Cayenne Pepper, Chili Powder, Cumin, and Coriander
Could also use Minced Onion, Smoked Garlic, Salt & Pepper, etc.

Basmati Rice
Coconut Oil
Cliantro
Sour Cream
Cheese of your choosing
Cooking Steps
Remove the skin from the turkey breast. Boneless Turkey Breasts from the butcher might still have a layer of skin on them. Take it off.
Rub the meat with the spice assortment. Feel free to experiment here. Use a few decent shakes of Cayenne Pepper and Chili Powder, but don't go crazy. They are potent and go a long way. Use a liberal amount of everything else.
Store the meat for at least a couple hours in the fridge. Overnight would be best.
Place the meat in your slow cooker. Add onions, diced tomatoes, washed and drained beans, chilies, and jalapenos. Set the slow cooker for 8 hours on low and walk away, preferably go to sleep or your job.
Pull the turkey breast apart with two forks. Make sure the meat has no pink and appears to be cooked through. Add more time if it doesn't appear done.
Assuming it's good to go, drain the liquid into a pot. A ladle works best. Boil the liquid UNCOVERED (very important). The purpose of this step is to make the consistency of the liquid feel more like chili and less like soup.
Start the Basmiti Rice. Just Google how to cook it or read the package it came in. Use coconut oil for the recommended proportion of oil in the rice instructions.
When the boil starts raging and reducing a bit, add the corn and the tomato sauce/paste. Allow it to boil a bit longer or until desired thickness is reached.
While the rice is cooking and liquid is thickening start washing and picking the cilantro.
Add the tomato liquid back to the slow cooker. Serve over the rice topped with sour cream, cheese, and cilantro.
As for sour cream use your favorite brand. As for the cheese experiment and use what you think takes good.Come back next week for another hilarious episode and bangin' recipe.