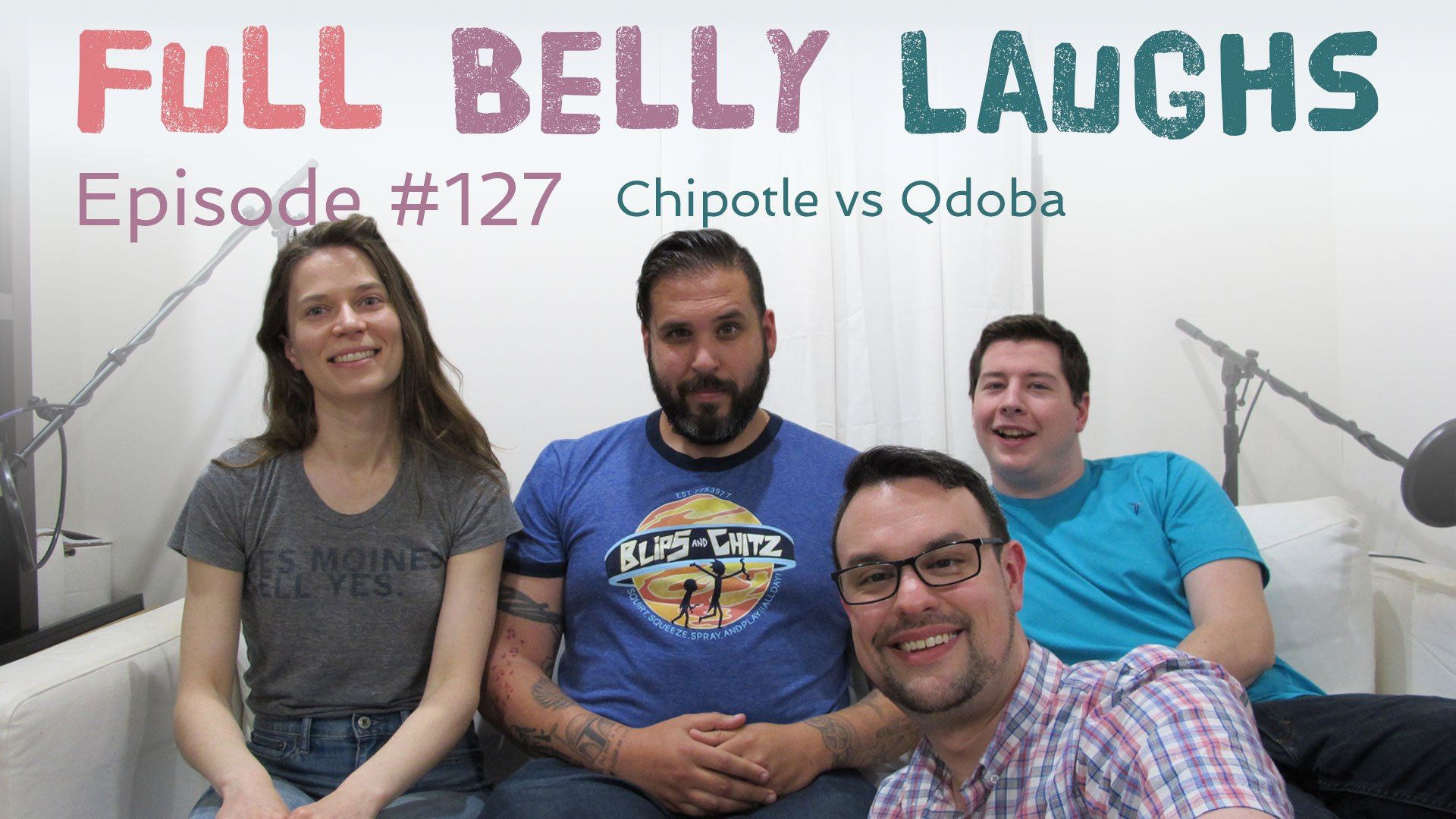 Listen to Full Belly Laughs Episode 127
Use the audio player below to enjoy Full Belly Laughs Podcast Episode 127: Chipotle vs Qdoba.
One of the most charged debates going on in this country: Chipotle vs Qdoba. There are a few factors that push people to one camp versus the other, and we're here to have a hilarious discussion about it. Just the player above to enjoy the conversation. Four comedians hash out their takes on Chipotle vs Qdoba, then they go to the fans to hear their opinions. All the highlights are captured below in the show notes.
Full Belly Laughs Podcast Episode 127 Show Notes
Adam Nutter, Alexis Howland, and Jimmy Wyatt join Brian again for an evening of food-related conversation and board games. On this episode they focus on a highly contested debate: Chipotle vs Qdoba. These chains are the top two players in the national throwdown for best Mexican in America. The party is split between Chipotle fans and Qdoba heads. As the debate comes to a close, the comics play a couple board games. The host closes the episode by reading a bunch of fan submitted responses to the topic.
Chipotle vs Qdoba
This debate comes down to one simple factor: how much do you enjoy queso? It's no question that queso at Qdoba is quite exquisite. Chipotle is on the other hand is lacking in the queso department. They have it but it's not great. That said Chipotle is pound for pound dominating Qdoba in every other aspect. The Chipotle grilled veggies, protein options, and tortilla chips are leagues better than Qdoba. Chipotle's ability to cater to vegetarians, and vegans with sofritas, does put them a step ahead.That said you do have to pay for extras at Chipotle, so if you love everything slathered in guac, then you will save money at Qdoba. The up charge for guacamole at Chipotle definitely matters, but most people that prefer this chain don't even opt for it. That's because the ingredients across the board tend to be weak at Qdoba; however, they at least don't have as many health scares as Chipotle.
Quick Facts of Chipotle vs Qdoba
Here are the highlights of the debate
Benefits of Qdoba
Qdoba has better queso
Qdoba doesn't charge for extras, including guacamole
Qdoba doesn't have as many health contamination scares, such as e-coli
Benefits of Chipotle
Chipotle provides more protein options, including sofritas which is tofu-based (and vegan-friendly)
Chipotle tortilla chips aren't as salty as Qdoba, and they come built with more integrity
Chipotle oozes with freshness
---
Do you have an opinion on this matter? Be sure to let us know through the Contact Form. Fun and interesting answers could be read on the podcast.